By Charumini de Silva

Experts called on Sri Lankan logistics firms to embrace disruptive digital technologies for crucial restructuring in business models to remain competitive, be receptive to consumers and gain an edge in the global supply chain, insisting that the country was poised to become a logistic powerhouse in the Indian Ocean.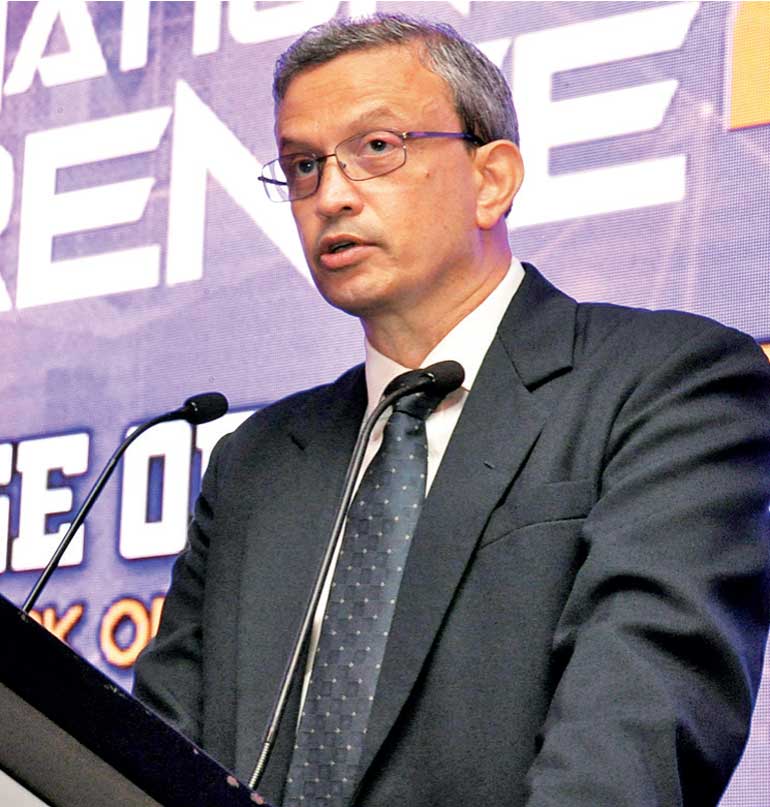 CILT Sri Lanka Chairman Capt. Lasitha Cumaratunga
The Chartered Institute of Logistics and Transport (CILT) Sri Lanka hosted its Annual International Conference 2017 titled 'The Age of Disruption: A Reality Check on Logistics and Transport' in Colombo recently focusing on the impact of disruptive technologies on logistics and transport, where experts shared insights on how new trends, including robotics, autonomous vehicles, drones, blockchain and artificial intelligence (AI) and big data, affect the sector.

In the opening remarks of the conference, CILT Sri Lanka Chairman Capt. Lasitha Cumaratunga pointed out that logistics and transport play a critical role in the economy and everyday life of the country.

He said the rise of Asia's economic growth has advanced through upward manufacturing and trade agreements, noting that Sri Lanka's location works in favour of this.

"In the past few years Sri Lanka has edged towards becoming a key logistics hub in the region with several local and international firms choosing the island as a preferred hub for their global supply chains," he added.

Capt. Cumaratunga stressed the disruptive technologies for logistics and transport had already disrupted the traditional industry with smart transport and warehousing.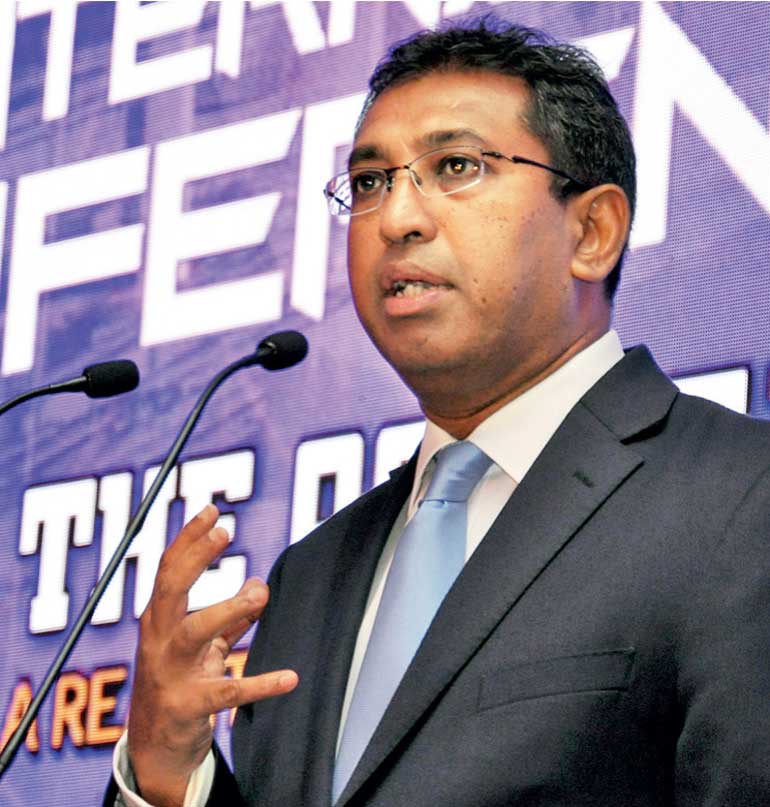 Economic Development Deputy Minister Dr. Harsha De Silva
"We are seeing local and global startups and hi-tech advances disrupt traditional practices. These developments will not only create jobs and support economic growth but reduce traffic congestion and ensure resources are put to better use," he pointed out.

Noting that the transformation of Sri Lanka's logistics industry, raising it to global standards, would enable it to be more competitive, Capt. Cumaratunga called on logistics firms to be ready for these developments and to embrace disruptive digital technologies to gain an edge in the digital era.

Delivering the keynote address, Lakshman Kadirgamar Institute of International Relations and Strategic Studies Global Economy Program Chair Dr. Ganeshan Wignaraja said global supply chain trade is an increasingly important part of world trade, with East Asia serving as its hub.

"Today, half of Asia's trade comes from complex production, but Sri Lanka's presence in these value chains is very insignificant," he added.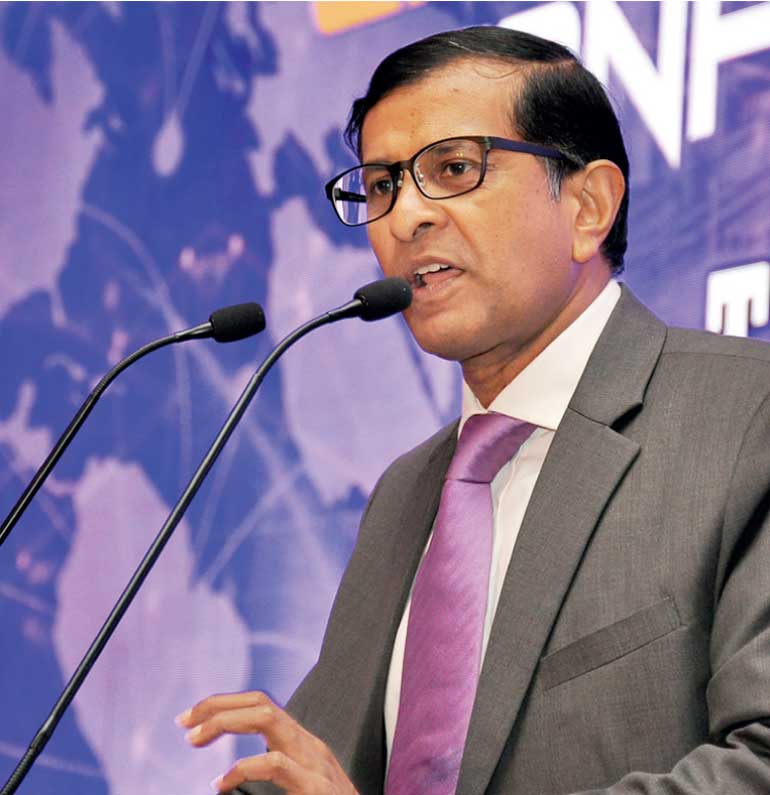 Global Economy Programme LKI ChairDr. Ganeshan Wignaraja
Citing Apple Inc as an iconic example, Dr. Wignaraja explained it has a very complex supply chain where various parts and components of the phone are made in different places in the world but assembled in China, while design, marketing and branding takes place in its headquarters in the US.

"Apple coordinates these big supply chain settings, standards, quality controls and everybody produces it to their tune. We are missing out on half of potential trade in Asia," he said, stressing the need for Sri Lanka to plug into these chains as they presented major opportunities.

Highlighting that risks such as the global financial crisis, political instability, protectionism and slow global trade growth have multiplied over the last decade, he cautioned that these could disrupt the supply chains in the time to come as well.
Impact of China's restructuring

China's restructuring from export-led production to a domestic demand services-led model opens up opportunities for latecomers like Sri Lanka in global supply chain trade.

"China will still remain in the value chain game, but at a much greater level of sophistication. China will move into the innovation-led phase in its export growth model, joining Japan and South Korea to be very much present in the more advanced industries such as robotics, AI, automation," said Dr. Wignaraja.

He also said China's R&D figures were now trending towards the 1% level, which is the 'magic level' seen in Japan, the US and Germany.

Despite expectation that global trade growth figures will see a slight upturn this year, it will not recover to the levels present before the global crisis, he said, noting that with such an outlook the competitiveness of companies and the business environment become critical for a country like Sri Lanka.

It was pointed out that services will be the new dynamics including logistics, transport and other services. Although Sri Lanka's service sector accounts for over 60% of the GDP, he said the country had not been able to tap into this sector in the global context in a significant manner.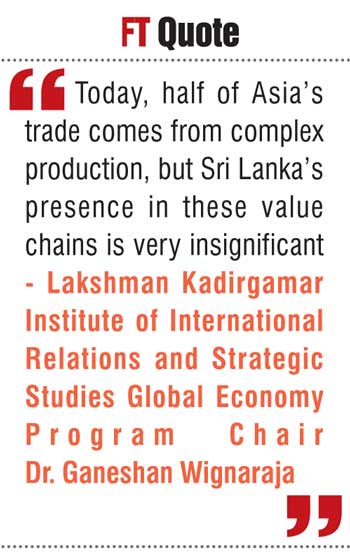 Stressing that outward investment from China provided an ideal opportunity for Sri Lanka, Dr. Wignaraja said: "China's outward investments are enormous today and it is increasingly going towards Asia. The trick for Sri Lanka is to track four to five giant Chinese state-owned enterprises (SOEs) in key sectors that matter to transform our economy. They are not coming yet, and whether we can attract them is a real challenge now."

Leather and footwear, textiles, electronics, rubber and plastics were outlined as few industries that might get substituted out of China to the rest of Asia. "It is not about getting the direct outward investments from China, but also countries that will take their bits and relocate in countries like Sri Lanka."
SL's potential to join global supply chain

Even though Sri Lanka is not yet a notable player in global supply chain, he expressed optimism that the country had the potential to integrate in the future as factors such as location, a Chinese presence, an advanced apparel sector, fairly open economy, a market-oriented Government emphasising an investment-led export development strategy, augured well.

Acknowledging that Sri Lankans had a welfare mentality that the Government should do everything, he noted that it was important for private companies to act together with clever business strategies.

Smart business strategies and industrial clustering, improving trade logistics, investing in infrastructure, deepening reforms and the careful use of free trade agreements (FTAs) were highlighted as key ingredients for a smart business strategy to distinguish firms from East Asian countries.

While trade reforms were crucial, Dr. Wignaraja pointed out that the main issue was with the country's business environment.

"We have to think about smart partnerships in models like public private partnerships (PPPs). There are a lot of gaps that need to be fixed in the Customs Department, trade facilitation and industry as a whole," he added.

Technology, natural disasters, political instability and terrorism were underscored as major disruptors to global supply chains in an increasingly uncertain world. Therefore, he called on businesses and governments to study these risks and formulate strategies to mitigate them.

"The global supply chain is very important for us, although we are not a big player in this. Sri Lanka has a very good chance to get into this particularly with smart business strategies, flexibility to deal with disruptions as well as a set of reforms that emphasises supply chain technology. I am confident we have a good future ahead if we do the right things now," Dr. Wignaraja stated.
Essential trade reforms

To take Sri Lanka to the next level with structural breaks along a different growth path, Chief Guest National Policies and Economic Affairs Deputy Minister Dr. Harsha De Silva insisted that trade reforms were absolutely essential to integrate the economy with the rest of the world.

Acknowledging that a dramatic decline in exports to GDP was the biggest issue, he highlighted the significance of creating an ecosystem that would help Sri Lanka to ride on exports to the rest of the world and generate competitive job opportunities with higher salaries.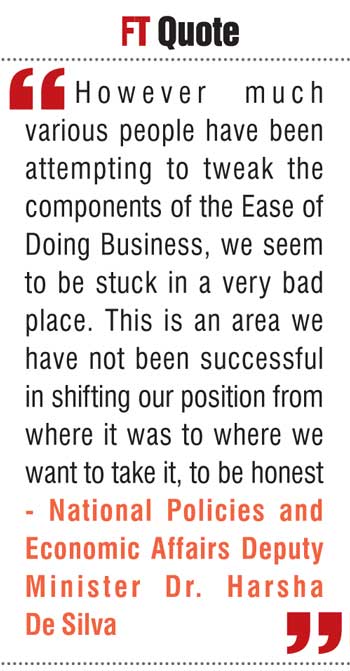 Noting that trade encompasses both imports and exports, he explained that it was very difficult not to import anything and export everything. "People think export is good, import is bad. That is not the way one needs to look at trade. What makes sense is adding net exports to the GDP. You can only export if you have gold or oil, but in our case we need to add value and export."

It was pointed out that the high total protection rates in Sri Lanka were one of the key reasons to restrict imports into the country.

However, Dr. De Silva raised concerns about Sri Lanka's Ease of Doing Business rankings, which was also highlighted in the World Economic Forum Global Competitiveness Index (GCI) released last week where Sri Lanka slipped to 85th place, down from 71st place in the previous assessment.

"However much various people have been attempting to tweak the components of the Ease of Doing Business, we seem to be stuck in a very bad place. This is an area we have not been successful in shifting our position from where it was to where we want to take it, to be honest," he stressed.

He assured that in terms of policy and economic affairs these measures will be specific in the upcoming Budget 2018. Pointing out the importance of having the ability to invest to improve infrastructure, the Deputy Minister said the Government was now thinking of new ways such as BOT structures for the private sector to partner the public sector to carry out infrastructure projects.

He said they were now moving away from the general thinking that the infrastructure was the monopoly of the Government and cited the joint venture agreement with China Merchants Port in Hambantota as an example. "I did an analysis of the capital expenditure. We only spend about $ 5 billion of Government money on capital expenditure annually and of that education we found out that 60% goes to construct buildings. There are buildings, there are labs, but there is nothing inside those labs. So if you are talking about quality infrastructure I am digressing from ports to school labs, but still that is what it means,"

Dr. De Silva, who also chairs a Steering Committee looking at 'soft infrastructure', pointed out that Sri Lanka's planned financial centre in Colombo will be a top global oasis for business, creating high-value jobs and a policy lab which will spread to the rest of the country.

"We are trying to create a major structural break from the rest of the country's doing business investment climate. I want it to be a policy lab and I want what works here to permeate to the rest of the country. The strategy is to create a top 10 doing business oasis in the world," he added. Noting that Sri Lanka's position in terms of digitisation was not all that bad, Dr. De Silva said that the removal of data taxes would further help to digitise the economy. He also said there were many other initiatives currently ongoing, including authentication platforms that will create a digital ecosystem to ensure that the transaction cost of doing business will be reduced.

Pix by Lasantha Kumara