Any technology has the potential to be disruptive, when it is used creatively to narrow the gap between a fresh product or service and an established business, which motivates customers to move to the disruptors' products.

N-Able Managing Director and Chief Executive Peter D'Almeida at the CIMA Business Leaders' Summit 2018 discussed the process of a disruptive business model.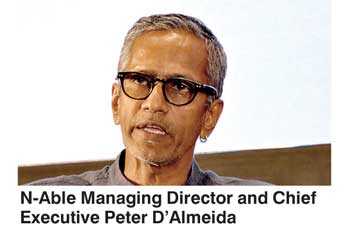 "We think of any technology as disruptive innovation. Disruption can be describes as a process in which a small company with very minimal resources starts challenging the income. It focuses on its core business trying to make its product better, go after the specific customer and group and that is very profitable while they over serve the demands of certain segments and completely underserves a huge segment of the market," explained D'Almeida.

He said that it was the market entrance that disruptors go after. According to him, they simply target a group and start with a product that is not so complex in functionality, cheap and affordable to a vast majority in the market while they enter and build a foothold and when this happens the incumbents who are chasing higher profits with their customers will be completely disregarded. The disruptors start moving up-market and start narrowing the gap before the incumbents realising it and they will be offering products that are deal offered by incumbents in what was their protected mark. The disruptors work on this while preserving the advantages they had as the disruptor that they came to the market.

"When the mainstream customers start moving towards the low-end, to the disruptors' products, then disruption takes place. Everything else is a different type of innovation," he elaborated.

D'Almeida stated that disruption was a process which usually starts in a very small scale and then quietly its builds momentum. He said that the incumbents are generally indifferent to what's happening because they're not good at identifying disruption and that they suddenly find themselves in a situation which disruptors have passed them.

He also explicated how disruptors think different and how that kind of an innovative model could change the entire future for the business. "Disruptors build business models that are completely different to other business models. For example, Apple didn't start as a disruption, but more as a sustainable development for the smart phone business. But what they did was, they went after the PC business saying that it was the easiest way for you to get connected. They also created an eco-system of applications, the app store, and that's what made the change. Today the app store makes $11 billion, that's a business model disruption. What is actually a business model? A business model is a way that you create realised value and there are three components to it, customer value proposition, profit formula, e-resources and processes," he noted.