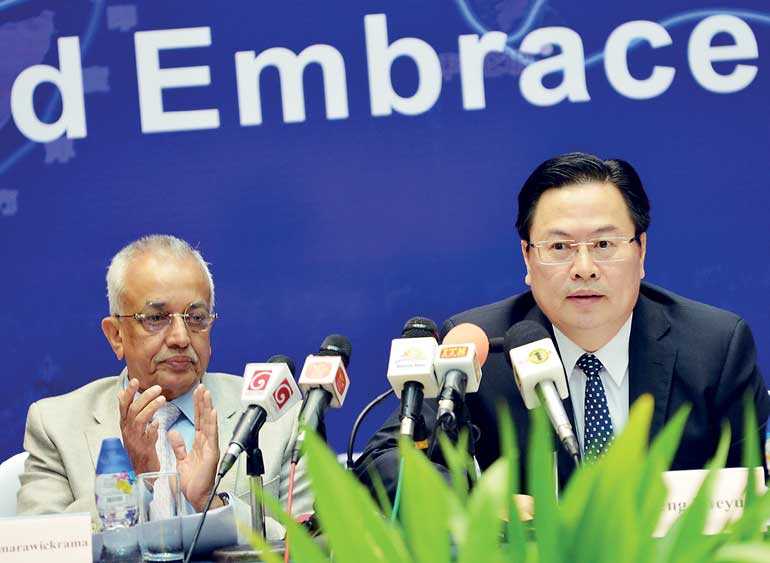 Ambassador of China Cheng Xueyuan (R) and Development Strategies and International Trade Minister Malik Samarawickrama at the symposium
Following is the keynote delivered by Ambassador of China Cheng Xueyuan yesterday at a symposium titled 'From Millennium to the New Era: Jointly Build the Belt and Road and Embrace the Sri Lanka Dream' held at the Chinese Embassy. Development Strategies and International Trade Minister Malik Samarawickrama, academics, heads of policy think-tanks and media were also present
First of all, I warmly welcome all of you to attend today's symposium in the Embassy. During the last four months since assuming my office as the Chinese Ambassador to Sri Lanka, I fully experienced the deep-rooted friendship and flourishing cooperation between our two countries.

In recent days, thunderstorms and floods hit Sri Lanka again, which has drawn sincere concerns not only for the Sri Lanka Government but also for China. I believe all of us here are aware that China has always offered a helping hand whenever Sri Lanka needs it most.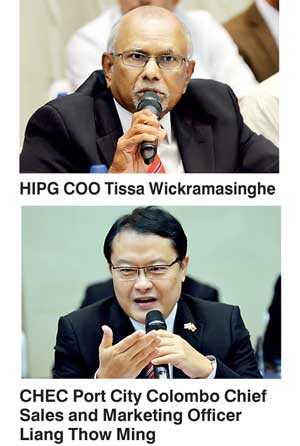 In the past few years, whenever the island nation was hit by natural disasters, China would always provide emergency humanitarian aid such as rice, relief cash and housing projects for the affected. Besides, the infrastructure of Sri Lanka such as roads, railways and ports, has also been much improved with China's assistance in the last decade.

Why is China willing to help Sri Lanka? Many people may be thinking about and even wondering about this question. Today, please allow me to elaborate three main reasons in depth, which I believe will not only eliminate this confusion but also demonstrate the future of our bilateral relations.


Longstanding history

Firstly, China and Sri Lanka are combined with long history of friendship and exchanges, which makes us care and help each other.

Though the two countries are far apart geographically, the history of friendly exchanges of the two states has lasted for more than 1,000 years. About 1,600 years ago, Master Fa Xian studied Buddhism in Sri Lanka and returned to China via the Maritime Silk Road, to proclaim dharma, peace and friendship. About 600 years ago, the Zheng He fleet visited Sri Lanka five times and took bilateral economic and cultural exchanges to a new height.

When the People's Republic of China was founded in 1949, Sri Lanka was among the earliest countries in the region to recognise it. In 1952, the leaders of our two countries broke through the heavy blockade of imperialism and made a political decision to sign the Rubber-Rice Pact, through which China sold rice to Sri Lanka (Ceylon) at international market prices and bought rubber from the latter with a price higher than the international market price. This both relieved the crisis of food shortage in Sri Lanka and the strategic need of rubber in China.

R. G. Senanayake, the then Minister of Commerce and the Sri Lankan signatory to the historical pact, once stated: "Ceylon is the first country in South Asia to send a Government delegation to China and enter into a trade agreement with it. It has become a good example for other South Asian countries."

Later, the Rubber-Rice Pact was renewed several times and continued until the 1980s. Under the Pact, Sri Lankan rubber seeds were also exported to China, and deeply-rooted in the Chinese soil and people's heart. It is not only a trade agreement, but also an agreement of solid friendship between the two countries.

Since the 1980s, Sri Lanka was facing a serious threat of terrorism and China extended its steady support to Sri Lanka. After finally bringing an end to the 26-year civil conflict in 2009, Sri Lanka found itself severely suffering from war trauma and was almost torn to pieces.

When standing and trembling on the war ruins, Sri Lanka called for urgent support from the international community to rebuild this beautiful country, but surprisingly found that most countries chose to remain silent and watch the situation going on with folded arms. At this critical moment, it was China once again that stood up with open arms to Sri Lanka and participated comprehensively and deeply in the post-war reconstruction of the country.

As of the end of 2017, Chinese companies have completed more than $ 15 billion infrastructure projects in Sri Lanka such as transportation, water, electricity, ports and other fields, and made great contributions to the economic and social development of this country.

I would like to mention some significant progress. The completion of the Norochcholai Power Station (or the Puttalam Power Station) provided about 40% of the nation's electricity supply and ended the history of frequent power cuts in the island. The Katunayake Expressway has brought great convenience to international travellers and contributed to the blooming of tourism.

The Colombo International Container Terminal, a Sino-SL joint venture, became one of the fastest growing container terminals in the world. The newly-completed Moragahakanda Project, which is the biggest reservoir in Sri Lanka, has brought great benefits to local agriculture and people. Section-I of the Southern Railway and the extension of the Southern Expressway are going to be completed and opened, which will give a strong impetus to southern region development.

Last but not least, the under-construction Colombo Port City as well as the Hambantota Port and Industrial Park are expected to become the new powerful engines for Sri Lankan economy to take-off. In addition, our pragmatic cooperation has also created more than 100,000 jobs for Sri Lanka and trained tens of thousands of technical and management personnel.


Shared experiences

Secondly, China and Sri Lanka shared similar rough encounters in the past, which makes us sympathise with each other.

China and Sri Lanka are both civilisations with a long history. We were both suffered a lot from imperialism and colonialism. Since 1840, China had been frequently invaded by Western powers, falling into a semi-feudal and semi-colonial country. It was not until 1949 and under the leadership of the Communist Party of China (CPC) that the Chinese people finally gained liberation, established a new socialist China and embarked on the great path of national development and rejuvenation.

Since the 16th century, Sri Lanka has been colonised consecutively by the Portuguese, the Dutch, and the British until 1948 when it became independent. Unfortunately since the 1980s, Sri Lanka has experienced civil strife for nearly three decades and the national development process has been forced to stagnate.

Similar historical encounters allow us to empathise with each other's fate and understand each other's deep aspiration of peace, development, and a better life. Therefore, whenever Sri Lanka is facing a major opportunity for national development, China is willing to do its utmost to help Sri Lanka.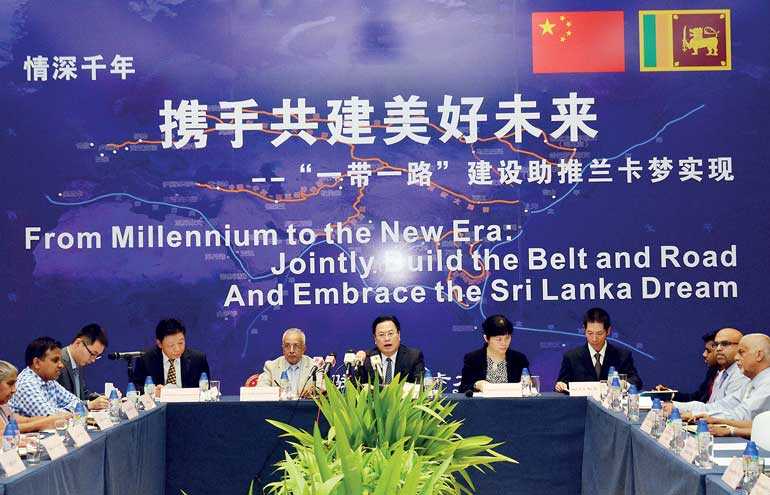 Combined dreams

Thirdly, the Belt and Road Initiative combines the Chinese dream and Sri Lankan dream together in the new era, which makes us join hands and move forward with each other.

Under the strong leadership of the CPC, the Chinese people have made brilliant achievements in national construction after 69 years of tremendous efforts. Especially since the 18th National Congress of the CPC in November 2012, under the leadership of General Secretary Xi Jinping as the core, we have successfully decided and deployed following major issues including comprehensively deepening reform, comprehensively enhancing law-based governance, comprehensively strengthening party discipline, etc.

We have formulated and promoted a system of national strategic plans, successfully completed the 12th 'Five-Year Plan' and started the 13th 'Five-Year Plan,' which initiated a new chapter for the party and the country's development, and advanced the dignity, prosperity and strength of the Chinese people.

In the 19th National Congress of the CPC in October 2017, President Xi Jinping reiterated that the original aspiration and the mission of Chinese Communists is to seek happiness for the Chinese people and rejuvenation for the Chinese nation. He called for all members of the CPC to remain true to our original aspiration and keep our mission firmly in mind, and work tirelessly to realise the Chinese dream.

The Communist Party of China strives for both the wellbeing of the Chinese people and the entire human progress. In the new era, China will continue to hold high the banner of peace, development, cooperation, and mutual benefit and to forge a new form of international relations featuring mutual respect, fairness and justice, and win-win cooperation.

To build such a new form of international relations requires to abandon the Cold War mentality and the 'zero-sum game,' to insist all countries, no matter how large or small, are equal, to respect each other's core interests and concerns, and to pursue fairness and justice in handling international affairs.

China's development cannot be isolated from the world, while it also drives the development of the world. With the high integration between China and the world, in 2017, the global contribution rate of the Chinese economy exceeded 30%. In a globalised world, we all have a stake in each other's future, just like passengers riding in the same boat. We are willing to work together with all countries to build a community with a shared future for mankind, achieve common development, and join hands in creating a better future.

It is based on the grand concept of the 'two buildings' (i.e. building a new form of international relations and a community with a shared future for mankind) that President Xi Jinping proposed the great Belt and Road Initiative.

The BRI allows all countries along the route to work together under the golden rule of "joint consultation, contribution and shared benefits", and realise the 'five connectivity,' namely connectivity of policy, transportation, trade, currency and the hearts of the people. The Belt and Road Initiative is completely different from the 'Marshall Plan' during the Cold War. It is not for fostering any ally, but for the common development of related countries, and for a better future of mankind.

Ladies and gentlemen, Sri Lanka has a superior geographical location and a broad development prospect.

The Sri Lankan Government and people have also drawn the 'Sri Lankan dream' of achieving national progress, economic development, ethnic unity, and religious harmony. This is consistent with the idea of BRI and the goal of building a community with a shared future for mankind. As one of the first countries to openly support the BRI, Sri Lanka is an important partner with China in the Belt and Road joint construction.

Despite its achievements in economic and social development, China is still a developing country, situating at a similar stage of development as other developing countries including Sri Lanka and facing similar developing tasks. The world is in a period of major development, changes, and adjustments. Peace and development are still the theme of our times. China is willing to join hands with Sri Lanka and other developing countries, to take the opportunities and tackle the challenges for a common development.

To be specific, we would like to work with our Lanka friends to further enhance mutual trust, respect and support, to implement the mega-projects of Colombo Port City as well as Hambantota Port and Industrial Park, to boost the economic development of the Island nation for the early harvest of joint construction of BRI, and to bring tangible benefits to our two countries and peoples.

In order to better building the new form of international relations, General Secretary Xi Jinping also proposed to develop a new model of party-to-party relations, in which political parties seek common grounds while shelving differences, respect and learn from one another.

In view of the different conditions in various countries, it is meaningful and helpful for different political parties to conduct more exchanges, improve understanding and consensus, and promote peace and development in the world.

Party diplomacy is also an important part of Sino-Sri Lankan relations, while the CPC has been maintaining friendly relations with all parties in Sri Lanka.

In the new era, we also wish to strengthen exchanges and cooperation with Sri Lanka's political parties, respect and learn from each other, which will lay a solid foundation for the further development of China-Sri Lanka friendly relations and pragmatic cooperation.

Ladies and gentlemen, I would like to conclude my speech by quoting an old Chinese saying: "A giant tree grows from a tiny seedling; a thousand-mile journey begins with a single step."

China and Sri Lanka have strong complementarities, and the potential for cooperation is still waiting to be explored.

With concrete efforts and under the guidance of our leaders, I am fully confident that in the new era of our bilateral relations, we will certainly gain the success of joint construction of BRI in Sri Lanka, and embrace the Sri Lankan dream of a prosperous country and a happy people.

Long live China-Sri Lanka friendship!