The Rs. 151 billion advertising industry under threat
50% YOY drop in revenues across the sector
Event management and brand activation segments most affected due to social distancing
An estimated 100,000+ employees across sectors face hardship
Significance of the sector to Sri Lanka's economy largely gone unnoticed
Comprehensive study by Ernst & Young coming to a conclusion
---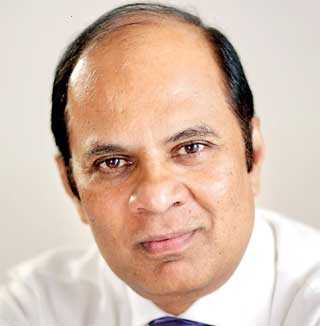 Arjuna Herath, Senior Partner and Head of Consulting, Ernst & Young, Sri Lanka and Maldives
---
Having claimed several lives and affected countless more around the world, the COVID-19 pandemic has brought with it a widespread economic crisis as well. Lockdown measures and other restrictions put in place to control the spread of the infection has quickened the impact on many industries.

The World Bank notes that, "COVID-19 has delivered an enormous global shock, leading to steep recessions in many countries. The baseline forecast envisions a 5.2% contraction in global GDP in 2020—the deepest global recession in decades."

Referring to the situation in Sri Lanka, the World Bank states that, "the combination of falling tourism, manufacturing activity and services associated with the pandemic is envisaged to cause output to contract by 3.2%, despite the earlier recovery from the April 2019 terrorist attacks."

The economic impact of the pandemic can be felt on the streets and in homes. We continue to hear stories of how industries such as tourism, manufacturing, etc. are all grappling to survive and overcome the unprecedented challenges that the world is now faced with.

One such sector where the impact has been relatively unseen but considerably devastating is marketing communications also known as the advertising industry. Working hand in hand with almost all industries across the board, helping them take their products and services closer to consumer's hearts and minds, the MarCom industry's fate is intertwined with that of the industries it works with and the economy at large.


Creative industries hit
Creative industries such as advertising, architecture, arts and crafts, design, fashion, film, video, photography, music, performing arts, publishing, research and development, software, computer games, electronic publishing, and TV/radio are the lifeblood of the creative economy – an evolving concept which builds on the interplay between human creativity and ideas, intellectual property, knowledge and technology.

These knowledge-based economic activities upon which the 'creative industries' are based are an important source of commercial and cultural value. According to UNCTAD, the creative industries commonly referred to as the creative economy are among the most dynamic sectors in the world today, providing new opportunities for developing countries to leapfrog into emerging high-growth areas of the world economy.

The falling ad spend numbers in recent months are just one of the indicators of the blow that has been dealt to the sector. Industry data on media spends indicates an approximately 50% drop in advertising expenditure (TV, radio and newsprint alone) during the period March to June when compared with the same period in 2019. Given the fact that advertisers in Sri Lanka generally tend to spend more money during the months of April and December, this drop is even more alarming.

The MarCom sector is not limited to mainstream advertising alone. It comprises a diverse range of businesses connected to marketing communications including advertising, market research, event management, photography, video and audio productions, media planning, digital, public relations, outdoor advertising, tele/broadcast media (TV, print, radio and online media), activations and printing and packaging. Collectively, their revenues have gone down by about 50%, year-on-year, with some segments like event management and brand activations having come to an almost complete standstill.

The garment industry's net contribution to the economy stands at Rs. 400 billion, approximately, tourism at Rs. 712 billion and tea and rubber contribute Rs. 232 billion and Rs. 147 billion, respectively.

As per an ongoing study by Ernst & Young Sri Lanka, the MarCom sector has an annual revenue of Rs. 151 billion and employs over 100,000 people directly and indirectly, with about another 200,000 people depending on it.

The service sector accounts for 60% of Sri Lanka's GDP of which 1.7% comes from professional services and the MarCom industry contribution is equal to approximately 1% of the country's GDP. Yet the sector and its significant contribution to Sri Lanka's economy has largely gone unnoticed.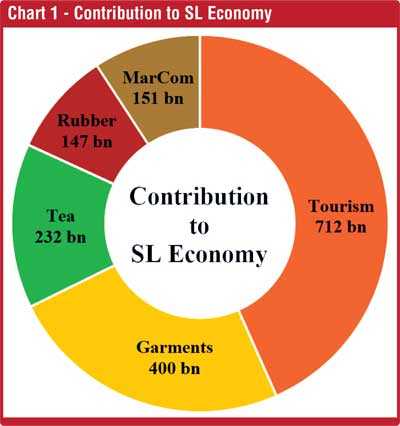 The MarCom Collective
Following the impact of the COVID-19 pandemic, a group of eight associations intrinsically linked to the advertising industry as well as businesses and professionals from both the marketing and advertising industry came together to form the MarCom Collective. It seeks to give this sector formality and purpose and to ensure the continuity of the sector by initiating short term recovery measures and long-term sustainability for the different constituent industries by identifying ways in which they could collaborate with all stakeholders including the Government to address them.

International Advertising Association (IAA), Sri Lankan Chapter President Tharaka Ranwala shared his views on the issues plaguing the sector and the support it needed to survive. "As a tripartite organisation that represents ad agencies, marketing companies (clients) and media, we at the IAA have been able to witness firsthand the tremendous impact COVID-19 has had on all three sectors. Companies across these sectors are faced with loss of revenue and resulting salary cuts as well as job cuts in some instances," he said.

"The MarCom Collective that came together during the lockdown has done a great deal of work to understand the impact on the industry and assist its membership. We hope the government will recognise how advertising and marketing communications play an integral part in economic development and drive growth. We look forward to seeing policy measures being introduced to support these sectors and empower them to play a pivotal role in the post COVID recovery process," Tharaka added.

Concurring with these views, Association of Accredited Advertising Agencies (4As), Sri Lankan Chapter President Sugibun Sathiyamoorthi said, "Consumption drives business. Consumers drive brands. Both brands and businesses are driven by marketing and advertising. And I strongly believe that this key driver of the economy must be supported, both in good times and bad."

4A member agencies together employ over 2,000 people directly and offer indirect employment to thousands more. Stressing on the hardships they face, he noted that about 80% of the agencies have implemented some form of salary cuts from April 2020.

As advertising budgets get cut, the impact is being felt by the entire marketing communications ecosystem which extends well beyond advertising agencies. "We are look forward to working with policy makers in Sri Lanka on formulating policies that incentivise businesses to invest in advertising and thereby help revive the marketing communications industry," Sugibun added.
Film production
Film production companies involved in the production of television commercials and other commercial videos work closely with brands and agencies. Shedding light on this segment, Video and Film Production Association (VAFPA) President Santhush Weeraman, said, "VAFPA is a collective organisation representing the film production houses engaged in TVC and commercial video production. COVID-19 has created a negative impact, stalling marketing communications. While the Marketing fraternity and the advertising industry of Sri Lanka creates brands and advertising opportunities for Sri Lankan business, the production houses play a pivotal role in bringing the production elements to TVCs, Digital and Commercial video production.

"As 'Marcom Collective' it is a timely need and a deed, to collectively seek solutions and opportunities to revive the business engine of Sri Lanka. While we save and cut corners for our survival in business, it is of essence that we seek opportunity to grow with new markets and tread for that silver lining during these difficult times. It›s important that we think positive at this point of time."




Event management
Event management companies are another vital cog in the MarCom landscape. Event Management Association of Sri Lanka President Roshan Wijeyaratne shed light on some of the major challenges they face. "We lost 100% of our bookings and earnings during the initial, three-month long lockdown. While the restrictions on events are being gradually relaxed, the industry is still at a standstill and we don't see any major corporate events taking place till the end of the year," he noted.

Many companies are facing difficulties with paying salaries and rent and have hence had to cut down on staff numbers and vacate office and workshop premises. Going beyond those directly employed, the sector engages countless others such as equipment suppliers, photographers, videographers, models, caterers, entertainers, hotels and other event venues, etc. who are all currently faced with extremely grim prospects.

Speaking about some possible relief measures that would help the sector survive and recover, Roshan said, "Entertainment tax, ranging from 10% to 25% depending on the municipality, is a significant cost element. The total tax amount has to be deposited with the local authority before a single ticket is sold. A temporary suspension of this tax would be of great help. With almost zero revenues coming in at the moment, we would also like to request for the current debt moratoriums to be extended by six months. The EMA would also like to work with the government on promoting Meetings, Incentives, Conferences and Exhibitions (MICE) related business."


Market research
Market research plays a significant role in shaping the work of the MarCom sector. Market Research Society of Sri Lanka President Roshani Fernando underscored some of the challenges faced by the industry.

"In the face of crisis, the instinctive response is withdrawal to protect oneself for survival. Most industry segments have also addressed existential issues by cutting back on spending to survive in the short term. The challenges facing most is the inability to craft a strategy for recovery, given the instability in the macro environment. Organisations need to be able to distinguish investment from expenditure," she opined. "Unfortunately, investments in research and communication are often considered as costs. In challenging times, it is important to perform comprehensive research of the market, consumer expectation fulfilment and product development, as trial and error is too costly an approach."

While research companies are facing challenging times themselves, the impact is compounded on the over 1,500 field research workers who have been left without any employment or income since March.

Roshani also shared her thoughts on how the Government could help the sector during these challenging times. "We would appreciate if policymakers classified consumer research related expenses as research and development investment that could ideally be amortised over three to four years. This would motivate businesses to invest in research, allowing them to make more informed business decisions. We would also like to see the government initiate industry specific research work to identify growth opportunities which would prove to be invaluable to potential investors, both local and international," she said.


Printing
Printers are another key segment that works closely with the advertising and marketing sectors. Speaking about how the sharp fall in advertising and marketing spends has impacted the printing business, Sri Lanka Association of Printers (SLAP) President Delan Silva noted, "Product packaging and brand collateral accounted for a considerable portion of our business. Brands and agencies used to come up with innovative designs that pushed us further. Given the budget cuts they are faced with, we are seeing a significant impact on our business. Going beyond our employees, this also had an adverse impact on the over 25,000 home-based workers who were engaged in different parts of the production process. We hope to see the sector being revived with the support of the government."

The MarCom Collective has commissioned Ernst and Young Sri Lanka (EYSL) to undertake a comprehensive study of the country's marketing communications industry, its contribution to the Sri Lankan economy and the issues it is faced with.

Ernst & Young, Sri Lanka and Maldives Senior Partner and Head of Consulting Arjuna Herath, who is spearheading the study, identified some of the key challenges faced by the marketing communications sector in Sri Lanka. They include:


Lacklustre demand and drying up revenue streams
Across sectors, businesses are cutting down on marketing communications expenditure in order to curb the impact of COVID-19. Most new product and campaign launches have been put on hold and existing ones have been scaled down.

Increase in online streaming of content using international platforms (e.g. Netflix) has reduced brands' interest in spending on traditional media platforms.

Temporary suspension of live sporting and entertainment events have further weakened the demand, resulting in reduced revenues in the short-term.


Working capital challenges
Given the disruption of economic activities due to the prevailing business climate, the MarCom sector is experiencing significant delays in payments from existing customers as well as a considerable drop in new business acquisition.

This together with the industry's overhead structures, comprising of costs such as rent, utilities, etc., has led to dwindling working capital levels.


Constraints in accessing affordable financing facilities
Businesses in the MarCom sector tend to have a low fixed asset base. Hence, while several other sectors have been able to obtain asset backed loans on favorable terms during the pandemic, the MarCom industry continues to face challenges with accessing such funding. This is particularly true for event management companies who saw only a small portion of their loan requests being approved following the Easter Sunday attacks.


Tax issues
Ambiguity on tax rate applicable to MarCom sector

Cashflow bottlenecks arising from VAT payment cycles

Provision of investment incentives based on Fixed Asset size

Cap on the tax-deductible portion of the interest expense


Employment uncertainty
Due to the economic impact of the COVID-19 pandemic, most industries are facing difficulties with sustaining their wage levels, leading towards pay cuts, layoffs, hiring freeze and non-conformation of staff under probation.

This has been more widespread in the MarCom sector where employee salaries form a significant portion of the cost structure of companies.

Reduction in marketing spends across segments has resulted in a marked drop in demand for talent in the sector, especially the large volumes of informal workers for whom these earnings are most often the only source of income.


Industry specific Government support programs
The Government of Sri Lanka has rolled out several targeted programs for sectors such as garment manufacturing, tourism, agriculture, etc. to help them survive this global health and economic crisis. While the MarCom sector has been able to avail some support through the broad debt moratoriums and other programs, it is yet to receive any such industry specific relief measures or concessions. We can draw inspiration from some of the programs introduced by governments around the world.

One common concession being offered globally is the waiver of broadcast fees or taxes. Australia has offered a 100% rebate of the Commercial Broadcasting Tax obligation for commercial television and radio broadcasters for a period of 12 months.

The New Zealand Government has provided a package worth $50 million to revive the advertising industry which includes a 100% waiver of TV and radio transmission fees for a period of six months. The Canadian Radio – Television and Telecommunications Commission (CRTC) too has waived off the next payment of license fees, offering a financial relief of $ 30 million to the broadcasting industry.

Governments are also launching their own national level marketing campaigns with all or most of the ad spends going to local media outlets such as the Australian Government's $ 4 million national marketing campaign for the seafood sector and the federal government of Canada's $ 30 million COVID-19 awareness advertising campaign.

Denmark has introduced a host of measures to support its MarCom sector. Its DKK 240 million Danish scheme focuses on compensating media companies in Denmark for the loss in advertising revenue due to COVID-19. The Government is also providing financial support to private media outlets who experienced a loss of 30-50% of revenue to help with lost revenue and staff salaries. Freelance and self-employed journalists in the marketing and advertising industry who have lost more than 30% of their income will receive a 75% compensation from the state. Companies in the sector have been allowed to delay their VAT payments and have been given an additional four months to pay labour contributions known as 'a-taxes'.

Closer to home, the Government of Malaysia is offering 600-1,200 Ringgit per month towards the salary of each local employee who earns 40,000 Ringgit or less.

Industries that constitute the creative economy, such as the ones represented by the MarCom Collective, have gained significant attention in many economies in the West.

In Asia too, countries such as Singapore, India and Indonesia have been quick to adapt policies and initiatives to support this sector. Policy makers and business leaders in these markets are becoming more aware of the potential of the creative industry and how it can have a significantly positive impact on their national economies.

In Sri Lanka, the MarCom Collective and its members are currently engaging with the Government and all other key stakeholders to ensure that the industry gets its due attention. They seek to partner the Government on shaping policies that would create a suitable environment for the MarCom sector to revive and possibly emerge stronger from this global crisis, while helping the Government drive economic growth.