In her welcome address CIMA Business Leaders' Summit Chairperson Rifka Ziyard said CIMA had portrayed the importance of embracing change over the years, transforming itself to embed technology and innovation and ensuring the global management accounting profession is fit to meet the future of finance.

Reminiscing on the context of the chosen theme for Business Leaders' Summit 2019, she said when the team started off planning this event in early part of the year the path was to unravel the futuristic concepts of technologising business processes, on being relevant and embracing innovation which are undeniably strategies all businesses need to adopt to be successful. Swift adaptation to such innovation is mandatory since agility has now become the most popular KPI.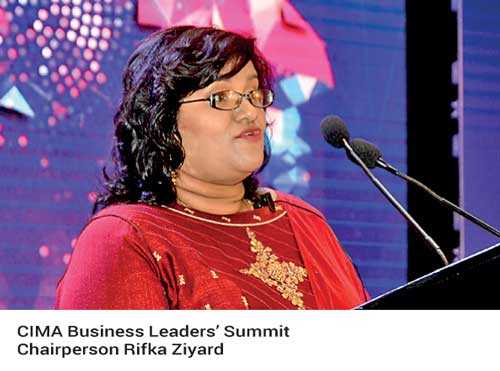 "The unfortunate incidents that took place in April ripped our hearts and our motivation. It slapped our faces with the brutal truth that there is one thing that is certain in business and in life, it is uncertainty. The cracks are still there in all of us," she added.

Ziyard said "as a nation, we are striving to regain normalcy and for which we tapped into our reserves, reserves of courage, resilience and promise which allow us to sustain through the phase of despair".

"Some businesses and business leaders portrayed how to navigate through these turbulent times by swiftly adapting to the detrimental surroundings and focusing on transformation. It is these events that led to our theme – the 'Art of Leading the Shift – Adaptability, Resilience and Transformation'," she stressed.

She said CIMA's objective in presenting this timely theme was "to understand how century-long businesses stay relevant and secrets of resilience; assist strategic decision-makers to redesign business strategies to emulate a 'phoenix rising' from the depths it plunged to due to recent unfortunate events; and initiate a shift in thinking to overcome the catastrophe that befell our nation.

"As Albert Einstein said, I quote, 'The world as we have created it is a process of our thinking. It cannot be changed without changing our thinking'; infuse modern leadership skills which are futuristic, agile and transformational but yet strongly based on sustainable values and transformations that businesses should embrace to lead the shift."

"Hence in strategising the thought leadership sessions, our focus was to bring business leaders, experts from across varied industries to bring in their experiences to provide learnings and assist in discovering the art of leading the shift," Ziyard added.

CIMA Business Leaders' Summit comprised four sessions titled 'Leading the Shift for Over 100 Years,' 'Towards an Era of Modern Leadership,' 'Transformation – the path to achieving the extraordinary' and 'Art of Leading the Shift – A panorama view'.

In addition two distinct power sessions were included focusing on 'Transformation of the Economic and Business Landscape of Sri Lanka' and 'Professional Negligence and Accountancy Profession'.

"In this journey of discovering the 'Art of Leading the Shift,' our hope is that even one session or thought kindles the need to lead the shift in your thoughts, your business or in the organisation you work for," she said at the inauguration of the summit.