CIMA Sri Lanka Country Network Panel Chairperson Manohari Abeysekera in her address said 2019 was a special year for CIMA.

"CIMA is celebrating its centenary this year. Founded in 1919 in UK, CIMA has grown in stature, and today it has become the largest management accounting body in the world. On this milestone, Sri Lanka is doubly proud, as the current CIMA Global President is also a Sri Lankan Amal Ratnayake who is currently residing in Sri Lanka. He is also the only son of former CIMA Country Manager Upali Ratnayake," she said. Noting that apart from UK, CIMA Sri Lanka has produced the highest number of members, Abeysekera said, "This shows our versatility, where our CIMA members are directors in the private sector, serve in the public sector, and a significant percentage of our members serve overseas in UK, Australia, Middle East, etc. Hence, that shows a contribution a tiny island of 20 million people has contributed to the growth of the management accountancy sphere."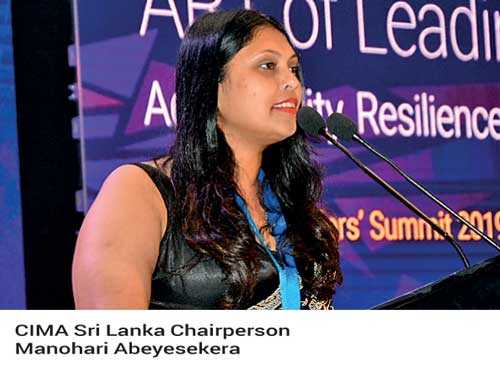 It was pointed out that when she took over as the Chairperson of CIMA Sri Lanka, a pledge was made that Sri Lanka would celebrate the CIMA centenary in style. Celebrations were commenced with the launch of CIMA Sri Lanka Corporate event in the beginning of the year and a planned visit of CIMA Global President in August."However, on 21 April, the Easter attacks were devastating, it was a totally traumatic experience. I come from an unfortunate generation, as we were exposed to a three-decade North East conflict, and we were having a peace dividend of almost 10 years, when this traumatic event took place," Abeysekera recalled adding Summit venue Hotel Shangri-La was devastated.

"However, we as fellow Sri Lankans need to share the grief. Immediately we appealed to CIMA UK, that there is a Trust fund created by the Archbishop for the Victims, and requested CIMA to appeal to its global members and partners to contribute to the Trust Fund," she said. CIMA Sri Lanka also engaged psychologist Rozanne Cooray on an evening forum with members on how to deal with trauma. In May, the Central Bank Governor, Dr. Indrajit Coomaraswamy, and senior military officers were invited to give a security brief, leading CIMA members spearheading boards on how to come out of this situation. "We should never bow down to terrorism. We Sri Lankans are resilient," Abeysekera said adding "after 4 ½ months of that tragic episode, I speak to a 700 plus audience on the same premises that was attacked."

That shows how resilient we are. We are a nation that would bounce back. We told CIMA we would go ahead with our CIMA Business Leaders' Summit, although we postponed our celebratory events, the Global President couldn't visit Sri Lanka due to the negative travel advisories. Abeysekera appealed to Guest of Honour UK High Commissioner to lift the negative travel advisories in UK and influence other developed countries, as this is one major barrier Sri Lankans face.

For the first time CIMA celebrated special religious events, cutting across religions Islam, Buddhism, Christianity initially with Ifthar, followed with Poson. We would continue to herald these events to showcase our strength and religions, where we as Sri Lankans need to be united to take this country forward.

Speaking on the Summit's theme 'Art of leading the shift', she said it was an apt topic, when times are turbulent where corporates undergo various changes.

Abeysekera also urged CIMA members to look into another hallmark that society looks up to. "We as accountants are guardians of public trust, not just in public institutions, corporates, or any other voluntary work that we engage in. We need to keep our integrity intact. In today's corporate context, it's a very challenging situation. We face pressures, and the cost of living, especially when we have families, whether to sacrifice our integrity to safeguard our jobs," she said.

It was also revealed that a request has been made to CIMA to come up with a hotline, whenever a CIMA member is in distress, where CIMA, past presidents could guide these members who are in ethical dilemma to ensure that the integrity is not compromised. "We speak of corporate governance, glossy words in annual reports but when it comes to practise, it's a different world. Hence, as management accountants we have to play our role in the society," Abeysekera noted.