---
This year's International Women's Day theme "Balance for Better" was a focal point of conversation when HSBC Group General Manager and HSBC UK Head of Commercial Banking Amanda Murphy visited the HSBC Main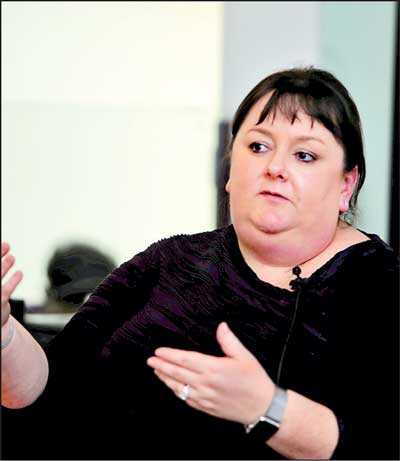 Amanda Murphy
Office in Colombo 01.

As an energetic champion of better balanced corporate workplaces which reflect the diversity of the communities they operate in and the customers they serve, her brief visit to Sri Lanka comes at a time when multiple conversations are taking place across the country around International Women's Day.

"International Women's Day is a wonderful way to celebrate our progress in creating an inclusive workplace that reflects the diversity of the customers we serve. Helping everyone have the confidence and support to fulfil their potential at HSBC is something we strive to do every day," said Murphy a during a discussion with the staff at HSBC Sri Lanka. She also met some of the female employees for a special idea-sharing session.

Based in Birmingham, Murphy is responsible for HSBC's relationships with more than one million customers and a team of around 5,000 people in the UK. During her 22-year career at HSBC she has worked in Europe, the Middle East, North America and Asia-Pacific. Married with three young children, she is no stranger to striving to strike a better balance between her work and personal life. Murphy's ambition to promote a diverse and inclusive workplace that help both men and women, saw her being featured among the FT & Heroes Top 50 Female Champions of Women in Business.

HSBC Sri Lanka and Maldives Head of Wholesale Banking Stuart Rogers said, "It's a great pleasure to have Amanda here in Sri Lanka. She's a fantastic example of channelling the power of women in business to make a real difference. She's also a great inspiration for all of us. Our Group CEO, John Flint has signed up to the 30% Club CEO Campaign commitment to reach 30% women in our senior leadership roles across the bank by 2020. HSBC, globally and locally, is actively engaged in developing and empowering female employees within the company to reach their full potential. Beyond that, here in Sri Lanka we are working with global organisations like Room to Read on projects that empower the girl-child in local communities with a long-term view to building their skills to succeed in life."

Currently, women make up 52% of HSBC's global workforce. The number stands at 44.1% in HSBC Sri Lanka. Making good on the commitment to create an enabling environment where people can fulfil their potential, the bank has taken specific steps to increase the diversity profile of its workforce. Enhancing inclusive practices around hiring and promotions, improving guidance for leaders, managers and employees, implementing better support for returning parents, increasing flexible and remote working opportunities, building a more balanced pipeline through succession planning and talent development, and expanding mentoring and sponsorship opportunities are some of the steps in practice Group-wide at HSBC.