HNB wins the APB Kandy Region
Quiz – 2018Guest Lecture on 'Emotional Intelligence at Work'

The members of the winning team HNB with the APB officials
Association of Professional Bankers – Sri Lanka held its first event in Kandy to provide its members in the Kandy region an opportunity to participate in an event without having to travel down to Colombo. The event was held at the 'Oak Ray Lounge' in Oak Ray Hotel, Gatambe, Peradeniya.

This is not the first occasion that APB has moved out of Colombo to hold an event having done it twice by having similar events in Jaffna twice in the recent past.

The main event was the APB Kandy region Inter-Bank Quiz – 2018. 22 teams from 14 banks participated in the quiz which had four rounds of questions; Branch Banking, General Banking Knowledge, Current Affairs and Sports & Entertainment. The questions of the first three rounds were designed to impart knowledge and skills to the young bankers whilst the fourth was a fun round.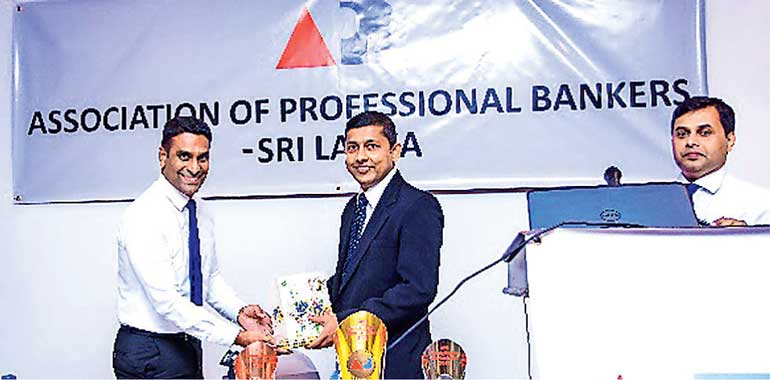 Presentation made to the Guest Speaker
There were a few fun questions for the members of the audience and the winners were selected by E.P.A. Sisira Kumara, the Chairman of the Special Events Committee. The Round Winners of each round also received prizes. Parama Dharmawardene was the Quiz master at this event.

The team from Hatton National Bank emerged the Champions with Bank of Ceylon 'A' the First Runner-up and DFCC Bank the Second Runner-up. All three teams were awarded trophies which were presented to them by APB Senior Vice President Asanka Ranhotty, Secretary General Aruna Fernando and APB Vice President C. Amerasinghe respectively.

The Quiz was followed by a Guest Lecture which was delivered by Dr. Chandana Jayawardena, Senior Lecturer, Department of Agriculture Extension, University of Peradeniya, who delivered an address on 'Emotional Intelligence at Work'. A summary of his presentation is given below.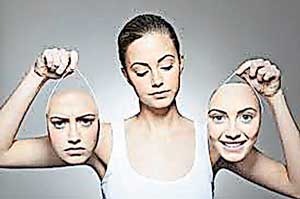 "Organisational capabilities form the core component of business architecture. Organisations are interested in employees with high intelligence and skills levels. Research findings suggest that human intelligence is inherently involved in intellectual capital and in each and every component of it. In other words employees have become the major factor behind organisational performances. Thus scholars and practitioners have been keen on experimenting the components of human intelligence. 'IQ' has been considered as the ultimate yardstick of measuring human intelligence. Interests in 'emotional intelligence' (EI) research got prominence since mid-1990s. EI looks into how well a person manages his/her emotions and the relationship with others in a given situation, say with employees at work. Empirical findings attach EI as a potentially powerful key to occupational success. The interest in exploring EI concept grew dramatically by a popularisation of the topic through Goleman's best-selling book, 'Emotional Intelligence' in 1995, exposing the 'business costs of emotional ineptitude'. EI has generated a great interest among many. The enthusiasm surrounding the identification of this 'new intelligence' has generated many EI enthusiasts and wide-spread claims. Research in the anatomy of human brain has strongly established the existence of EI with numerous supportive evidences. These findings have scientifically validated the existence of EI, as a distinct human faculty. In other words, people having superior performances and mastery at work have better control of their brains' emotional centres.

However, there are inconsistencies in EI research findings mainly due to the issues in measuring EI. Two main theoretical approaches exist in assessing EI. One approach is known as the ability model ('cognitive-emotional ability') framework. The other approach is known as the mixed-model framework measuring a combination of cognitive, personality and affective attributes. There are differences of opinions about the measurement methods based on above EI approaches.

Research findings have proven the benefits of EI in many facets of life. People having higher EI are linked with higher levels of leadership, job performance, career success, career satisfaction, and social acceptance. Benefits of EI also linked with academic performances and personal life including the family well-being. Benefits of EI are many in the world of banking. Relationship with subordinates and peers is greatly enhanced through EI. Banking has become demanding than ever before. Maintaining higher levels of customer happiness is facilitated through better management of emotional situations at customer service. Emotional styles drive the moods and behaviours of others. Emotions influence decision making that can make the difference between success and failure in the world of business. They also implicate the overall effectiveness of an organization as a team. EI also has a grey area that allows people to manipulate emotions to their advantage. There is no doubt that IQ is still the main determinant of career success. However, intellect loses its power to differentiate at a particular stage (threshold). That is where we see different behavioural patterns among even high IQ employees. Those who handle themselves and their relationships better emerge more successful in this context. EI adds definite value. However, the research findings are still insufficient for us to conclude the impact of EI in the world of work".

The event was concluded with fellowship and a sumptuous dinner with the Quiz participants and the special invitees enjoying the evening to some good music provided by the band which played non-stop.