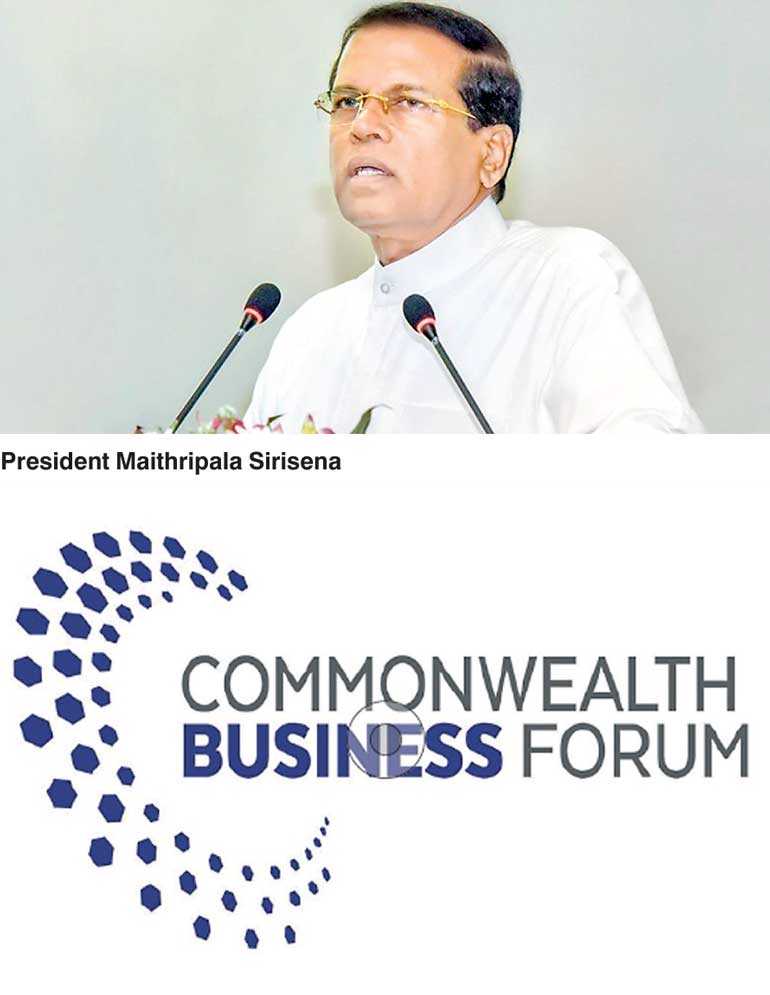 Delivers keynote address at CHOGM's Business Forum
President Maithripala Sirisena said that a country's sustainable future must be built on the foundation of self-discipline and equity, and referred to the learning from Buddhist traditions prevalent in Sri Lanka, on the three types of human conflict caused by the inability to contain overindulgence that has made these traits being vital to offset such, he said explaining his reasons for his view.

The President was delivering the keynote address yesterday at the third and final day of the Business Forum session titled 'Delivering the SDGs: Aligning Business, Society and the Governments'. The Commonwealth Business Forum is an integral part of the CHOGM and brings together the businesses critical to trade and investment leadership with Government to debate the issues facing their countries in 2018 and beyond.

"Extremism, overconsumption, environmental harm, human rights violations and income equality in turn can cause insecurity, conflict, right violations and exploitation. When the edifice of sustainable development is built upon on self-discipline and equity, and practiced at a personal, community, national and global level, it would mark a giant leap forward for humankind," he emphasised.



He called on all member states to rise to the clarion call to urgently address sustainable development issues that threaten life on this one planet that all countries rich or poor, small and large, have to share and call home.

Drawing attention to climate change, he said that Sri Lanka was deeply conscious of the impact of climate change. "We are already facing its adverse aspects in the form of droughts, unprecedented and rising temperature, floods, unreasonable rain and constant erosion."

He called for collective action that is required to arrest vulnerabilities and increase resilience, with strategies in place for innovating funding.

"Specific policies and efforts are needed," he stressed, "to endure that green growth is inclusive and environmental sustainability is not at the expense of greater equity and poverty alleviation."

"I view the 2030 Development Agenda not merely as a document agreed to by all world leaders but as a sacred covenant between our generation and the next," he said. Speaking on Sri Lanka's progress, President Sirisena said the focus was to provide a decent quality of life for all, especially the poor and disadvantaged, and meet basic needs, in line with the spirit of the Sustainable Development goals and UN 2030 Agenda, 'leaving no one behind'.

"Sri Lanka has already embarked on the sustainable Sri Lanka 2030 Vision – our own strategic plan to harmonise the economic, social, and environmental dimensions of the Sustainable Development Triangle. By 2030, our national goal is to achieve high middle income status and become a prosperous green, inclusive and harmonious Indian Ocean hub. Our practical strategy for achieving sustainable development follows a Balanced Inclusive Green Growth (BIGG) path, which resonates with the teachings of Lord Buddha and the tradition of the middle path."

Explaining further, he said: "The BIGG path takes us towards a people-oriented and open socio-economic system, based on democratic and pluralistic institutions that protect our ethical values, heritage and environment and built on respect for freedom, justice and equal opportunities and human rights. It will provide a framework for all stakeholders – in Government, the private sector and civil society – to cooperate effectively in achieving our sustainable development vision."

Common values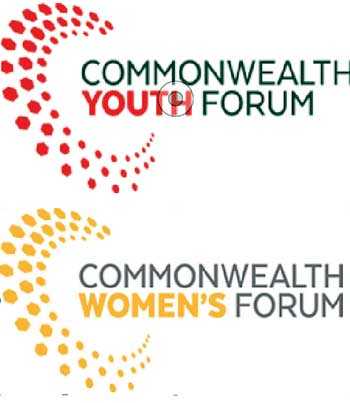 Drawing parallels and shared common values of the Commonwealth and Sri Lanka, he said Sri Lanka was the oldest modern democracy in Asia, and the values we aspired to were very much in line with the Commonwealth: To build a just, peaceful and prosperous world.

Speaking on Sri Lanka's achievements, he informed: "We have resolutely protected democracy in our country despite pressing challenges. We have succeeded in retaining State social welfare policies that have existed since independence, including universal free education, free healthcare and eradication of poverty, enabling a high score in the Human Development Index."

Further he informed that Sri Lanka had already embarked on a drive to integrate closely with the global economy, to strengthen trade and fiscal relations.

"In our quest to work towards the prospect of realising $2 trillion intra-Commonwealth trade by 2030, we should resolve to ensure inclusive growth for the poor and the vulnerable through a transparent, inclusive, free and open rules based multi-lateral trading system."

Future plans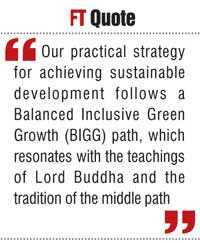 Spelling out future plans, the President said: "We will work with emerging economies to transform Sri Lanka to a centre of excellence in maritime affairs and the blue economy. The latest Budget presented by our Government, entitled 'Blue-Green Enterprise,' encourages low emission economic development. Oceanic and marine resources will be used in a sustainable manner, and organic farming and clean renewable energy will be promoted. We will take steps to encourage research in this area with other Commonwealth member states, in a bid to find sustainable solution to ocean pollution and solid waste management."

With much pride, he said: "I announced a ban on the use of polythene products including oxo-biodegradable plastic and extended polystyrene last year."

Women and youth

Stressing on the importance of focusing on the progress of women and youth, he said that development should result in empowerment of women and youth and assure security for children.

"Youth is the driving force for economic advancement and its marginalisation will be a cause for conflict. National policies must be geared towards transforming young people into a totally skilled workforce, to ensure success in the 21st century knowledge-based world. Similarly programs to empower women and thereby enhance their contribution in development should be implemented. The sustainability of a cohesive, ethical society as well as greater economic productivity rests on equal opportunities for all.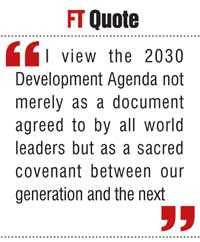 "By the middle of the century, the planet will hold a population of nine to 10 billion people, who will need adequate natural resources, sustainable livelihoods and economic progress. Issues like overexploitation of scarce resources, pollution, declining biodiversity, and climate changes require practical and sustainable solutions. My vision for the Commonwealth of nations and our collective future includes prosperous economies, green environments, and inclusive harmonious and just societies – leaving no one behind."

In conclusion, President Sirisena said that the modern Commonwealth was a driving force for positive change. "I believe that is the duty of each generation to leave a better country and world to our children." Over 50 entrepreneurs from Sri Lanka, mainly from the Small and Medium Enterprise sector, participated in the Commonwealth Business Forum, positioning Sri Lanka as a trade and investment hub in South Asia to gain the Commonwealth trade advantage.

The Business Forum is expected to make a compelling case for free and inclusive trade as the best way to promote higher living standards around the world.