By Charumini de Silva

The Chartered Institute of Marketers' flagship event, the CIM Annual Conference 2017 kicked off last night to drive home the importance of 'Digital Transformation' for corporate success.

The 17th annual event's inauguration drew over 450 participants who today during technical session will get empowered by a host of global and local experts on the subject.

The event was staged for the benefit of local marketers, who were given the opportunity to draw upon the expertise of industry leaders in order to develop their thinking and competencies and network with other marketers in the country.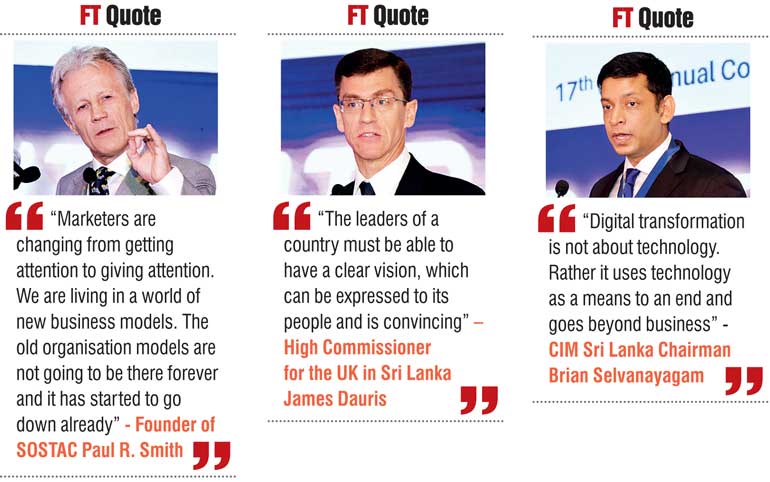 Digital is an agent of transformation

World-renowned digital guru Paul R. Smith, who is also the Founder of SOSTAC, delivering the keynote address this year on the concept of 'Digital Transformation', pointed out that the digital component was not the transformation itself but an agent for transformation.

Describing the concept of digital transformation, he said it helps old companies be new, gives birth to new businesses, creates hyper-competition and creates a new type of society.

Smith said data was the new gold and oil was no longer the most expensive resource in the world. Citing a study conducted by Harvard University, he noted that the average attention span of a person in the 1960s was 42 seconds, before coming down to eight seconds in 2008 and settling in at four seconds in 2012.

"The reality is that people want instant access, they are impatient and have a short attention span," he added.

Further, he said one of the major underlying factors for US President Donald Trump's success was that he had a short attention span.

Pointing out that a lot of companies back in the UK, Ireland and some European countries have got the concept of digital transformation wrong, Smith emphasised that it was a great opportunity for Sri Lanka to seize and get right.

"If Sri Lanka is to compete in the digital world, especially with India, the country needs to train and empower its organisations and their teams to be digital savvy," he added. With a population of 22 million, with seven million connected to the internet, five million on social media and the majority of the country using smartphones, he said the foundation was interesting to deliver on a B2B and B2C basis. "All we ask of Sri Lanka is to be nimble and agile.

"Marketers are changing from getting attention to giving attention. We are living in a world of new business models. The old organisation models are not going to be there forever and it has started to go down already," he said.


'Smart use of data'

He outlined that western companies that had understood the concept of digital transformation had succeeded not because they grew their market share but rather because they increased their share of value.

"Sell more products and services that are useful to the consumer than what you can give them. The smart use of data to add value to increase the customer experience is critical," he stressed.

He highlighted the washing liquid Dash as another example of the clever use of data to increase customer experience where offline meets the online market. Smith also said the digital body language, which means the behaviour of a user on a website, was also important in the collection of data. "Timing and relevance is everything. It is about marketing. The single most important reason to have a website is to help your customers less than your competitor."

Furthermore, along with the digital transformation, he outlined the entry of new businesses. "Digital transformation has helped startups which are mainly run by enthusiastic youngsters that are keen to disrupt the market with new ideas. I see them as punk capitalists." Smith asserted that the ability to ask the right question can lead you to success in terms of your business as well as in your career.

Given the entire scope of digital transformation, he noted that everybody is a salesperson and has a role to play in a digital landscape, insisting that marketers must see the opportunities in digital transformation.

The digital guru further elaborated the importance of financial literacy. "You must speak about the financial numbers. You must put numbers in every argument of different projects. Without financial literacy we are amateur marketers."

He pointed out that the entire management needed to embrace digital transformation.

"It is the CEOs and the Board of Directors that are responsible for taking about digital transformation. Those who don't take this responsibility I think are being reckless," he added

While acknowledging the positive side of the digital transformation, he also said there are risks attached to it in terms of privacy "It is like an open window. There are concerns in terms of the privacy policy of certain products," he stated, adding that the General Data Protection Regulation (GDPR), the new legal framework in the European Union, could also be an issue.


Meaningful organisational transformation

CIM Sri Lanka Chairman Brian Selvanayagam said in a fast-changing and evolving business landscape, it was important for organisations to keep pace with changes and use available tools to effect organisational transformation. "Digital transformation is not about technology. Rather it uses technology as a means to an end and goes beyond business. It is as much about the transformation of how individuals work and the cultures of organisations as it is about technology. Its most difficult task is to change the way we think," he pointed out.

Selvanayagam asserted that CIM Sri Lanka was fortunate to secure the services of Paul R. Smith, Michael Rogers and Jerome Thiel to help the country's corporates navigate this important topic of 'Digital Transformation' along with eminent local panellists who will provide practical and local insights for this subject.

He commended Sri Lanka Telecom Plc for its unstinted support of this conference from its inception.

CIM Sri Lanka has campaigned constantly for greater recognition and excellence in the marketing profession in the country through education, training and development, with many of its alumni holding key positions in the business and marketing community.

"Your attendance today highlights the importance you place in CIM Sri Lanka and the relevance of the topic at hand, which is greatly appreciated. I wish you all an enriching and rewarding conference," he said.

With a history of over 20 years, CIM Sri Lanka prides itself on being the first international branch of CIM UK and comprises the largest number of students and members of CIM outside the UK.

Delivering an interesting speech on marketing and politics, Chief Guest High Commissioner for the UK in Sri Lanka James Dauris said that he discovered the letter 'P' was very special for CIM members as its four values were based on Product, Price, Place and Promotion, which augurs well for presidents, prime ministers and other politicians as well.

He pointed out that marketing needed to play a major role in politics, in understanding the plans, strategies and audience.

The High Commissioner also said people should be accountable for their positions. "The leaders of a country must be able to have a clear vision, which can be expressed to its people and is convincing."

Darius asserted that he saw a challenge particularly for professionals as leaders and marketers at the top of their professions, in identifying how they could help to get people from different parts of the country, from different faiths and different political views to recognise that real and lasting reconciliation is so worth having that everyone will want to play their part in achieving it.

Concluding his remarks, the High Commissioner posed a question to CIM members: "Do you feel you are bringing all your skills as a Chartered Marketers to bear in helping Sri Lanka aim for the remarkable?"

The CIM Annual Conference will see a full day's sessions today with a host of experts arriving at the Cinnamon Grand, Colombo.

Pix by Upul Abayasekara. See Page 26 for more pix