By Charumini de Silva

As Sri Lanka seeks to develop and promote its vital tourism product, industry experts are calling on the authorities not to kill the goose that lays the golden eggs.

Bates Strategic Alliance together with its new reputation strategy consultation NGage recently held a forum on 'Managing Issues, Change and Reputation for the Future of Tourism in Sri Lanka' at the Lakshman Kadirgamar Institute in Colombo.

Sri Lanka Tourism Development Authority (SLTDA) Chairman Kavan Ratnayaka, The Hotels Association of Sri Lanka (THASL) President Sanath Ukwatte, Jetwing Hotels Chairman Hiran Cooray, THASL Past President Srilal Miththapala, Sri Lanka Association of Inbound Tour Operators (SLAITO) President Harith Perera, Your Tourism Partner Director John-Marc Flambert, Aman Hotels Marketing Consultant Amal Goonetileke and former SLTPB Chairman Dr. Rohantha Athukorala shared their insights on various aspects.

The stakeholders pointed out that it appears there is a need to review certain shortcomings and issues that have come up time and again over the years and have not been adequately addressed, have worsened and have given way to negative incidents which affect the reputation, safety profile and quality of the industry and the destination.

Putting the house in order
Bates Strategic Alliance Chairman and CEO Nimal Gunewardena opened the floor with an introduction on managing issues, change and reputation in the context of tourism.

He said Sri Lanka was acclaimed as a top tourism destination by Lonely Planet, Forbes magazine, Conde Nast Traveller, Rough Guides, The Guardian and the New York Times, but the World Economic Forum's Travel Tourism Competitiveness Report 2017 ranked the destination 64th out of 136 countries.

Thereby he stressed that Sri Lanka had reached a point where it was critical to put the house in order with right infrastructure, fixing negativities, while building a brand and a market to protect the goodwill of the industry and destination.

Infrastructure lapses, service quality, safety and security, environmental degradation and sustainability issues, health and hygiene issues as well as word of mouth and social media were outlined as immediate threats to Sri Lanka's reputation.

"Reputation is built less on what you say, but more on what you do and what others say about you. Reputation fails when you fail to do what is expected particularly in a crisis, moment of truth in a timely manner," he added.

Thereby he emphasised that prompt response by the leaders with action was critical for reputation protection and crisis recovery.

"Fix the issues, manage our reputation," Gunewardena asserted.
Mirissa incident –

A blessing in disguise
Sri Lanka Tourism Development Authority (SLTDA) Chairman Kavan Ratnayake said they believed in good and timely decisions which resulted in real actions that would eventually deliver results.

He stated that no social media platform would help in the long-term, unless they got the basics right.

"Basically, under-promising and over-delivering, while keeping it ethical and moral," he added.

Referring to the incident which took place in Mirissa, Ratnayake said overenthusiastic inter-agency cooperation had led to a crackdown in the region.

"Right now we are really heavy footed on it. We're all over Mirissa beach. There are a few cops every few hundred yards and Mirissa is dead. So nothing cool is happening there," he added.

Nevertheless, he described the events which occurred in Mirissa as a positive development that had brought attention to a serious problem and created enough anxiety for inter-agency cooperation, even though he speculated that the tourism industry wouldn't necessarily have similar views.

Ratnayake said that perhaps it was now time to let Mirissa become a tourism spot once again. "So maybe, we have to backtrack and fix it. Excise has raided the place, Inland Revenue is all over it. So there's too much cooperation. So we will have to fix it slowly, and then bring it back," he said.

It was pointed out that he was quite aware of all the shortcomings in the industry and the inconveniences tourists sometimes have to face due to lack of facilities and misbehaviour of people.

He assured that all these reputational issues and business requirement challenges were now being addressed by the Tourism Strategic Plan (TSP) and urged all stakeholders that contributed to compile it to read the final print. Ratnayake said SLTDA was now working on long-term projects in developing new touristic hotspots in Dedduwa, Iranawila, Walachchine and Sinharaja.

"It takes time, but we will get it done. It is in progress. SLTDA is a multi-agency, multi-stakeholder engagement. We need all your support to implement these in an effective manner," he added.
Need to strengthen law and order
THASL President Sanath Ukwatte said that the recent incidents in Mirissa and harassment of foreigners in general had brought in great disrepute and tarnished the country's image as a friendly destination. However, asserted that Sri Lanka was still a safe destination compared to most other major tourist destinations in the region.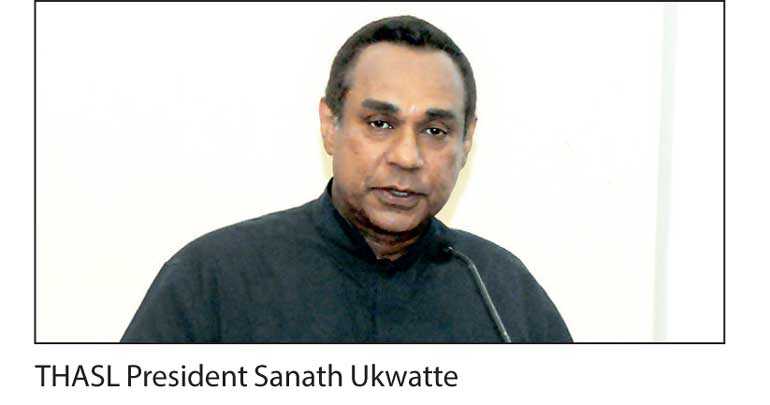 He stressed the need of the hour was to engage all stakeholders and to have an open dialogue.

"We tourism go out and seek the most pristine locations and establish. If these places are not maintained properly, just like in marketing there is a product lifecycle."

Ukwatte reiterated that rather than looking into short-term fixes, the industry needed to find long-lasting solutions. "The Government, law enforcement agencies and the Coast Conservation Department must look into this matter to ensure that all informal sector operators register with SLTDA, so that these beach outlets adhere to proper standards."

Pointing out tourism was all to do with people, he noted that forums like this were important to find lasting solutions to issues at hand. "As Mirissa once a small fishing village has transformed itself into a major tourist destination, tourism planners must find sustainable solutions to today's challenges," he added.

He called on the Government to conduct a major awareness campaign starting from the south coast of the country in order to gear up communities on how to handle changes that they perhaps experience due to the influx of tourists and create awareness on the competitive environment of the tourism industry.

"It is the duty of every citizen of our country to be kind and to protect our visitors," Ukwatte pointed out.

He said THASL was keen to join hands with SLTDA to conduct workshops in key touristic areas on safety of tourists, general customer service, benefits and sensitivities of tourism.
Promoting ethical tourism
Jetwing Hotels Chairman Hiran Cooray said the industry was struggling to promote ethical tourism, since every tourism service provider wanted to setup in popular tourism hotspots to make easy money even if it went over the tourist carrying capacity of a destination. "We, in the industry, have a responsibility when it comes to building. Don't only build in places where tourists are going to if you're talking about ethical tourism. So, going forward, we should spread tourism. My advice is, don't stop building because this country needs development but we have to go to areas tourists are not going to and develop," he said.

Cooray pointed out that this was one of the reasons why Jetwing built a hotel in Wellawaya, despite it being an unknown tourism destination.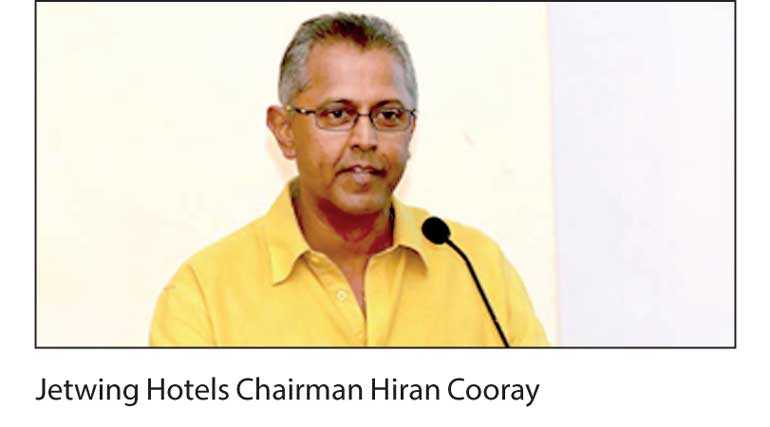 He said the Jetwing Group Board was discussing whether to divest Jetwing Yala to promote ethical tourism.

"One of our Board members, not an Executive Director but a Board member from the UK, sitting on our board, proposed to us to sell Jetwing Yala," he added.

Cooray said the Board member came out and said if Jetwing was a responsible company, and if the Government was not doing anything to stop what's happening in Yala, to sell the hotel.

"So, Shiromal (sister) and I have a bit of a dilemma because we put in a lot of effort to build a hotel and this guy, who's an Englishman, who's on our Board, said sell the hotel. That, to him, is responsible tourism," Cooray said.

The Yala property achieved this feat just two years after opening its doors. The other four hotels in the Jetwing Symphony portfolio, all recently opened, are expected to become profitable by the 2019 financial year.

Cooray said he and his sister—the largest shareholders in the Jetwing Group—were now considering the way forward following the proposal made to the Board.
Sustainable tourism is the answer!
THASL Past President Srilal Miththapala said sustainable tourism development was the answer to many of the issues faced by the industry and insisted stakeholders should not kill the goose that lays the golden eggs.

He claimed that no authority had really taken any concrete action to address the uncontrolled visitation and adequate facilities, killing key attractions in Sigiriya and Kandy.

"If you concentrate and stick around in one place, after sometime it gets stagnated. The only way you could extend the lifecycle from that point is by way of innovation," he added.

Miththapala said the answer to sustainable tourism included three pillars which includes community, business and conservation. "A lot of people forget that all three factors are critical to be developed together. It cannot be done at the expense of one factor."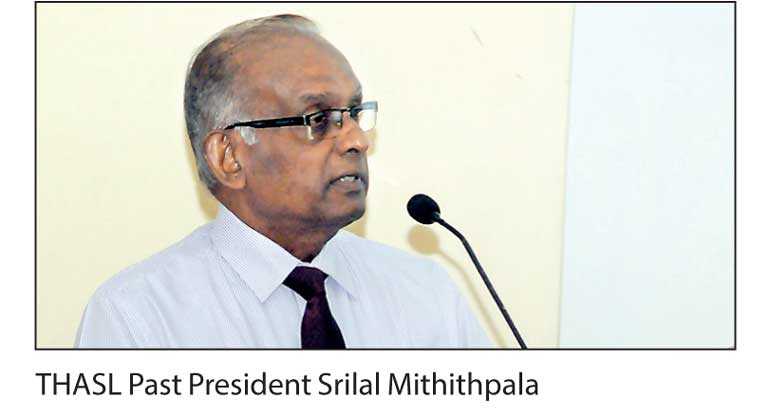 He said the single main problem was the leopards in Yala.

"Yala is leopard-concentric and over the last seven years there has been a rising population of leopards in a small area. But we have now over-exploited it. There is no sustainable development there."

According to him, Yala has close to 340 vehicles entering the park on average per day in 2016, and this number rises to over 700 during holiday seasons. More than 30% of tourists that come to Sri Lanka are visiting wildlife parks and out of this 13% are to Yala National Park.

"Yala is important to us, but are we managing it right?" he asked.

Jeep riders, tourism and the Wildlife Department are the three main stakeholders of Yala National Park. "Sri Lanka earns over Rs. 7.4 billion from tourism in Yala, out of which Rs. 5.3 million are earned by jeep riders and Rs. 6.1 million is revenue to the Wildlife Department while over Rs. 6.3 billion is earned by the hotels annually," he explained.

Miththapala said 50 jeep drivers misbehaving inside the park would do more damage than having 250 well-behaved jeep drivers.

"We can manage overcrowding, but when it comes to over-visitation it is a bit complex to find the carrying capacity. It is very unfortunate that we dump everything on tourism. If you tell the tourists these are the rules, they will follow it. This is about developing everything together and it can only be done if the will and support is there is from all the stakeholders," he stated.
Integrating the informal sector
SLAITO President Harith Perera pointed out that the industry must try to find a tourism model that allows communities to thrive, while business prospers.

He charged that the industry was reaching epidemic proportions in the informal sector.

Referring to a study conducted in 2016, he stressed that 50% of the arrivals were in conventional star-class hotels, while 25% is supplementary registered establishments and other 25% in unregistered establishments. However, with the recent tax hikes, he believes that the current share of the informal sector could be higher, although any tourism related service need to be registered and licensed by the SLTDA, according to the Act.

"The sole objective of the informal sector is to make money at no real standard, quality level nor regulation. The sole objective of the formal sector is to make money but they are governed by a standard, quality level and proper regulation," he claimed.

Perera said compared to a Rs. 250,000 liquor license that small establishments should purchase annually, the quarterly fine for operating without such a license is just Rs. 3,000, with the law promoting illegal but cost-effective sale of alcohol. "Mirissa is one classic example. It is a serious standards and compliance risk," he emphasised.

In going forward he called for several drastic amendments in the regulations which includes a change in Tourism Act itself.

"Transforming the informal sector to the formal sector is part of the STP 2017-2020, setting up of the enforcement unit, the punishment and responsibilities are not yet defined clearly – SLTDA is seeking advice from the AG's Department, ease of taxation and investment regulations, introduction of temporary liquor permits, change of Tourism Act and change of mindset are essential for future development," he outlined.
Experience from overseas
Your Tourism Partner Director Jean-Marc Flambert shared his experiences from overseas in addressing tourism industry marketing and reputation issues.

He said in the Caribbean, St. Lucia has copied the Tourism Act of Sri Lanka and how it was implemented.

"I shared it with them, so we can implement it and it is working fantastically well," he added.
Tapping to the luxury traveller
Aman Hotels Marketing Consultant Amal Goonetilake spoke extensively on the strategies to tap and cater to the high end traveller.

She highlighted the fact that Sri Lanka was still not among the countries that provided luxury accommodation, while insisting that it was due to the absence of a strategic marketing plan and for poor reputation management.

"We do the same old thing. We don't change according to times. We don't have any segments or strategies. You can't do one of the things and expect luxury tourism will come," she stressed.

In order to target niche markets, Goonetilake said it was imperative to have a proper destination brand management strategy to attract luxury tourism.
Right path for branding

and marketing SL
Hemas Leisure and Aviation Director Dr. Rohantha Athukorala spoke extensively on the right path to branding and marketing Sri Lanka as a tourist destination.

Attributing to Sri Lanka's uniqueness in terms of diversity, authenticity, compactness he said it was essential to develop a campaign on the lines of agreeing the values of the brand, developing a creative, selecting media, evaluating result and by making corrections to best describe the story of the destination.

"It all comes down to how we tell the story that matters. It is a simple process and I do not understand why Sri Lanka is not getting it right?" he added.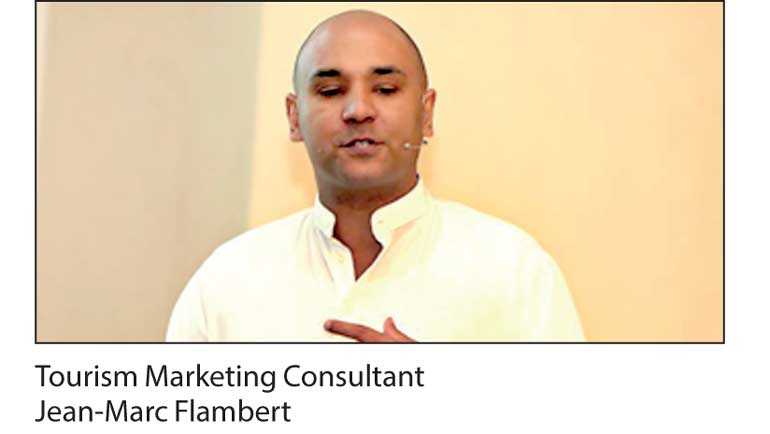 According to him, in 2016 over 20 million people and in 2017 over 23 million people have Googled Sri Lanka for tourism, but only over two million actually visited the country.

He said Sri Lanka had an issue with product penetration and awareness.

Noting that he didn't want to compare Sri Lanka with the rest of the tourism competitive countries, he however said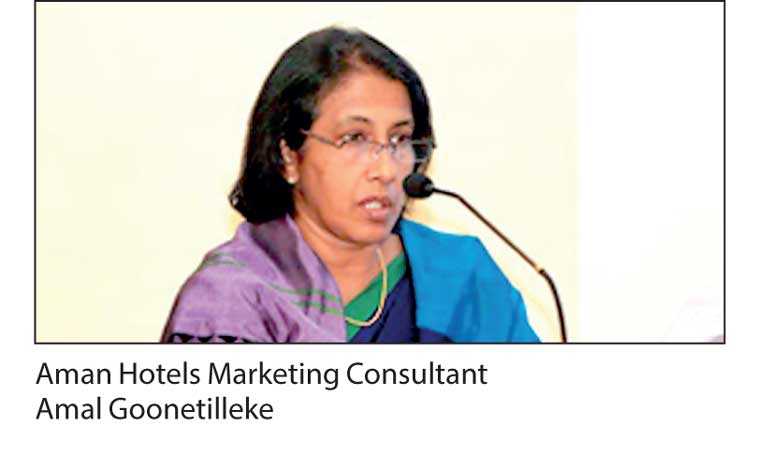 it was important to compare what tourism has to offer compared to other industries in the country such as apparel and tea.

"You have to decide the right path to branding and marketing Sri Lanka tourism like how apparel and tea industry did."

He stressed that the industry stakeholders needed to start to get together and ask what they needed from the industry to leapfrog and become a more lucrative sector contributing to the national economy.


Dr. Athukorala emphasised that if the industry launched the global campaign, the chances were very high that it would not only have a strong impact on the tourism sector, but also on Foreign Direct Investment, exports and the overall brand image of Sri Lanka.

After a detailed individual presentations covering various aspects of tourism industry, the forum was followed by a panel discussion moderated by Gunewardena.

Pix by Gitika Talukdar