The Annual International Convention of Chartered Institute of Logistics and Transport (CILT) was held from 16-18 June in The Midlands Hotel, Manchester, UK. CILT marked their Centenary milestone in this year's convention. Manchester is a city with a history of an industrial center, which later has undergone a tremendous transformation to become an exciting city with a noteworthy transport hub.
The three-day convention had a host of guest international speakers, workshops, interactive sessions, technical visits, Women in Logistics and Transport (WiLAT) conference, Young Professionals Forum (YPF) Conference, and opportunities to network and gain knowledge in shaping the future of the institute and the industry.

The three-member WiLAT delegation who joined the CILT SL delegation were: CILT Chairperson and WiLAT Sri Lanka Founding Chairperson Gayani De Alwis, CMILT; WiLAT Sri Lanka Chairperson Gayathri Karunanayake, CMILT; and WiLAT Sri Lanka Vice Chairperson Niroza Gazzali, MILT.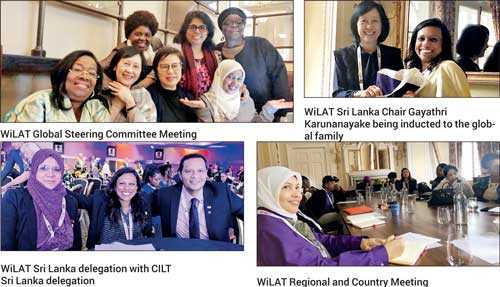 During the open forum titled "Women's Influence in the community" on the first day of the WiLAT convention, CILT International Vice President (South Asia) Romesh David, FCILT, spoke as a panelist, sharing the local experience with three other panelists from Middle East, Ghana and Hong Kong. The key highlight of the open forum was the keynote speech by Network Rail UK Director Anna Jane Hunter, speaking on the topic, "Life as a Rail Industry Leader".

WiLAT country meeting with the participants was held after the open forum, where 12 country representatives attended the meeting. Global Vice Chairpersons from South Asia, East Asia, North Asia, West Africa, South Africa, Middle East and Indian Ocean Islands presented the progress of their regions. Global WiLAT Vice Chairperson Gayani de Alwis, CMILT presented the South Asia update. Newly elected WiLAT Sri Lanka Chairperson Gayathri Karunanayake, CMILT was inducted to the global family by the WiLAT Global Chairperson at the meeting.

Prior to the WiLAT convention, the Global WiLAT Steering Committee (WSC) meeting was held on 15 June at the Midlands Hotel. The ten WSC members attended the meeting for the first time face-to-face since its formation in 2018. Global WiLAT Advisor Dr Dorothy Chan, FCILT took over the mantel of WiLAT from Global Convener Aisha Ibrahim, FCILT who stepped down from her post after three years, as the Global Chairperson for an interim period of one year, until the new Global Chairperson-Elect Gayani de Alwis, CMILT takes over the position in July 2020. The delegates also had the opportunity to attend technical tours to Amazon, DHL, Museum of Transport, XPO sites in the latter part of the day. The Centenary Convention ended with the CILT Presidents Dinner on 18 June at the Midlands Hotel, attended by a large gathering. The next CILT Annual International Convention will be held from 16-18 October 2020 in Perth, Australia. WiLAT is the women's forum of the Chartered Institute of Logistics and Transport (CILT), which is a leading global professional body associated with logistics and transport industry. WiLAT was formed in Sri Lanka in 2013. CILT was established in 1919 in the UK and having received the Royal Charter in 1926, the Institute has an exciting history but is always adapting to stay consistent with current logistics and transport issues. The Institute's Patron is Anne, Princess Royal. The Institute holds unparalleled international recognition and works towards achieving its objectives of promoting and encouraging the art and science of logistics and transport through its membership and its educational qualifications. With a global membership of over 34,000 from 35 countries across the Globe, CILT provides a professional identity to those in the ever-expanding logistics and transport sector. CILT Sri Lanka was established in 1984 and incorporated by the parliamentary act no. 08 of 2000. Presently CILT SL has over 2000 members who are highly qualified in the Transport and Logistics fields. CILT Sri Lanka is governed by a Council consisting of professionals representing all segments of the Transport and Logistics industry and consists of two fora namely WiLAT and Young Professionals' Forum (YPF) dedicated to promoting women and young professionals in the Logistics and Transport industry respectively. WiLAT is present in 20 countries and has a global membership of over 1600 scattered around five continents. For more details on CILT, visit their web page http://www.ciltsl.com