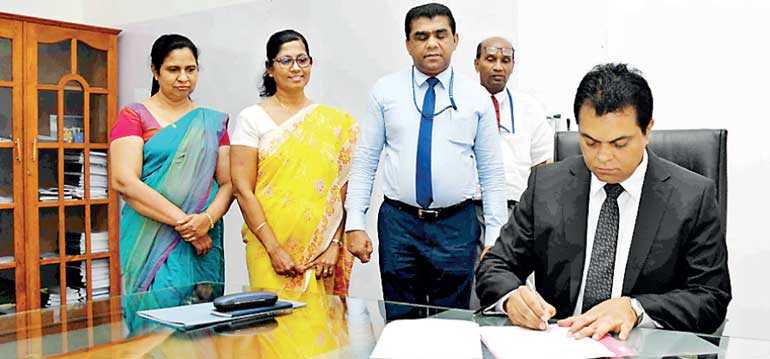 Wineendra Sudhammika assumes duties as the Vice Chairman of Sri Lanka Ports Authority. SLPA Additional Managing Director Upali de Zoysa and SLPA Administration Acting Chief Manager Nelum Anawaratne are also in the picture
Wineendra Sudhammika Weeraman was appointed the new Vice Chairman of the Sri Lanka Ports Authority (SLPA). He assumed duties on 17 January at the SLPA Vice Chairman's office with the blessings of the Triple Gem. Weeraman is also the Chairman of Ceylon Shipping Corporation (CSC) and an Attorney-at-Law of the Supreme Court of Sri Lanka engaged in civil legal practice and Notary Public since 1996.

Weeraman completed his preliminary education at Sri Sumangala College in Panadura and later attended D.S. Senanayaka College in Colombo 7. During the period of 1987 to 1999 he worked at Asian Finance Ltd. first as an accounts clerk and later promoted to Executive and Assistant Manager. He has also served as a Director in the Board of Consumer Affairs Authority from 2013 to 2015.