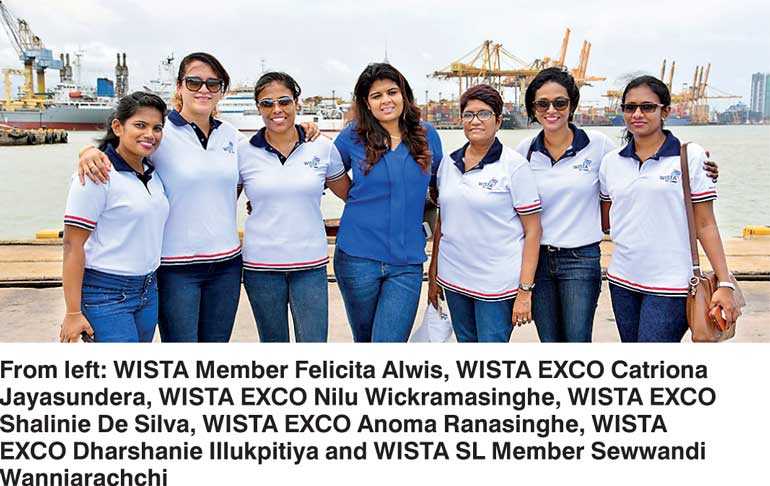 WISTA Sri Lanka Careers Day 2018 program organised by Women's International Shipping and Trading Association Sri Lanka (WISTA Sri Lanka) was held at the Port of Colombo which was a huge success.

WISTA Sri Lanka is an international networking organisation for women at management level in maritime, transportation, business and related trades and, is acknowledged as a professional and highly reputable shipping organisation.

One of WISTA Sri Lanka's prime objectives is to promote careers in shipping and shipping related industries amongst females in Sri Lanka to encourage a greater gender balance in the industry.

In order to achieve this objective WISTA has been having careers day programs for four consecutive years. WISTA has successfully carried out programs with National Universities and educational institutes and Schools in the year 2015, 2016 and 2017. This year's Careers Day was targeted for students studying in Commerce Stream in Advanced Level grades in Colombo. The objective is to introduce shipping as a career to female school leavers and create an interest in the industry.

Nearly 100 students from nine girls' schools in Colombo division took part in WISTA – Sri Lanka Careers Day 2018 program. Sirimavo Bandaranaike Balika Vidyalaya, Gothami Balika Vidyalaya, Hemamali Balika Vidyalaya, Kanapathy Hindu Ladies Maha Vidyalayam, Fathima Muslim Ladies College, Cliffton Balika Vidyalaya, Lindsay Balika Vidyalaya, Visakha Vidyalaya and Devi Balika Vidyalaya were in attendance. WISTA Sri Lanka's Careers Day 2018 Program was supported by all three terminals operating in the Port of Colombo.

The students were warmly greeted by Mahapola Training Institute and Upali de Zoysa, Director – Logistics at Sri Lanka Ports Authority made a presentation that was an introduction to shipping and maritime industry.

Thereafter the students were taken on a comprehensive tour of Port starting from the terminals operated by Sri Lanka Ports Authority and Colombo International Container Terminals Ltd. The students were shown breakwater that was built as result of the Colombo Port Expansion Project.

After treating the students for a scrumptious lunch at the Mahapola Training Institute, a further presentation was shown that was very informative in selecting a career path in the shipping and logistics industry. Sri Lanka Ports Authority Chief Manager – Marketing and Business Development Upul Jayatissa also was present at the presentation to encourage the students.

WISTA Sri Lanka is committed and will continue in its quest to create an interest in young women to take active roles in the shipping industry and to find ways and means to contribute and influence the shipping industry.
Participating girls from various schools (Sirimavo Bandaranaike Balika Vidyalaya, Gothami Balika Vidyalaya, Hemamali Balika Vidyalaya, Kanapathy Hindu Ladies Maha Vidyalayam, Fathima Muslim Ladies College, Cliffton Balika Vidyalaya, Lindsay Balika Vidyalaya, Visakha Vidyalaya and Devi Balika Vidyalaya )