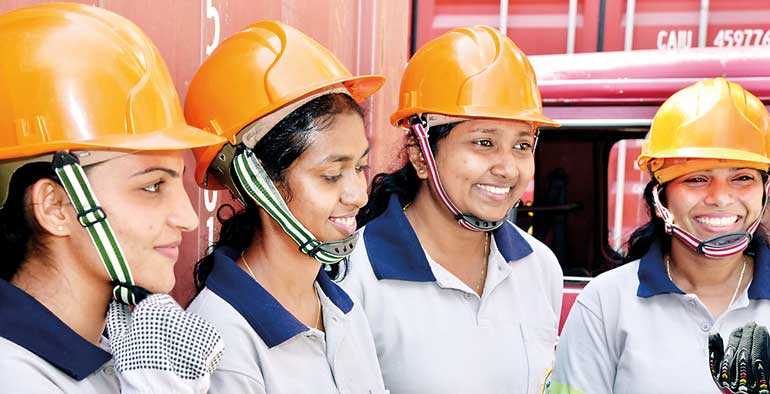 Female gantry crane operators at Colombo Port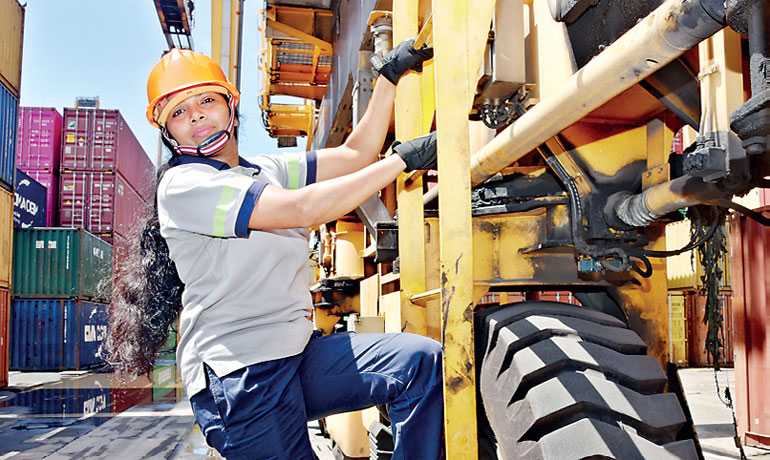 Harshani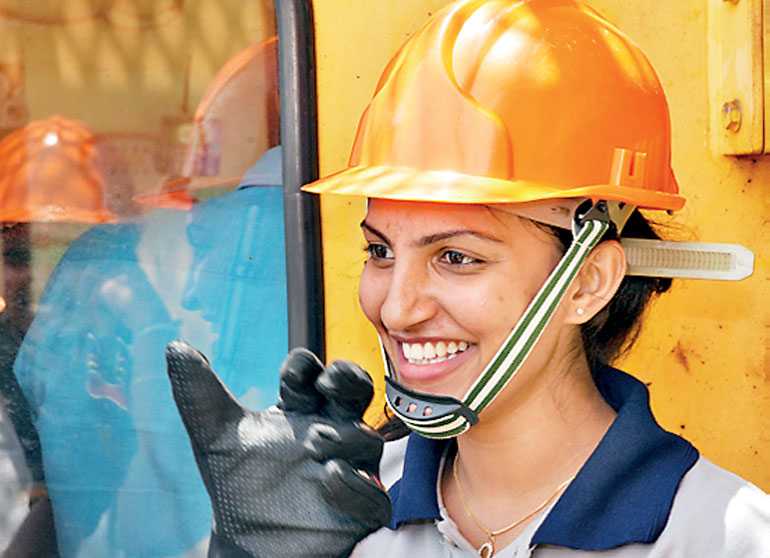 Dilki Poojani
---
By Nilantha Ilangamuwa
It is a remarkable story. They have earned exceptional life experience to narrate their precedential journey at this early age. The path they walk is an inspiration for female empowerment and gender balance, which is one of the most important goals for a sustainable society.

"Why don't we go up and talk? Then we can prevent noises in the surroundings and you can see where we work. Are you afraid? It is just a few hundred feet above the ground," one of the operators suggested, breaking the stereotype tradition embedded in society throughout history.

Her energetic and confident voice showed her enthusiasm for this exciting duty in the workplace. Listening to them at where they work was the best option as it could gave us the real life experience of what they do.

Following her suggestion, we started climbing up through the yellow ladder made of thick iron bars. It took us a few minutes to reach an operational room of a rubber tyred gantry crane also known as transtainer.

The edge of the crane enabled our eyes to catch the beauty of the surrounding area in the Colombo Port. Fear of heights suddenly disappeared as the eyes caught the blue waves decorating the Indian Ocean and slight winds countered the heated air.

Finally, we started to listen to them and their stories. This is the very first opportunity I had with women crane operators employed at the Sri Lanka Ports Authority, the institute awarded as the 'Ports Authority of the Year' recently. Four out of 10 in the team who are working as crane operators at Colombo Port joined the discussion.

Formed as an authority in 1979 and with a rich history, the Sri Lanka Ports Authority is one of the largest State institutes enriching the nation and it is counting down days for its 40th anniversary this year. Port of Colombo is ranked as the highest container growth project in the world and it handled over seven million containers last year.

Dilki Poojani joined the Sri Lanka Ports Authority three years ago when she was 19 years old. She is the youngest crane operator at Colombo Port and might probably be the youngest crane operator in Asia. The young blood is breaking ground by writing the new chapter of history of this busy port.

"I never thought that I could get an opportunity to join the most efficient State institute in the country. My father always encouraged me and taught me how to stay strong under any circumstances," Poojani said, looking at the horizon of the Indian Ocean through the glass window of her operational cubicle on a rubber tyred gantry crane.

There are three types of gantry cranes deployed in Colombo Port. She and her colleagues are well equipped with knowledge and experience in handling them without hesitation. Her achievement is the result of a long journey of women who struggled for equality, fraternity and dignity by overcoming challenges in a male-dominated society.

If one knows the fate of a woman in Indian society subsequent to the death of her beloved husband, nothing more is needed to understand the horrendous depravity women go through. Known as sati or suttee, it is an obsolete funeral custom where a widow immolates herself on her husband's pyre or takes her own life in another fashion shortly after her husband's death and was a well-practised custom in our Eastern history. The situation in the West was not different from the East. Women were treated as substitutes and most of them were subjected to men.

Long-rooted brutal suppression against women led to the global struggle against the systems and traditions. Women gathered, discussed and demanded different treatment by standing against the violations of their basic rights. That was the collective effort of constructive struggle.

During this long journey, many people sacrificed their lives for the freedom of others. Immense contributions of Lucretia Mott, Carrie Chapman Catt, Olympe de Gouges, Luise Zietz, Clara Zetkin, Theresa Malkiel, Emily Murphy, Rosa Luxemburg, Mary Dennett, and Rosa Parks were some of the exemplary journeys of this long struggle.

In one of her speeches, late Clara Zetkin, advocate for women's rights pointed to the essential part of this struggle: "Women are subjugated by men and they will continue to be in that position as long as they are not economically independent. The quintessential prerequisite for their economic independence is work. If one wants to transform women into free human beings and into equal members of society just like men, then there is no necessity to abolish or limit women's work."

Struggle for woman rights in Sri Lanka also has a long history. This can be traced to the reign under Kuveni also known as Sesapathi and revolutionary lifestyle of Donna Isabella Koraneliya also known as Lady Gajaman. Those characters are roots of the emancipation of woman and their struggle for equal rights in Sri Lanka. Every woman who fights for equality is empowered by the heritage developed by these pioneers.

Today women are standing tall and taking every responsibility by proving their efficiency, reliability and capability just like men and sometimes more. They are shattering rooted societal myths on male-dominated societies.

Poojani along with her colleagues, Sewwandi, Harshani and Udeshika, is representing the present stage of the long journey of women's struggle for freedom. All of them have their own story to narrate and are proud of themselves. This is not just an employment opportunity for them but represents a revolutionary milestone in the course of the emancipation of womanhood.

"It was challenging at the beginning as many of them thought women were weak and would not be able to do what men have been doing for decades. Especially in a place like the port, how can a woman handle sky-scraping crane, they questioned. But we must first of all thank the higher officials for taking this revolutionary decision to recruit a group of the females as crane operators at Colombo Port," Poojani said.

The Sri Lanka Ports Authority took the decision to ensure gender equality in the world place and then recruited a group of the female as crane operators. Therefore 25 females joined the training program, but only 10 out of 25 remained at the end of the training. Most of those who left gave up due to various reasons. Subsequently, 10 female crane operators who courageously faced the challenges were deployed in the Jaya Container Terminal in the Colombo Port.

"General target is to handle 25-30 containers per hour, so we are doing that," Poojani said, while levering a container.

According to Poojani, like any other field, the beginning was a mix of excitement of winning and fear of failing. Especially working as the gantry crane operator while many others were looking at you was indeed challenging.

"I am happy that I can proudly brag that we are an active part of enriching our country. When we learn that the Port has become one of the best ports on earth, we feel delighted by recalling our contribution," she said.

Like many others working in Colombo Port, for Poojani there is a long journey ahead. Every drop of sweat absorbed out of their hard labour is harboured and well-preserved by filling the golden pages of the history of Colombo Port.

Harshani, who hails from Colombo suburb, describing her experiences as a female crane operator says that what she is doing was beyond her dreams.

"I never dreamt of this job, as it was classified only for men. But when we were receiving the training, we slowly learned how to break the old myth of impossibilities. We were taught how to break the technical and ideological barriers established in this society," Harshani said.

"Many gentlemen here trained us, helped us, and immediately corrected us whenever we made mistakes. But in a very short period of time, we as female gantry crane operators proved our capability and efficiency just like other male colleagues. We are safe and we are proud," she added.

The Colombo Port as one of the oldest ports in the world has witnessed many historical events. Located in a strategically valuable position, the port represents a significant space in the global maritime industry.

These female crane operators are writing the new pages of the rich history of Colombo Port as well as the maritime industry in the country.

Joining the discussion, Sewwandi and Udeshika shared their rich experience working as gantry crane operators. Both their fathers worked in the Colombo Port. Therefore the port is not a new place for them. But they never thought that they would one day be operating high-rise cranes and handling containers weighing several tonnes.

"The gantry crane has already become an inevitable part of our life. It is, I believe, not an exaggeration to say that the home has become secondary to the gantry crane. Our world is here," they said.

In the wake of celebrating International Women's Day, these female gantry crane operators are showing the world how to change tradition for the betterment of mankind. They are integrated at the very inception of technology and innovation.

The world is changing not by those who are obeying and following the caged tradition but those who are thinking differently and acting differently with compassion and discipline. Their passion, courage, self-belief, commitment, bravery, and conviction towards their ambition make their life meaningful and make it possible for them to override barriers and be successful. It is indeed demonstrated by every step they take to move forward and every word they speak to share their hope.