Graduation ceremony
Audience at the graduation ceremony
---
Consul General of Sri Lanka in Guangzhou Priyangika Dharmasena was invited for the graduation ceremony of the South China Sea Institute of Oceanology on 26 June.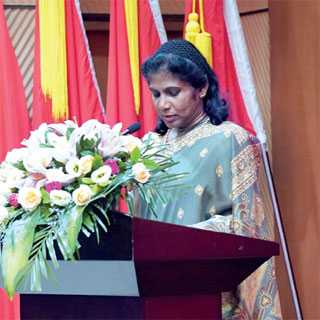 Consul General's address
Amongst the international graduates, who were conferred their degrees at the ceremony, there were 10 Sri Lankans obtaining PhDs and Master's Degrees in the fields of Environment Science, Geology and Oceanography.

Consul General Dharmasena in her speech congratulated the graduates who have left their motherland to study in China and accomplished their tasks with hard work. She also thanked the Institute and China, for giving such opportunities for Sri Lankan students, from the University of Ruhuna and other universities in Sri Lanka to come to study in Beijing and Guangzhou.

Communist Party of China Commission Secretary Professor Wehuan Zhan, and University of Ruhuna Vice Chancellor Professor Sujeewa Amarasena were among others who participated in the graduation ceremony.