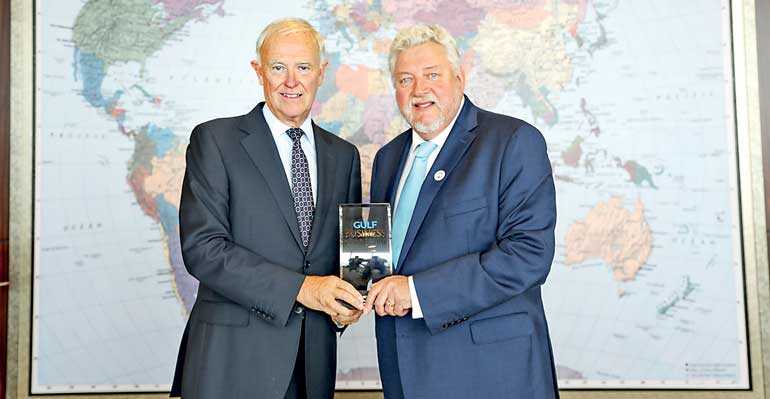 Sir Tim Clark (left) receiving the 2018 'Aviation and Transport Business Leader of the Year' award
Sir Tim Clark has been named 'Aviation and Transport Business Leader of the Year; at the Gulf Business Awards 2018, held recently in Dubai.

The regional accolade recognised Sir Tim for his contribution to the aviation sector over the past 12 months, as well as his dedication and sustained commitment to building an outstanding track record of financial performance, innovation and a superior customer experience.

Covering a wide range of sectors and industries, the Gulf Business Awards attracts leaders within the region's business community. Awards are presented based on public votes as well as highly competitive judging criteria.

Clark was part of the airline's founding team, and has played a vital role in the development and growth of Emirates to become the world's largest international airline, recording 289 million passenger kilometres in 2017. Emirates grew its network in 2017, connecting people and goods to and through Dubai, and contributing to the development of economies around the world through vital air transport links essential to business, tourism and trade.

The airline has also been at the industry helm when it comes to driving a better customer experience, both onboard and on the ground. Clark has also been a strong advocate of leveraging innovative technologies to further differentiate the airline's products and services.

Emirates operates 271 wide-body aircraft, and is the first and only airline in the world to operate a fleet of all Airbus A380 and Boeing 777 aircraft. The airline has continued to expand internationally and today flies to 161 destinations in 86 countries.