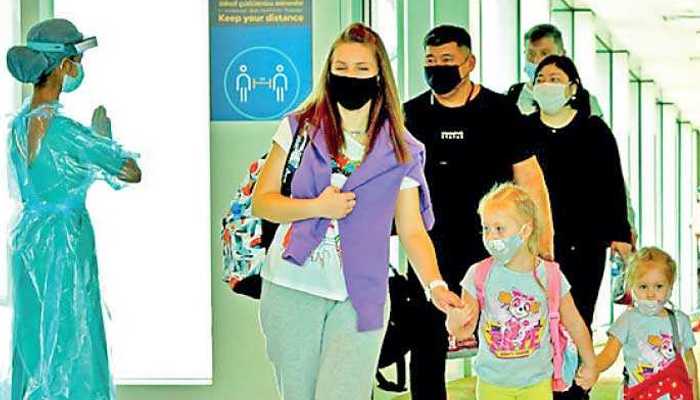 ---
Kazakhstan flag carrier Air Astana begins services bringing in 164 tourists
To operate weekly flights till April
The maiden flight of Air Astana, flag carrier of Kazakhstan carrying 164 tourists touched down at Mattala Rajapaksa International Airport (MRIA), which also marks the resumption of scheduled flights after a lapse of six years.

The inaugural Air Astana flight KC565 landed at MRIA at around 10:50 a.m. on Saturday (6) marking their direct flights to Sri Lanka, whilst the flights will be operated from Kazakhstan's Almart Airport to MRIA once a week (every Saturday) till April.

Aitkens Spence Plc and Lanka Sportreizen (LSR) — two of Sri Lanka's leading travel agencies, have planned to attract 350 Kazakhstan tourists. According to health guidelines, the group of tourists will stay at hotels in Ahungalla, Bentota and Kalutara and will visit several approved tourist destinations under the bio-bubble concept.

Tourism Minister Prasanna Ranatunga said MRIA was started as the second international airport in the country, whilst claiming that the previous Government had tried to succeed a natural death to MRIA but steps have now been taken to make it an active airport again under the present Government.

"During several discussions with the President and the Prime Minister last week, special attention was paid to fast-track the distribution of the COVID vaccine to the general public. According to the health sector 56% of the population can be vaccinated. We will share this vaccine with the public in the immediate future and make this country the first safe country for tourists. We are currently in discussions with a number of countries to attract tourists and also through travel agents. The COVID-19 committee has only restricted tourists from the UK. Therefore, there is no obstacle for a tourist from any other country to come to Sri Lanka following our guidelines," he said speaking to media after welcoming the first batch of tourists at MRIA on Saturday. Ranatunga said that Fly Dubai has also agreed to resume direct flights to Mattala Airport and that they were in discussions with five other international airlines in this regard.

The Minister also highlighted that nearly 2,000 tourists have arrived in the country after the Government reopened borders for international travellers on 21 January post-COVID pandemic and that the travel patterns are closely monitored.

Aviation State Minister D.V. Chanaka said that the present Government was able to save the second international airport in Sri Lanka, which was converted into a paddy warehouse by the previous Government.

"There are allegations that the Government is trying to divert planes coming to Katunayake to Mattala. We are trying to develop Mattala as a separate airport. Currently, airlines that are operating to Mattala airport have been provided tax reliefs," he added.

In addition to launching international flights, Chanaka said it is expected to be developed as a cargo hub. "We already have plans to increase cargo operations and promote Mattala as a cargo hub," he added.

Top officials of Civil Aviation Authority and Airport Aviation Services (Lanka) Ltd. were also present at the occasion.