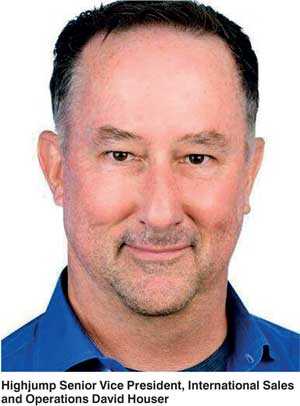 By Tanya Goonewardene

Here on the invitation of ITX 360, to speak on the topic 'How does the digitalisation of technology affect supply chain space moving forward' well received by the delegates of the Annual Conference of The Charted Institute of Logistics and Transportation (CILT), David Houser can be described as an architect of linear supply chain and an author of a modern logistics management blueprint, in a rapidly evolving international eco system. ITX360 specialises in logistics technology, warehouse management and transport management systems and a fully owned subsidiary of Expolanka Holdings and is a regional partner of Highjump of which international sales is led by David.

Highjump, in itself, is a 35 year old, global supply chain execution, best of business solution provider in 80 countries across the world and David leads sales and operations in four regions from Mexico-South America, throughout Europe-Middle East-Africa, Australia-New Zealand and Asia Pac which includes China and South East Asia. Such an extensive network is done through a matrix akin to that of a Central Government structure through what is coined as 'Few-to-many-model', where a few efficient units fully versed in sales and presales and implementation services, map out to partner organisations.

An example was used as an illustration of the said model to include an instance of having good business in Turkey which is catered to by a partner, instead of an office in Istanbul which provides in-country, in-language support for solutions amounting around 500 individuals worldwide. The following is a snapshot of an interview with David, who provides valuable insights into the consumer expectation led industry and the role of technology in executing futuristic needs of cross border supply chain and logistics industry in an era where consumers' preferences continue to shift towards e-commerce, making augmented services, expected:

Q: Could you summarise the global landscape of the tech industry currently and where you see the lacunas?

A: The consumer led tech industry is a world that is getting smaller and smaller for the reason that it is no more a good enough reason to focus on delivering products or services when there is a time stamp to it out by the consumer. Increasingly consumers tend to be demanding, and is bound by real time necessities and is looking for competitive solution providers. Essentially consumers have changed the dynamics of how companies go to market today. I see this as characteristics of a landscape challenge – the challenge here is that we are now seeing an increased transition to cloud, with data warehousing. The advantage here is that we now have the capability to provide real time visibility throughout the supply chain to get the goods and services to the satisfaction of consumers. So the industry norm is now defined by cloud, data, adaptability and flexibility as a global trend across the tech landscape. The organisations further away from understanding this concept, are further along assets that are industry transforming.

Q: Describe the partnerships you have within the Asian region and its significance.

A: Asia for me is a final frontier. Having done this for a number of years, Asia is a market I have being focusing on more and more – currently, we have more partners based out of China and Asia than anywhere else in the world. As you look at China, as a large economy, it is a monstrous opportunity. Outside China, India, Sri Lanka and South East Asia tend to be different which requires a solution based network including partners to customer and folks in between which caters to those specific customer requirements, different languages and cultural idiosyncrasies. Sri Lanka, strategically important given that with a 7-8 hour flight, you find yourself within 50%-60% of the population of the world. This is explosive growth. We have new models on how we go to market with software. So the Asian market has been of strategic importance for our organisation.

Q: What is the significance of the partnership with Sri Lanka and how exciting is it?

A: Sri Lanka is special to me for several reasons – I am a friend of the country, and the country is a friend of me, for a number of years. The background traces to four years ago, when the organisation decided to go through a sales cycle with EFL – the largest freight forwarder in Sri Lanka. It went from going through as a prospect, selecting us as a solution, implementation. This is yet another fantastic case study of how the customer becomes our integrated partner. EFL then spun off a company called ITX 360 which is our exclusive partner in Sri Lanka. They do discovery, sales and implementation as well as bring in unprecedented domain knowledge to the market. Sri Lanka is becoming more and more important as we grow the customer base and experience and provide real time support in country.

Some software companies, emerge and leave, we've been here and invested and we will continue to be here and I believe we will continue to add value to the market.

Q: What are the perceived risks and rewards of working within the region? What is the game plan to mitigate the risks and harness the rewards?

A: As I look at it from a global perspective, there are risks and rewards around the world. While doing business in South Africa I was told, if you can do business here, you can do business anywhere. Certainly risks do not always involve technology – there are risks beyond our control, such as, multicurrency, multicultural risks which are largely geo political risks such as currency fluctuation risks. One needs to invest and take their time, one needs to adapt and have patience in facing such risks. In the business we are in, we appreciate and try as much as we can to iron out the lumpiness of the global economy.

For us, we have got in to the Sri Lankan market at the right time. We have done this for a number of years here in Sri Lanka and we have a global solution that is future proofed which allows organisations to grow with us over the years. The model maybe different so it could either perpetual, on site or virtual. Sri Lanka, I think is becoming more and more interested in cloud applications. We have taken time to produce something that is cost effective and valuable and the successes of that are self-explanatory.

If you look at the continuum curve, we've got that down quite well and patience, endurance, scalability and adaptability becomes key.

Q: What was your role at the recent conference and what was the gist of your message?

A: CILT is fine 100 year plus year old organisation, here in Sri Lanka for over 30 years and I was invited to speak on 'How does digitalisation affect the supply chain space moving forward' and I did that through what I call 'real life stories' by sharing examples of how large companies and small companies are dealing with digitalisation and technology.

Customers, who are now my friends, were generous enough to grant me the privilege of talking about how they are dealing with digitalisation and technology. ITX is a strong partner for Highjump. With their industry knowledge in logistics and technical capabilities ITX is well capable to bring a digital change to the warehousing industry in Sri Lanka and in the regions. We spoke of stories from Australia, Africa, Europe, China, Asia and even heard from ITX 360 on how they are dealing with local customers on the topic.

Q: Do you find a global cross section that faces the same challenges?

A: We are in a consumer led industry where the consumers are shrinking the supply chain where we are asked to do more with less in a small span of time. Across the world, peoples and companies have certain commonalities that identify risks involved for example – the cloud, which is fantastic but has its own security concern and how we deal with it is working with partner organisations that specialise in that area to try and mitigate that.

Q: What can people expect?
A: What we do, specifically, is management of large warehousing operations and communications with suppliers with respect to the industry norms and restrictions. Essentially it is receive, pick, put away and ship. In those four areas are an immense amount of complexity and consideration. We've made some bets on adaptability and flexibility in the 3PL market (third party logistic) which has paid off over time. Where you are dealing in one single unit with multiple customers, that have multiple needs – and dealing with them very fast becomes vital. Because if you don't, the customer will find someone else to do business with.

Our key value proposition would be flexibility and adaptability of the solution as customers demand faster and faster service. One of the things, we are most comfortable with and where we see our revenue intersecting is from cloud revenue and perpetual revenue. We offer the solution that can be tapped into in a newer fashion on a connected device which is adaptable for the young, new mobile generation that is conscious on social advocacy to a population that does business on their hand held devices and over laps between business and social. Never before in the history has data been more important to a consumer that is hungry for real time feedback.

These are real considerations we think we have addressed successfully around 80 countries in the world. Essentially, we are the engine at the background that buys and delivers your products that tracks and monitors the process and provides you traceability and track ability in real time from raw material to finished goods.

Q: What is the future of the logistics industry and how do you hope to cater to it?

A: We have been data housing has been 30 years and what we have the ability to do with it now is provide real time, actionable analytics. What you want to do with it – in reality or virtual is your call. We are now at the beginning of artificial intelligence, machine learning and the beginning of robotics like we do already in AGVs (automated guided vehicles) that helps make the operations more efficient and reduces the human components of within the solution.

So the future is data, artificial intelligence, robotics, benefits of voice, virtual reality, etc.

Q: Compare your product to a colour or a feature of nature which could include a creature and why?

A: The answer is going to be as unique as the question. The colour is a hue that starts from a pale pink to a bright orange and the animal is a malecon cockatoo. The colour to me, represents the maturity of our solution – from a paler, simpler scaled downed solution to a vivid, exuberant solution is a real good example of our solution.