The Chartered Institute of Logistics and Transport (CILT) Sri Lanka will hold the P.B. Karandawala memorial lecture on 24 January 2019 at 5:30 p.m. at the Hector Kobbekaduwa Agrarian Research and Training Institute, 144 Wijerama Mawatha, Colombo 7.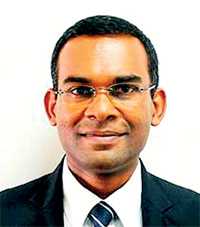 Capt.PeshalaMedagama
The lecture titled 'Contribution of international shipping and maritime community towards sustainable development' will be delivered by Captain Peshala Medagama who is an IMO Consultant and GM-Foreign Projects and Local Branches/HOD – Department of Marine Simulation – Cinec Maritime Campus.

For registrations contact CILT Secretariat +94115657357 or +94777579798 or email admin@ciltsl.com.