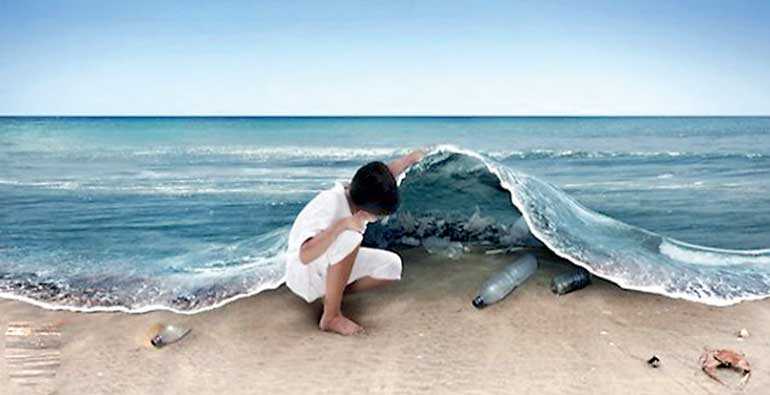 Shippers' Academy Colombo action on new initiative to reduce plastic usage through education
Targets 20% reduction in plastic waste dumps by 2025
Using the workforce as the means of communication
We all know that human activities are threatening the health of the world's oceans. More than 80% of marine pollution comes from land-based activities. From coral bleaching to sea level rise, entire marine ecosystems are rapidly changing.

Each square kilometre of ocean has 63,320 such particles floating at the surface, according to one recent study. The 2016 United Nations Frontiers report estimates that East Asian seas are worst hit with levels some 27 times higher than average. Microplastics have been detected in environments as far-flung as Mongolian mountain lakes and the Arctic Circle. But what does that mean for human beings?

From plastic bags to pesticides – most of the waste we produce on land eventually reaches the oceans, either through deliberate dumping or from run-off through drains and rivers. This includes:


Oil

Oil spills cause huge damage to the marine environment – but in fact are responsible for only around 12% of the oil entering the seas each year. According to a study by the US National Research Council, 36% comes down drains and rivers as waste and runoff from cities and industry.


Fertilisers

Fertiliser runoff from farms and lawns is a huge problem for coastal areas. The extra nutrients cause eutrophication – flourishing of algal blooms that deplete the water's dissolved oxygen and suffocate other marine life.

Eutrophication has created enormous dead zones in several parts of the world, including the Gulf of Mexico and the Baltic Sea.


Seas of garbage

Solid garbage also makes its way to the ocean. Plastic bags, balloons, glass bottles, shoes, packaging material – if not disposed of correctly, almost everything we throw away can reach the sea, starts destroying corals to creatures.


Plastic garbage

Decomposes very slowly, is often mistaken for food by marine animals. High concentrations of plastic material, particularly plastic bags, have been found blocking the breathing passages and stomachs of many marine species, including whales, dolphins, seals, puffins, and turtles. Plastic six-pack rings for drink bottles can also choke marine animals. This garbage can also come back to shore, where it pollutes beaches and other coastal habitats.


Sewage disposal

In many parts of the world, sewage flows untreated, or under-treated, into the ocean. For example, 80% of urban sewage discharged into the Mediterranean Sea is untreated. Even in Sri Lanka the Sewage in major cities like Colombo are not treated in 95% of the areas of urban living and finds its way to the ocean. This sewage can cause human disease and lead to beach closures.


Toxic chemicals

Almost every marine organism, from the tiniest plankton to whales and polar bears, is contaminated with man-made chemicals, such as pesticides and chemicals used in common consumer products. Some of these chemicals enter the sea through deliberate dumping.

For centuries, the oceans have been a convenient dumping ground for waste generated on land. This has continued as the accepted practice.

The Shippers' Academy Colombo has taken an initiative to educate the people through the workforces, CEO Rohan Masakorala said that about 80% of the workforce is with the private sector and if corporates can start educating the employees and through that we can reduce the waste flowing to the ocean via the land, it is not an expensive mechanism as we believe education can eradicate the damage and manages ocean pollution, we as an organisation is specifically focusing on plastic as Sri Lanka has been identified as a major contributor to plastic ocean although being a small island.

"We are having the first workshop on 28 June at the Ceylon Chamber of Commerce with Marine Environment Pollution Authority (MEPA) to start this work as a long-term project, it's our small way of contribution towards to SDG 14, and "if the corporate board rooms take it seriously we have a winner," Masakorala added.

Interested parties could contact:

Shippers' Academy Colombo, 105, Hunpitiya Lake Road, Colombo

Tel: 0773820703/011 3560844

Email: enquiries@shippersacademy.lk

Web: www.shippersacademy.lk