The new OVILKO warehouse facility
OVIKLO International Ltd., expanding its logistics network, has opened its latest 70,000 sq. ft. warehouse facility in the close proximity of the Biyagama Zone recently.

Being one of the largest one-stop-shop logistics and supply chain service providers in the country, the newest addition especially caters to OVIKLO's clients involved in the food & hygiene cargos.

Established in 2011, OVIKLO provides high-quality logistics service that gives customers competitive advantage in Sri Lankan logistics industry and offers warehousing, transportation, value added services, project cargo management and supply chain consultation solutions to various industry verticals.

OVIKLO has been awarded the Silver Winner for the fourth consecutive year from 2014 at the highly competitive National Business Excellence Awards organised by the National Chamber of Commerce Sri Lanka (NCCSL), under the Logistics & Transport category.

With over 300 local and international clients, OVIKLO was also awarded two prestigious awards - the SME Brand of the Year award and the Best Entry Kit Award - at the SLIM Brand Excellence Awards 2017.

"The new OVIKLO warehouse will offer flexibility and agility we need to meet our customers' requirements. This warehouse, strategically placed in very close proximity to all main routes in Sri Lanka, reduces complexity, lead times and efficiencies within our supply chain. While we analysed the warehouse market and the market contribution on condition, we have identified that there are millions of sq. ft. on general cargo storage warehouses available in the industry, however availability of specialised warehouses for storing of food & hygiene cargo are limited and it's really hard to find which has all the standards set by Consumer Affairs Authority," OVIKLO's Business Development Manager Mark Seneveratne said.

OVIKLO identified said industry gap decided to invest in a state-of-the-art warehouse to focus on food & hygiene-related industries in and around the Biyagama Export Processing Zone.

This new warehouse facility has easy multiple accesses from the all main routes such as Colombo-Badulla, Kandy, Negombo, and Southern Expressway. The new facility is equipped with state-of-the art machinery to handle large volumes in any given time. Adjustable dock levels helps speedy loading and unloading, reducing container truck turnaround time and providing safer movements for customer's valuable cargo. Furthermore these adjustable dock levellers reduce the amount of time trucks are spent idling, and load and unload multiple shipments by reducing overtime cost. The facility fulfilled with power-travelled smooth dust-free concrete floors and electric-powered Material Handling Equipment (MHE). Those helps to avoid carbon, dust, emission and heat inside the warehouse.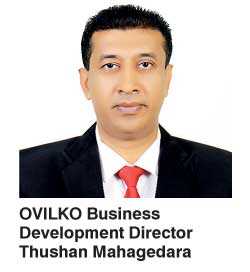 OVIKLO's new warehouse facility, located in adjoining to Biyagama Export Processing Zone (BEPZ) Block B, which is built in a flood-free area, has been built according to Board of Investment (BOI), Central Environmental Authority (CEA) and Consumer Affairs Authority (CAA) compliances.

OVIKLO Business Development Director Thushan Mahagedara said that the fast-growing and forward-thinking business owners were outsourcing warehouse functions to logistic experts, as storing product inventory and smooth delivery to customers were time-consuming and expensive tasks for all businesses.

"The advantage of using a third-party warehouse service provider is that it is cost effective and time saving. The global trend is that the companies do not want to allocate money and human resources to warehousing and transportation. They are willing to get these services done by supply chain experts," he said.

According to Mahagedara, the specialised knowledge and experience always help to reduce unnecessary costs related to logistics. "The benefits are higher level of services, reduced fulfilment rates, a better turn-around time, and the trained staff. The client's inventory may fluctuate for various reasons such as seasonal, discontinued items and making space for new products," he noted.

He said that outsourcing the warehousing and distribution enabled the businesses to concentrate on developing their businesses during these types of volume fluctuations as they do not need to relocate products or layoff staff.

"Our warehouse experts can leverage fixed costs associated with managing the facility across several customers. As a third party logistics service provider, we provide the latest transportation and warehouse management software for a better supply chain visibility and logistics management with having 24/7 access to information on their inventory and deliveries," he explained.

He said when the warehouse handling was given to a third-party logistics and warehouse provider the businesses could reduce the risk of owning and operating the stocks, could have zero capital for purchasing ancillary equipment, human resources and the other warehouse systems.

"They could save time to focus on core business functions such as brand development, sales and production when they give the warehouse handing to logistic providers," he said.