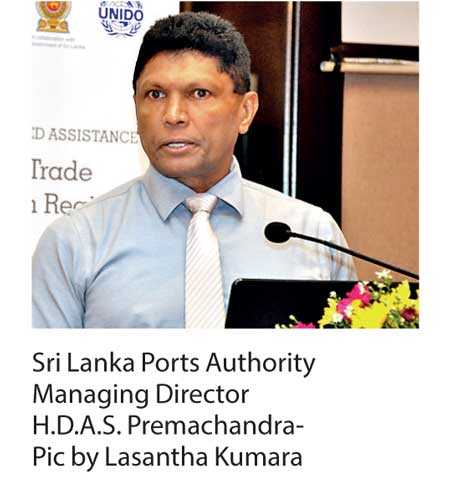 SLPA in process of drafting maritime and logistics policy
Calls on stakeholders to come up with best design for NSW
By Charumini de Silva

The Sri Lanka Ports Authority (SLPA) is set to launch a national ports master plan, followed by a comprehensive maritime and logistics policy, a top official confirmed yesterday.

"The SLPA has embarked upon a national master plan with the assistance of the Asian Development Bank (ADB), which is now nearing completion. The report will be out by the end of the month," SLPA Managing Director H.D.A.S. Premachandra said while addressing the third public-private consultation on the National Single Window (NSW).

The study comprised inter alia the development of a national port sector strategy and the provision of in-depth development plans for the ports of Colombo and Trincomalee.

He said that they were also engaged in a forum represented by almost all stakeholders in the maritime industry in preparing a maritime and logistics policy for Sri Lanka, which is expected to be passed by the Cabinet and Parliament in the near future.

Despite ports all over the world achieving paperless and procedure-less status with the introduction of automation, Premachandra emphasised that it would never be a people-less industry.

In terms of the NSW, he believes there is a bigger challenge in implementing the blueprint as many public sector stakeholders who really matter in the implementation process don't like automation.

"The implementation of the NSW will lead to the liberalisation of trade," he added.

Premachandra called on all stakeholders present at the discussion to come up with the best practical ideas and solutions in designing NSW.

"When we design this NSW, we have to design the best to suit the evolving business environment by adopting and following the leaders. The greatest mistake we make designing a system like this is we try to customise and at the end of the day it really doesn't look like a proper system," he pointed out.