Containerships have reached their peak size as the economic advantages of even bigger vessels recede, with a move to the next class unlikely to happen for many years, according to AP Moller-Maersk chief executive Søren Skou.

The current generation of ultra large containerships, with a length of 400 m and nominal capacities ranging from around 18,000 teu to 23,000 teu depending on configuration, can only be efficiently operated on one route.

Skou said there was no case for scaling up to the class of, for example, 30,000 teu, given the negative impact ships of that size would have on customer service.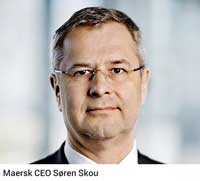 "I don't see ships getting bigger [than 400 m] for the foreseeable future,"Skou told Lloyd's List. "They are only deployable in the Asia-Europe trades, and I think with this size, we have reached the maximum that is possible, if you look at the trade off between slot economics and usability."

Customers not only want low costs but also service frequency, he continued, a combination that would not be possible with ships of larger capacity.

"If you were to go to the next generation, you are getting to the point where you would have to call at every port along the route to fill up the ship," he said.

That would lengthen voyage times, to the detriment of service quality and flexibility, Skou said.

He compared the risk of expanding from the current generation of ULCs to 30,000 teu ships, to what has happened in the airline industry where the move from Boeing 747 aircraft to the larger Airbus 380 has not delivered the perceived economies of scale.

The A380 has proved to be too big and inflexible for the aviation market, and ocean carriers should avoid making the same mistake, Skou warned during an interview at Maersk's Copenhagen headquarters.

"If the market is growing by 1%-2% a year, it does not make sense to build bigger ships," he said.
Triple-Es

For the past quarter of a century, Maersk has led the way on containership design and scale. The Danish company was the first to break the 6,000 teu barrier when it unveiled Regina Maersk in 1996, and again broke a new record with the launch of Emma Maersk in 2006. Initially declaring the vessel had a capacity of 11,000 teu, Maersk subsequently acknowledged that its true size was more than 15,500 teu.

But the deal that changed the industry for ever was the $1.9bn order placed in February 2011 for a series of 10 ships of 18,000 teu, the Triple-Es, with options for two more series of 10. The first of these, Maersk Mc-Kinney Moller, named after AP Moller-Maersk's founder, was delivered in June 2013.

These days, ships of this class have become commonplace, with every major carrier feeling compelled to operate them in order to obtain competitive costs in the world's most cutthroat trade. Currently, there are more than 90 ships of 18,000 teu or larger in service, with combined capacity of 1.8m teu, according to Lloyd's List Intelligence, with another 45 on order.

The 2011 order was placed after container shipping had staged a remarkable recovery from the slump in 2009, when world trade contracted and container volumes fell for the first time in the history of containerisation.

But with so many ULCs now in operation, they have been blamed for constant price wars in the Asia-Europe trades and the inability of carriers to lift freight rates to a financially sustainable level. The result has been an unprecedented round of rationalisation through mergers and acquisitions in the fight for survival, and one bankruptcy.

With industry profitability still poor, Skou said he expects container line consolidation to continue.

What was described at the time as the world's largest-ever ship order was placed by Maersk Line chief executive Eivind Kolding, who has since left the company. But Skou, who was appointed chief executive of AP Moller-Maersk in June 2016, declined to comment on whether, with the benefit of hindsight, he thought it was a mistake to scale up ship capacities so dramatically, knowing that other lines were bound to follow and push supply and demand way out of balance.

Rather, he pointed to the many positives that larger ships have brought to the global economy.

"We as an industry over the past 30 years have pursued a strategy of lowering costs, and that has led to bigger ships and all kinds of efficiency drives that have made it inexpensive for our customers to ship goods around the world," he said. "Shipping costs are not a factor when companies are deciding where to source supplies from, or where to manufacture."
Shareholder value

Nevertheless, the relentless push for bigger containership tonnage has both destroyed shareholder value and led to the failure of one global carrier, Hanjin Shipping.

Now, though, the mood across the industry looks to be shifting, with Maersk at the vanguard of the change.

With the focus firmly on reducing capital expenditure and moving towards earnings balance between ocean and non-ocean activities, Skou has made it clear that Maersk has no plans to order more large ships until 2020 at the earliest, while only two vessels are still left to be delivered. The last 19,600 teu Triple-E entered service in the first quarter of the year, the 31st to join the Maersk fleet.

"Overall, there seems to be a less aggressive approach to ordering new tonnage," he said. "There appears to be a recognition that, in a market that grows by no more than 4% in a good year, then a strategy of ordering a lot of ships and hoping to grow organically much faster than the market is simply not financially viable. Some of the companies that are not here today had over-extended themselves significantly, by trying to grow dramatically."

In an industry that is growing between 1% and 4% annually, "you are going to drive the company into bankruptcy, if you want to grow by 10% to 20% in a year," the head of the world's largest containership operator cautioned.

Maersk, which has always taken its leadership role very seriously, now hopes to influence industry behaviour through more restrained ordering activity.

Already, there is evidence that the industry as a whole has learned a painful lesson about the dangers of excessive fleet expansion, notwithstanding reports of some imminent ULC orders, the need for replacement tonnage, or ships required for specific trade lanes.

The orderbook for new containerships is now down to less than 12% of the existing fleet, compared with a peak of 65% just before container shipping plunged into the worst recession it had ever experienced.

"The strategy of just mindlessly ordering new ships in a market that is not growing is not financially viable," said Skou. "That is why we do not have any ships on order, and I think most carriers in the industry have also come to that conclusion as well."