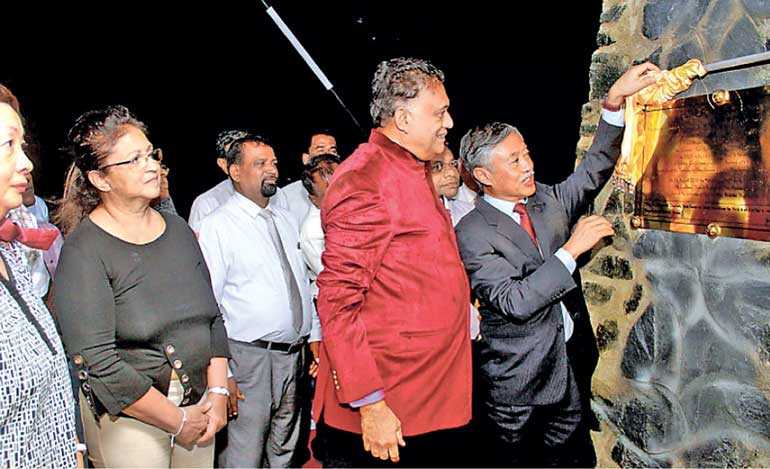 The Governor's Jetty in Trincomalee was opened recently by the Japanese Ambassador to Sri Lanka Kenichi Suganuma on the invitation of the Eastern Province Governor Rohitha Bogollagama. Akiko Suganuma and Deepthi Bogollagama also participated.

"The main objective of opening the Jetty is to promote tourism in the East. Trincomalee would also be repositioned as the Eastern Tourism Hub," said Governor Bogollagama. He said that a master plan for the development of the Trincomalee District has been prepared by the Western Development and Megapolis Ministry. "This was done jointly with Surbana Jurong, a Singaporean company, and the plan was presented to Prime Minister Ranil Wickremesinghe at Temple Trees."

According to the master plan, the first step would be the setting up of a special planning and development authority, which will be called the 'Master Plan Implementation Unit', which would be later upgraded to 'Trincomalee Metropolitan Planning and Development Authority'.

"In addition to the Jetty, plans are also underway to develop a Trincomalee airport, which would be used for tourism and will accommodate charter aircrafts as well. The Government has also asked the Asian Development Bank (ADB) to formulate a project to improve the basic facilities of Trincomalee city."

Meanwhile, Jurong Consultants Managing Director Philip Tan said that the plan would witness the development of an international airport, a new city centre, multi-story parking centres, an amusement park, an international cricket stadium, several highways, specialised highways such as dedicated freight highways, a cruise terminal, container terminal at China Bay, an oil refinery and an LNG power plant. He further said that the entire Trincomalee project is to be completed by 2050.