Hideaki Tanaka has been appointed as the Chairman of Colombo Dockyard PLC from 26 March. He replaces Dr. Toru Takehara who completed his term as the Chairman of the Company on 26 March.

Tanaka holds a Bachelor's Degree in Economics (1987) from Rikkyo University, Japan. He has a wide working experience over 30 years, at Mitsui Engineering and Shipbuilding Co. Ltd. and its subsidiaries such as MES (Thailand) Ltd. – Thailand and Mitsui Zosen Europe Ltd., etc., where he held top management positions in different sectors: Port cranes, bridges, steel structures, power generation plants, and electric power plants. During his service, he has pioneered in promoting Company business to Thailand, Myanmar, Denmark and other Asian countries.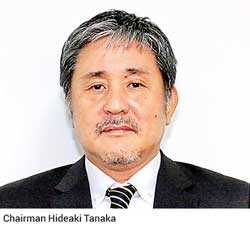 He has also served as the General Manager of Naval Ship and Defence System Sales Dept. and Commercial Ship and Governmental Ship System Sales Dept. of the Mitsui Engineering and Shipbuilding Co. Ltd. covering naval ships, patrol ships and commercial vessels including VLCC and bulk carriers. Tanaka has also worked as the Sales Manager at Tamano Shipyard, Japan.

In addition to his present position as the Chairman of CDPLC, Tanaka has also been appointed as a Director of Dockyard General Engineering Services Ltd., Dockyard Technical Services Ltd., and Ceylon Shipping Agencies Ltd., Singapore.

Sri Lanka's leading engineering giant Colombo Dockyard PLC completes 45 years in operation since its inception in 1974. It operates in joint collaboration with Onomichi Dockyard Co. Ltd. since 1993 and is the flagship investment of Japan in Sri Lanka.

Colombo Dockyard has created a name in the international market as a reliable and efficient ship repairer and shipbuilder with the wealth of experience servicing a wide range of vessel types from varied countries. Generating employment for more than 3,000 Sri Lankan workers, Colombo Dockyard is the front runner in Sri Lankan industrialisation.