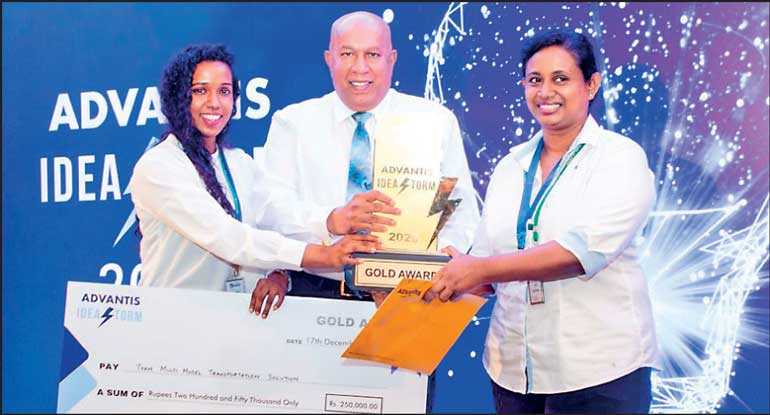 Sadna Dissanayake and Lakshika Porage receiving the Gold Award from Hayleys Chairman and Chief Executive Mohan Pandithage
---
Hayleys Advantis Ltd., the transportation and logistics arm of the Hayleys Group, has successfully completed its first-ever Group-wide ideation program – 'Advantis Ideastorm' – to boost innovative thinking across all levels of staff from entry level to senior leadership.

The ideation platform was created mainly to encourage employees to brainstorm and come up with new ideas to enrich existing businesses and introduce new business verticals adjacent to the core businesses.

Revenue Generation and Service Optimisation in terms of cost, quality or time were the two categories under which employees were required to develop their submissions. These initiatives are expected to help Hayleys Advantis to elevate their competitiveness in the marketplace and improve their overall productivity.

"We are very pleased with the outcome of 'Advantis Ideastorm' and are highly impressed with the standard of ideas presented. This program not only underpins our drive in creating a culture which fosters friendly competition, but it also encourages our staff to think out-of-the box and pitch new business ideas, giving them the opportunity and freedom to be creative and innovative," said Hayleys Advantis Managing Director Ruwan Waidyaratne.

Launched as a Group-wide online live event, 'Advantis Ideastorm' was successfully concluded with over 160 ideas being submitted amongst over 230 participants. The preliminary rounds were judged by a 10-member panel comprising of Strategic Business Unit and Support Service Unit Heads, with the top 25 ideas being shortlisted. The next round was evaluated by the Members of the Group Management Committee of Hayleys Advantis, rounding off the top 15 ideas.

During the final round, the 15 teams presented their ideas to the panel of judges comprising of six members of the Hayleys Advantis Board: Ruwan Waidyaratne, Upul Peiris, Asanka Ratnayake, Sarath Ganegoda, Sriyamal Gamage and Shano Sabar, while Dr. Nirmal De Silva, serving as a consultant for 'Advantis Ideastorm', acted as an external judge for the final round.

Winners of the prestigious Gold Award were Sadna Dissanayake and Lakshika Porage of Corporate Business Excellence, whilst Dilini Dissanayake and Aruni Perera of Corporate Business Development secured the Silver Award. Maazud Marzook, Lilip Sanjeewa, Asanka Bodhirathna, Roshan Medonza and Andrew Tan of Advantis Ships were awarded the Bronze Award. In addition to the main awards, six other teams were presented with Merit Awards.

The most feasible ideas will be implemented during the upcoming financial year, with the support of the top management. This successful initiative is expected to pave the way for innovative thinking across the Hayleys Advantis Group, whilst encouraging its employees to be proactive in doing things differently.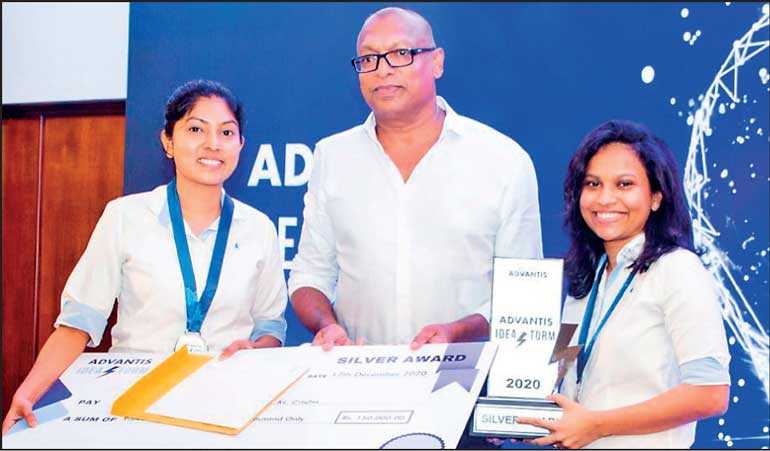 Dilini Dissanayake and Aruni Perera receiving the Silver Award from Hayleys Executive Director Sarath Ganegoda
Maazud Marzook, Lilip Sanjeewa, Asanka Bodhirathna, Roshan Medonza and Andrew Tan (absent) receiving the Bronze Award from Hayleys Advantis Group Managing Director and Hayleys Executive Director Ruwan Waidyaratne