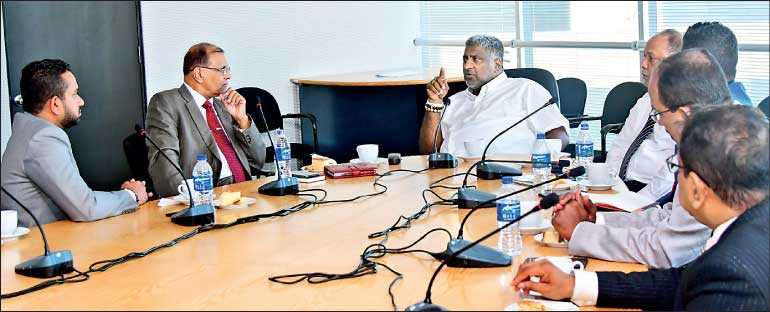 Industrial Export, Investment Promotion, Tourism and Aviation Minister Prasanna Ranatunga chairs the meeting with officials
---
Officials tasked with getting SriLankan on board to commence flights
Other regional airlines to be asked, Minister promises concessional rates
Reverting to development plan for H'tota proposed by earlier Govt. considered
Possibility of development zone for Mattala deliberated
Tourism and Aviation Services Minister Prasanna Ranatunga has called for the speedy resumption of international flights from Mattala Airport and instructed officials to restart SriLankan Airlines flights to the facility that was suspended by the previous Government.

Issuing a statement the Industrial Export, Investment Promotion, Tourism and Aviation Ministry said that Minister Ranatunga had issued these instructions on the Mattala Rajapaksa International Airport (MRIA), at it is formally known, at a meeting that was held on Friday.

During the discussion Minister Ranatunga had said the Government was keen to restart the development plan initiated by Prime Minister Mahinda Rajapaksa for Hambantota, which included international flights to Mattala, linking the airport with the Hambantota port, and an investment zone near Mattala airport.

Minister Ranatunga had assured his support for returning Mattala to international airport status with officials being told to hold talks with SriLankan Airlines to return flights from the national carrier to the airport. Earlier SriLankan Airlines and Mihin Lanka, which was wound down by the former Government, flew to the Mattala Airport and also had cargo operations from the same location.

"Along with SriLankan Airlines measures are being taken to reach out to other regional and budget airlines to restart their flights to Mattala. The Minister also told officials to look at giving concessions to airline companies willing to fly to Mattala and said he was willing to submit a Cabinet paper to get the relevant approvals," the statement said.

Assistance is also to be sought from the Sri Lanka Tourism Development Authority and hotel owners associations to encourage more tourist arrivals to Mattala. An earlier proposal to establish a flight training school and repair facility was also revisited during the discussion. According to the statement the Minister had assured that once a proposal was submitted to him he would work to present a Cabinet paper for approval. The airport also has considerable warehousing space for use.

In 2014 Mattala Airport had received 40,386 passengers but this number had dwindled to 1,536 by 2019. The former Government suspended SriLankan flights to Mattala in 2015 arguing that the cost incurred by the national carrier could not be justified. flydubai, the only other international airline to operate four flights per week to the airport, announced it would cease operations due to unprofitability in June 2018.