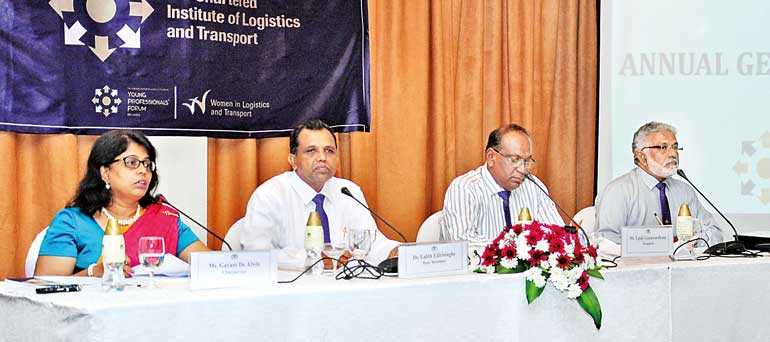 From left: CILT Chairperson Gayani de Alwis, CILT Secretary Dr. Lalith Edirisinghe, CILT Treasurer Upali Gunawardhane and CILT Secretary General Vasantha Dias
The Chartered Institute of Logistics and Transport (CILT) Sri Lanka held its 35th Annual General Meeting (AGM) on 29 March at the Victorian of Kingsbury Hotel attended by an impressive gathering of their members. Gayani de Alwis CMILT was re-elected uncontested for a second term as the Chairperson of CILT. The three Vice Chairpersons who were re-elected were Dr. Namalie Sirisoma CMILT, Channaka de Alwis CMILT and Gihan Jayasinghe CMILT. Chaminda Perera CMILT was elected as the Hon. General Secretary and Upali Gunawardena FCILT was re-elected as the Hon. Treasurer.
de Alwis is an experienced supply chain professional with over two decades of experience in the profession locally and overseas. She was the former Director of Customer Service of Unilever Sri Lanka Ltd. She was the founding Chairperson of Women in Logistics and Transport (WiLAT) and also is the Global Vice Chairperson of WiLAT South Asia. She had been an active Chartered member of CILT council since 2011.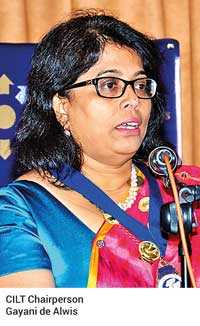 The AGM also featured strong representation from the women's forum of CILT, WiLAT and the Young Professionals Forum (YPF). Whilst addressing the gathering de Alwis mentioned that CILT has approached the 35th year with an expansion and achieved positioning of CILT in many a mind by kicking off with a strategic planning workshop organised on 28 April 2018 with the Council and priority areas were identified under CILT 's three strategic pillars, growth, capability and governance. Each pillar outcomes were assigned to the office bearers and progress was tracked at the monthly council meetings. This has paid rich dividends for CILT.

She further elaborated that the institute is as powerful as its membership, both Individual and corporate partners. In the past 12 months, institute used creative interventions to reach out to their members to enhance the numbers while adding value to them. 10 road shows were conducted with companies to drive membership. Besides same, she added by saying that the institute were able to reach a wider cross section of the industry on the benefits of being part of CILT. As a result, overall membership grew by 40% while the total membership crossed the 2,000 mark for the first time. Currently they have 2,109 members.

There is also significant growth in chartered members and fellows. Notably student members grew by 42% and they now account for 75% of our membership. It is very encouraging to note the engagement of next generation towards CILT, which augurs well for our future. She mentioned that the institute had initiated the induction of new and upgraded members at a ceremony in January 2019 and this will be continued as a regular feature. New members grew by 135% and upgrades by 70%. In order to recognise the achievements of their members they introduced a new feature in the LINK magazine; therefore she urged all CILT members to send in their achievements to CILT Secretariat to feature these.

She further emphasised that CILT also revamped the Corporate Partnership (CP) Program to make CILT more inclusive by extending the program to all stakeholders in line with CILT's international guidelines. This enabled all stakeholders engaged in each sector and associated service organisations to be part of CILT, adding value to our industry and institute is grateful to the 13 Patron Partners who have been with CILT since the inception in 2011 and the 12 new CPs who have joined us over the past few years reaching the total CP members to 25. "We are encouraged by the trust CPs have placed on CILT through their continuous support by being part of the CP program," she said.

Another notable achievement she highlighted was the partnership agreement with USAID funded YouLead Project to support YPF and WiLAT in career guidance and to improve soft skills and leadership development to improve employability and career progression and she commended the efforts of the Vice Chairman-Membership development and his team for the significant achievement.

She further mentioned that past tenure saw a hive of activities through CILT's packed event calendar, which reached both members and non-members alike. CILT introduced National Logistics and Transport Excellence Awards on 17 July 2018 for the first time, to felicitate an eminent individual and Corporates to recognise their contribution to the industry. Hon. Prime Minister was the Chief Guest at the awards. The event was a great success and CILT will conduct this as a biennial event moving forward.

CILT also organised its flagship event, the International Conference, on 19 September with a topical theme titled 'Staying Relevant in a Digitally Connected Future', which was a great success. Three memorial lectures and the two 'Logistics Leaders Evenings' were well attended. CILT believe in collaboration and conducted five joint events with Company of Master Mariners, SLAAS Section C, PIM Alumni, Next Campus and Verite Research. CILT and WiLAT were invited to partner and endorse eight conferences and events. In addition WiLAT and YPF, conducted three field visits, which was value adding to membership. She thanked Vice Chairman Events, and his team for a job well done.

She stressed that CILT Education Subcommittee undertook many initiatives during the past tenure. CILT International Professional Development Coordinator was invited to conduct a Training of Trainers (TOT) workshop and to conduct accreditation audits. The audit visits were organised in eight universities and private education institutes. Subject mapping and audits have been completed and work is expected to complete and accreditations awarded in May this year. Two public workshops were also organised and the feedback was very encouraging. The road safety initiative will be continued with more focus during the year. "It was very heartening to note the big strides made in education after many years. I am thankful to Vice Chairperson Education, Dr. Namali Sirisoma and her team for their hard work," she said.

For the first time CILT was also awarded with a research consultancy project to conduct a 'Survey on Railway Freight Movement' as part of Government's railway master plan development project funded by ADB. The work was concluded successfully and another project is in the pipeline. We will shortly reach out to our membership to be part of a Research and Consultancy Cell within CILT to broad base our contribution to supply chain, logistics and transport sectors.

"CILT was also very active in the Policy Advocacy and in External Engagement space. CILT was consulted on many occasions and we were invited as well as proactively engaged at various fora to share our views and provide advice to policy makers. I am thankful to Past Chairman Saliya Senanayake and Policy Advocacy and Engagement team for their efforts."

CILT also had three international CILT visitors during the tenure, CILT International President, Kevin Byrne FCILT, CILT international President Elect, Dato Radzak Malek FCILT and CILT International Professional Development Coordinator Jon Harris FCILT.

She said in her speech that there is much to report in building the professional image of CILT. CILT had an eventful year and received good media exposure for our professional activities on TV, radio and in print media. This was enhanced with the active presence in social media. CILT's LINK magazine for the first time published four issues. The contents and quality of the magazine have improved considerably and is of high standard. She thanked PR and Branding Sub Com Chairman and his young LINK editorial team for their commitment and creative touch.

She further said that the council has restructured the Secretariat and put in place the right people and processes to gear up CILT for the future. She conveyed her gratitude to outgoing Hon Secretary Dr. Lalith Edirisinghe, CMILT and his Governance team for their valued contribution and also a special thanks to senior council and fellow member, H.A. Premaratne, FCILT for his commitment and dedication in the preparation of by-laws. Finally she extended Institute's tribute to the Council, WiLAT Exco, YPF Core Committee and outgoing WiLAT Chairperson Dhashma Karunanayake, CMILT and YPF Chairman Biman Hettiaarachchi, MILT for their contribution made to WiLAT and YPF. She also thanked the CILT Secretariat and the membership for the unstinted support and commitment to make the 2018/2019 tenure a productive one.

CILT bylaws were unanimously adopted by the membership at the Annual General Meeting.

Having re-elected as the Chairperson for the new term, while addressing the gathering she said that our challenge is to maintain the momentum we have created and transform CILT to deliver more value to our membership and industry.

She said that her first priority is to get the people, processes and systems in our Secretariat in place to gear up to manage the expanding scope of our institute activities and improve the service delivery further to our members and closely engage with them to understand their needs to deliver more value.

She mentioned that institute was grateful to their Corporate Partners for their continued support. "CILT's engagement with our Corporate Partners will be improved further during the new term with more value addition."

It was indicated that Institute has been able to cross the 2,000 membership mark mainly due to their student members and expect to reach 1,000 membership mark with MILT and CMILT member categories during this new term. CILT has been a Colombo centric professional body and has embarked on a program to reach out to its presence to other provinces too. As a first step, CILT had a kick off meeting at University of Peradeniya to set up the Central Chapter. CILT has received inquiries from Southern and Northern provinces as well she said.

She finally said that CILT also plan to intensify its involvement in policy advocacy space and the Education activities will be further strengthened. She said, "Members of CILT may come from different sectors with different views and ideas, but we have one thing in common that is we all are transport; logistics and supply chain professionals and we work towards one common goal collectively as one team with a common Purpose, Passion and be Productive in our endeavours in making CILT a professional body of choice."

Pix by Sameera Wijesinghe