Re-engineering and rebuilding the internal management structure within the McLarens Group, the company announces the appointment of a prominent pillar to drive the growth of the company. GAC Group Sri Lanka, a subsidiary of McLarens Group, appointed Ravi Edirisinghe as their new Chief Executive Officer (CEO) and simultaneously welcomed him into the GAC Board of Directors. Ravi will be taking over from Mahesh Kurukulasuriya, who has been the driving force of GAC Sri Lanka for the past six years and will continue to be a member of the GAC Group's Board of Directors.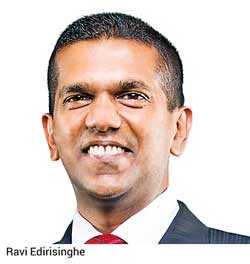 Edirisinghe brings over 25 years of experience into the company, together with a diverse set of skills having worked across a wide variety of industries. His knowledge is vast and is spread across strategic planning, business development and re-engineering, supply chain management, logistics and project management to name a few. As the Group's new CEO, Ravi will be responsible for the creating, planning, implementing and integrating the strategic direction of the company. He will be overlooking and driving the growth and development of GAC Shipping, GAC Marine Services and GAC Logistics.

"Trust and confidence play a monumental role when appointing key decision makers of a company. We are optimistic that under Ravi's leadership, the company will thrive and grow at unprecedented rates. We have no doubt the company will reap the full benefits of his ability to take calculated risks and well evaluated decisions. Similarly, we are confident that Ravi will forge ahead with our McLarens Family while ensuring his guidance and supervision builds a stronger GAC Sri Lanka," commented Group Joint Managing Director Shehara Jayawardana.