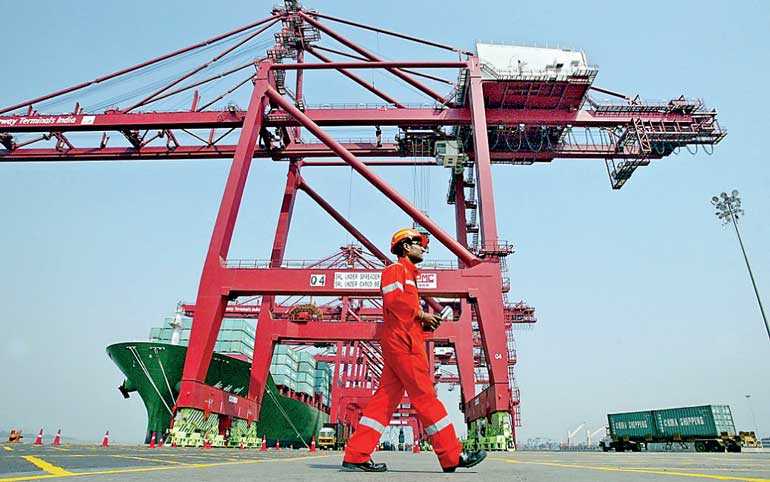 Jawaharlal Nehru Port
Urgency of infrastructure development and improving "Ease of Doing Business"
Slow progress despite relaxation in India
There had been much discussion about the development in Indian Ports and its impact on transshipment volumes to Sri Lanka. The recent removal of the Cabotage rule which restricted foreign flagged vessels from carrying export – import laden containers for trans-shipment and empty containers for repositioning on local routes have brought this topic once again to the lime light. So we thought it is timely to analyse the Ports and Shipping sector in India to assess the impact to Sri Lankan Ports

Indian Port Performance

It is well known that India's domestic infrastructure is not up to the global standards. It is also a common knowledge that low quality infrastructure raises business costs and reduces global competitiveness. Despite efforts to improve infrastructure for several years, the results are not yet promising. This is evident from India's low global rank in ease of trading across borders. It is also evident from the challenges India is facing in developing a global maritime hub through the port-led development initiative of 'Sagarmala'.

Ports integrate host countries with global production networks. Countries with high shares in global goods trade, or having trade as a major source of their national incomes, have no alternative other than having efficient ports. Depending on the size of the country's coastline and degree of integration with regional and global economies, ports play multiple roles. These include not just facilitating exports, but also supplying imported resources and commodities to their hinterlands. Some ports specialise in trans-shipment and are vital for enabling cross-continental traffic and smooth functioning of global value chains.

Singapore, Hong Kong, Shanghai, Busan, Jebel Ali and Colombo are some examples. India is yet to develop major trans-shipment ports. Vallarpadam in Kochi was supposed to be a major trans-shipment port, but hasn't got going. Its trans-shipment container terminal is functioning at just around half of the installed capacity. More trans-shipment capacity is in the pipeline, as the Vizhinjam port develops on the Kerala coast.

For becoming a global maritime hub, as the Sagarmala aims to, India must develop good trans-shipment facilities. But such facilities, are unlikely to produce results simply from more new ports or upgrading of existing ports. Till the cost of using port facilities in India remain uneconomic, they would have limited presence in global production networks. It is unfortunate that even relatively new port facilities in India hardly match the global efficiency standards. Several ports have come up in India over the last two decades.

Except JNPT, which is ranked in the mid-30s on global port efficiency scale, no Indian port figures among the top 50 best ports in the world. This is because of high logistics costs of Indian ports. India's low rank of 146 in the World Bank's Trading Across Borders Index underlines the high cost. The costs for Indian ports continue to be high for two major sets of factors. The first of these are due to features of the ports themselves. While some of these point to quality of existing infrastructure, a substantive part includes procedures.

The most important among the latter are lengthy processes that are still necessary for export and import. While customs operations in India are rapidly going paperless and converting to digital, inspections and scrutiny continue to be lengthy for cargo and other shipping operations. The second important set of reasons for high logistics costs of Indian ports pertains to issues arising from problems of movement in hinterland.

Connectivity between ports and hinterland is still a formidable hindrance. "Sagarmala" is trying to address this issue by emphasising on multi-modal connectivity to ports. But connectivity improvement plans continue to be affected by operational problems on roads as well as perennial problems of acquiring land for expansion.

Removal of Cabotage law

Previously, the cabotage law did not allow a foreign flag ship to carry export-import cargo between Indian ports which has been transported on the same shipping line. The law did not even allow for empty containers to be transshipped between Indian ports on a foreign flagged shipping line.

This affects the 'Just in Time Logistics concept' to an extent as it increases the cost of the end product and burdens the associated infrastructure. Easing the Cabotage rule and allowing transshipping export-import cargo at Indian ports would put a lot less pressure on the road and rail transportation in India, thus allowing for lower emissions and more efficient transportation. One must understand that India has a significant volume of domestic cargo and liberalising the local routes would therefore make supply chains more effective. Taking the automobile industry as an example it is evident that Indian automobile manufacturers are dispersed around the country which makes their supply chain more complex as the finished goods need to reach all parts of India. With the ease of Cabotage, these supply chains can experience cost advantages.

Cabotage was relaxed in specific ports of India during different times. With the vision of developing Vallarpadam as a Trans-shipment Port, in 2012 the government relaxed regulation. However as stated above, its trans-shipment terminal is functioning at just around half of the installed capacity. Cabotage relaxation in isolation is just not enough. To reduce India's dependence on neighbouring hub ports, a collective and concerted effort is required.

Despite relaxation of regulation, Ports in India had been struggling to show progress. With a population of 1.3 billion people, India has only recorded a throughput of 13.7 million TEUs (2016/17 FY) whereas with the same population China records a throughput of 199 million containers. From 2008 to 2016 India's container throughput has only increased by 57% whereas the container throughput of Sri Lanka has increased by 100% during the same period.

How can Sri Lanka respond

Sri Lankan Ports sector was growing at a steady pace with many interesting strides made last year. Colombo Port in particular became the 13th best connectivity port in the world and handled over 6.1 million TEUs in 2017. When looking at the World Bank's Trading Across Borders Index, Sri Lanka is ranked 86 whereas India is ranked 146. This shows the ease of trading across borders provided by Sri Lanka and is a main factor to attract more cargo to Colombo. However our Port Capacity needs to continuously improve in order to stay ahead with the competition. Let's talk about few other areas that Sri Lanka should urgently work on.

Development of Port infrastructure has become a very urgent need. Currently the Colombo International Container Terminal with an 18m berth depth caters to modern ships and has reported a throughput of 2.3 million TEUs for the 12 months ending 31st December 2017, achieving impressive YOY growth of 19.3 per cent in volume. CICT is jointly developed by CMHI (China Merchants Holdings International) and SLPA (Sri Lanka Ports Authority) as part of the Colombo Port Expansion Project (CPEP). The terminal started operations in 2013 and is the biggest container facility currently in the Port of Colombo in terms of draft and crane size. However CICT is currently operating at 80% capacity and will soon exceed capacity which creates an urgent need for another deep water terminal. East Container Terminal therefore plays an important role in Sri Lanka's journey of becoming the transshipment hub in Asia.

Development and innovative changes in terms of infrastructure, strategic changes in thinking towards a more global centred maritime operation and radical changes in policies are necessary to revolutionise the island's operations and standards in maritime.

The 4th Industrial Revolution is now taking place through digitalisation, innovation, technology, data and internet. Digitalisation to drive efficiencies through automation, paperless trade, and electronic data interchange, cashless transactions, are therefore, important aspects that needs immediate attention.

The need for a single window instead of having so many different authorities and stages for and the need for streamlining procedures, such as the elimination of different authorities boarding vessels as has been done in Singapore are measure of easing the process of doing business. We believe that this can be done through the formation of an independent maritime authority.

The need of a quality passenger terminal, repair berths for urgent afloat repairs, rest and sanitary facilities for crew and passengers, bonded warehouse facilities are few other necessities to stay ahead of competition. With LNG gaining popularity as a clean energy, it is important to build facilities to handle LNG as most of the ships will be powered by LNG in the future. These requirements are regularly taken up by CASA as we consider it our responsibility to develop the industry to be in par with the best global ports.

Conclusion

Despite India's huge population of 1.3 billion it handles approximately 13 Million TEUs per annum. Having said that it has a huge break bulk cargo market segment which can get containerised. With India building its container handling capacity, this break bulk traffic will gradually get converted into containerised cargo which will help the Port of Colombo to be of greater importance to the Indian trade. India building its container ports can only complement and supplement our efforts. Therefore expediting port infrastructure investments and improving "Ease of Doing Business" would keep Colombo ahead of competition.

CASA actively engages in initiatives to improve Ease of Doing Business by way of consultation and by providing support in pilot projects initiated by government agencies. As the voice of the shipping industry the Association commits itself to improving investor confidence and facilitate trade.