What is the way forward in the logistics industry in Sri Lanka? DRH Logistics Chairman Diren Hallock believes the key lies in consortiums. Hallock has a wealth of industry experience, having served for four decades to date. He is also Chairman of SLFFA Cargo Services Ltd., and a past Chairman of the SLFFA. In this interview he shares what an industry veteran thinks about the current state of the industry, as well as the ideal future direction. This is what he had to say:
---
DRH Logistics Chairman Diren Hallock shares key insights
---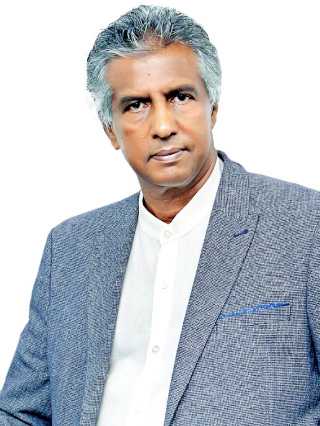 DRH Logistics Ltd Chairman and Managing Director Diren R Hallock
---
A career started right out of school, and continuing to this date

I started my career right out of school, working for McGregor Sea and Air Services, which was subsequently bought over by DHL. I was recruited by the Singapore branch and placed with the local branch that was run by Delmege Forsyth & Co at the time. My job was hectic, and learning was hands-on – in the field, time at Customs house, riding my motorcycle back and forth, collecting and delivering packages, it was really the best kind of training. I worked there for ten years before working for a Hong Kong-based company.

In 1999, I decided to start my own firm and DRH Logistics was born. Today, DRH Logistics has several subsidiaries and a presence in India, Bangladesh, East Africa, Pakistan, and Nepal. I am a Fellow of CIMA (UK) and a Fellow of CILT (UK). I was also Chairman of the Chartered Institute of Logistics and Transport (CILT) in Sri Lanka as well as of Asia Pacific Freight Forwarders Association and was responsible for inaugurating a SAARC Freight Forwarders Association too. I've had a very fulfilling and satisfying career, but it's not over yet. There is always more to do, young people to train and inspire, and contributions for the betterment of the industry.


Views on the current Port situation, as a user of the Port

The current Port situation can be summed up in one word – Politicisation. There are local, as well as geopolitical factors that currently affect the Port. Business entities typically do not have much say over geopolitics, but we do over local politics. For example, the late Lalith Athulathmudali, in his capacity as Ports and Shipping Minister was responsible for the push towards containerisation, as well as the Ceylon Shipping Corporation which was a much-respected local and regional entity. After his tenure concluded, I am sad to say that successive Governments have, insofar as the Port sector goes, fallen into the politicisation trap and proper, timely and structured development of the sector has suffered as a result.


Location, Location, Location…but it is not enough

We are blessed with a great location, just a few hours transit from the major East-West shipping trunk routes. But is this enough? After all, deviation from these routes to our Ports are much lower in terms of time and cost, rather than diverting to Singapore or Malaysia. However, we are still playing catch-up to these Ports. Why is that? Location is not the sole deciding factor for a Main Liner operator deciding to direct a ship to a particular Port.

There is a myriad of quantitative and qualitative factors to consider, such as port, journey and deviation costs, feeder service costs, berth availability, berthing times, vessel turnaround times, feeder frequencies, record of damages, Port Authority and Customs policies and procedures…the list can go on.


So, who is our real competition?

If we look at India, Pakistan, and Bangladesh as our competition, we are streets ahead and I can say this as a Port user who has utilised Ports in these countries. Sri Lanka Ports Authority and Sri Lanka Customs are aeons ahead of their counterparts in these countries in terms of efficiency, speed, processes, and procedures. Alas, these are not our real competitors. We should be considering Malaysian Ports and the Port of Singapore, and benchmarking against these. For example, vessels choose Singapore or Malaysia over us despite costs being higher – why is that?

Because these Ports are much more attractive as an overall package. They boast superior efficiency, have streamlined Port and Customs processes, quicker turnaround times and plenty of integrated services. Let me cite an interesting study done by the Asian Journal of Shipping and Logistics titled 'Transhipment Hub Port Competitiveness of the Port of Colombo against the major South East Asian Hub Ports'.

This study investigated our Port against those in Singapore and Malaysia and concluded that even if we increased our capacity or dropped our prices significantly, we would barely make a dent in their traffic!


Hubs and spokes – or network relays?

Hub is a common term used, for ports as well as airports. We want the Colombo Port to become a hub, for example. However, is it the only option, or the most viable one? Hubs see large vessels (motherships) and small vessels (feeders) intermingling cargoes. However, feedering costs are relatively higher than main line (mothership operators), thus cargo carriers prefer to minimise feedering by ensuring that the 'last leg' served by feeders is relatively short.

Enter the network relay concept, where more motherships are accommodated at a port and easy transhipment takes place between them, as well as to and from feeders. CICT and ECT can handle very large vessels, while SAGT can handle moderately large vessels. This concept sees more motherships (larger vessels) calling at the Port and transhipping cargoes between them. Thus, Main liner operators realise significant cost advantages and implementing the Network Relay concept may induce more transhipment traffic to Colombo. Singapore was an early adopter of this concept, and it has served them well to date. However, there is another factor that hinders this concept from being adapted at Colombo, and that is the capacity conundrum. The Port of Colombo is effectively operating close to its design capacity. This is a hampering factor in its ability to effectively compete in Network Relay operations, and it remains to be seen if the Hambantota Port can attract and grow this mode.


Being more than just a logistics hub

Seaports are not stand-alone entities in the world of logistics. They must be linked to airports as well. Singapore is a prime example of this, where they have sea cargo and air cargo villages dedicated towards efficient handling and transhipping of cargoes. In the 1940s, Ceylon was the most popular aviation transhipment point in Asia on the East-West routes. That crown is now held by Singapore. They created a myriad of attractive support services for passengers and freight. They are more than just a logistics hub.

They have made it attractive for global firms to set up their regional offices and warehouse facilities within this relatively small country, where land is at a premium and they have very few natural resources. By doing this, they have created multiple reasons for their Seaport and Airport to prosper. We have to practice this kind of integrated thinking too. An Airport or a Seaport built in isolation is not going to attract FDI, but an integrated package of facilities and services will.


Customs – good but could be better

Sri Lanka Customs Ordinance and procedures are one of the major hurdles in terms of Sri Lanka increasing its transhipment potential. I must give credit where due and say that they are streets ahead of India, Pakistan, Bangladesh, and East Africa where I have experience as a user. However, with time being a key ingredient in transhipment, our Customs Ordinance is relatively archaic in facilitating timely transhipments. Transhipment times used to be measured in days, now they are measured in hours.

Our Customs are extremely meticulous and check every shipment that is transhipped which is particularly good in preventing illegal trade and leaks to the domestic market, but also adds significant transhipment time, which Singapore and Malaysia do not suffer from. This hinders our attractiveness as a transhipment hub, as a major part of transhipment is Entrepot trade, which Singapore and Malaysia facilitate to a much greater degree than we do, aided by single tariff schemes and vastly improved efficiencies.

We are still playing catch-up. These are not insurmountable obstacles, but they can be resolved through competent industry think-tanks in consultation with policymakers, amending and adjusting the relevant acts in a robust and relevant manner.


This is why consortiums are the way forward

This is why I believe that consortiums among industry players are the way forward. Consortiums enable the industry players to engage in regular market competition whilst coming together and forming a common voice to tackle common issues or capture potential opportunities that benefit all parties. The SLFFA formed a consortium 26 years ago in the formation of SLFFA Cargo Services. This was created at the Bandaranayake International Airport to address issues in terms of Import cargo handling capacity.

We leased facilities from AASL – Airport and Aviation Services (Sri Lanka) Ltd. and commenced our operations. The airport Bomb blast threw a spanner in our works, but working as a consortium, we were able to surmount that obstacle, and the operation continues to this day in an exceedingly successful manner. The SLFFA consortium has also successfully partnered with Singapore-based Cargo Community Network on the promotion of an E-airfreight initiative in the country over the past 10 years.

This is the power of a consortium. I passionately believe that they are the way forward – competing in the market but collaborating on solving macro issues and to capitalise on opportunities in order to ensure a common interest is served. Costs can be optimised, and revenues can be maximised with consortiums, whilst providing customers with the best value proposition. Let me propose a hypothetical consortium for the ECT. Assume that all local companies actively engaged in representing Liner Shipping and Feeder Service Operators collaborated, with the relevant expertise to propose as a consortium to the Government that they will develop and operate the ECT.

This would be highly beneficial to the country as a whole, as well as the industry. The SLFFA, as a fledgling industry with a heritage of 40 years has shown that consortiums can indeed work. Consortiums may not offer quick monetary returns at inception, but their benefits are long-term, quantitative, and qualitative as well.