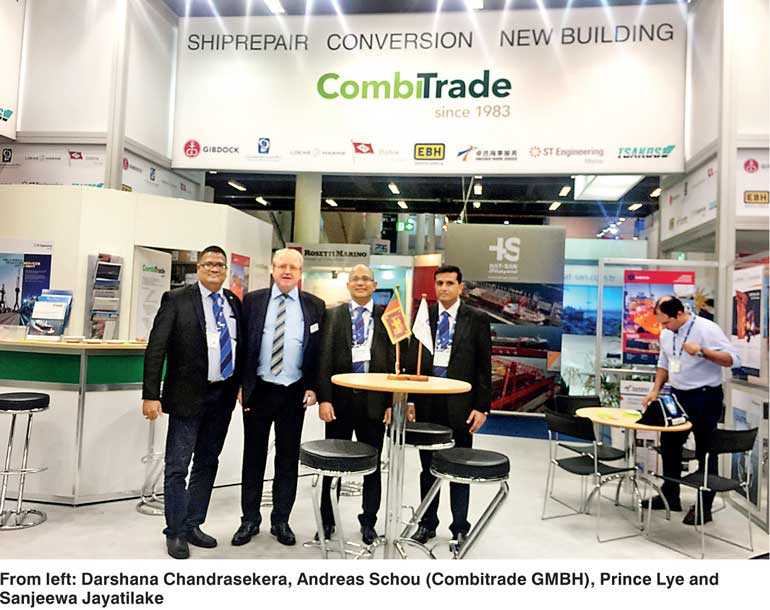 Sri Lanka's pioneer shipbuilding and ship repairing facility, Colombo Dockyard PLC participated at one of the biggest international shipping exhibitions 'SMM 2018' during 4-7 September in Hamburg, Germany.

Colombo Dockyard has been a regular participant at many marine exhibitions, such as Posidonia, Greece and other platforms over the past three decades. This is the third instance Colombo Dockyard has participated as an active exhibitor at the SMM. The shipyard has been flying the Sri Lankan flag and promoting Colombo as a competitive repair and building centre in the South Asian region in Europe and Global platforms.

German ship owners and managers represent a large share of the world's floating tonnage. This naturally makes them one of the biggest spenders on ship building, dry docking and maintenance.

This mega international marine exhibition has been a meeting and networking event for global shipping fraternity stake holders such as: Shipyards, machinery and equipment suppliers, classification societies, flag states, shipbrokers to name a few.

This year with more than 2,890 exhibitors from all around the world, with 50,000 industry visitors and roughly 90,000 square metres of exhibition space. This platform provides an effective mode for Colombo Dockyard to promote its facilities and products to the German/European markets. The positive developments in the country with peaceful environment conducive for business, has been instrumental in many European clients looking at Colombo seriously as a potential ship repair and shipbuilding facility.

During this mega event, some of the factors highlighted to the potential clients were: Colombo's strategic location close to the main marine trading routes, minimal diversion for vessel's calling to discharge in the Indian coast, quality repair services, safe working environment, rapid response afloat repair facility and Japanese expertise available through our collaboration with Onomichi Dockyard, faster turnaround times and competitive rates. The shipbuilding sector highlighted the wide product portfolio on offer for specialised high end vessels i.e., cable laying vessels, passenger vessels, offshore support vessels, crew boats and various other work boats to meet the demanding requirements of a dynamic market.

The trending topics relevant to the industry, were the up coming 2020 cap on sulphur levels in fuel, impacting upon the ship design and operations, nessasitate modifications to the exsisting ocean going fleet. Resulting in scrubber related topics taking the lime light, as the deadline was fast approaching. The ballast water treatment systems were also were in discussion, but following as close second given the implementation dead line being shifted.

Colombo Dockyard teamed up with Combitrade GMBH our representative in Germany to maximise the impact at this Exhibition. The local AHK/Delegation of German Industry and Commerce in Sri Lanka also assisted in expediting the required visas for the Colombo Dockyard team to travel, making is possible for a successful engagement.

Colombo Dockyard team comprised of Darshana Chandrasekera – Head of Ship repair Marketing, Prince Lye – Head of Shipbuilding Marketing and Sanjeewa Jayatilake – Assistant Shipbuilding Manager (Projects Development).