SLPA Chairman Kavan Ratnayaka and CDPLC MD/CEO D.V. Abeysinghe exchanging contracts flanked by SLPA MD Capt. Athula Hewavitharana, SLPA Harbour Master Capt. Nirmal Silva, CDPLC Chairman Dr. Toru Takehara, GM-Shipbuilding Lal Hettiarachchi and officers from SLPA and CDPLC
---
Colombo Dockyard PLC (CDPLC) has successfully entered into a contract with Sri Lanka Ports Authority (SLPA) to supply two pilot launches.
The contract was signed on 1 February at SLPA Chairman's office. SLPA Chairman Kavan Ratnayaka and CDPLC Managing Director/Chief Executive Officer D.V. Abeysinghe signed the contract. Managing Director Captain Athula Hewavitharana, SLPA Harbour Master Captain Nirmal Silva, and Chairman Dr. Toru Takehara, General Manager (Shipbuilding) Lal Hettiarachchi from CDPLC and management personnel from both organisations participated at this special occasion.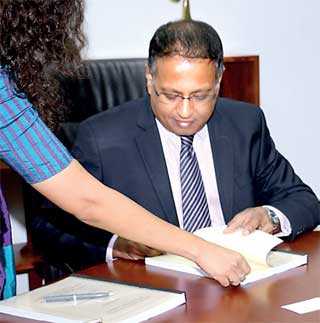 SLPA Chairman Kavan Ratnayaka signing the contract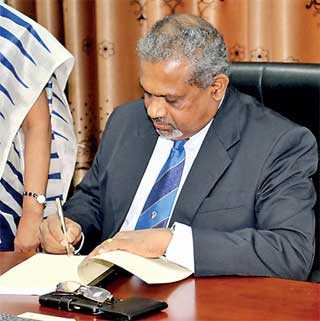 CDPLC MD/CEO D.V. Abeysinghe signing the contract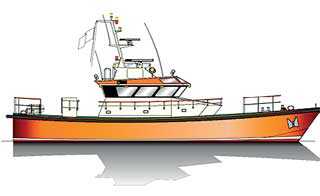 The pilot launch to be built for the SLPA
This 19m launch is a proven design developed by MACDUFF Scotland. The launch will serve to transport pilots from shore to ship. The launch can accommodate a total number of eight persons including four crew members and four pilots and it can achieve a service speed around 22 knots and can operate in all weather conditions prevailing in Sri Lanka, all year round.

By building the pilot launches in Sri Lanka, SLPA helps develop the economy of the country by developing the local shipbuilding industry. The local ventures such as CDPLC generate a large number of direct and indirect employment opportunities and develop the skills and technical knowhow of the local workmen and help save on valuable foreign exchange.
CDPLC operates in joint collaboration with Onomichi Dockyard Company Ltd. of Japan who owns a stake of 51% at Colombo Dockyard PLC while Sri Lankan Government institutions have a 35% shareholding at Colombo Dockyard.

As the leader of the shipbuilding industry in Sri Lanka, CDPLC continuously proves its excellence by successfully securing shipbuilding projects both local and worldwide. Currently, CDPLC is building a 113 m cable laying vessel for Japan and a 60 m buoy tender vessel and a 50 m pilot station vessel for Iraq.

CDPLC is the front runner of Sri Lankan industrialisation and the main contributor to the Government's national export strategy from the shipbuilding sector.