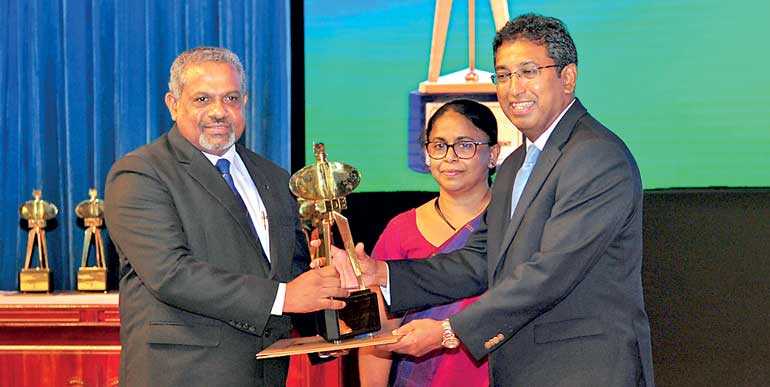 D.V. Abeysinge receiving the award from Deputy Minister Dr. Harsha De Silva
Colombo Dockyard won the Sectoral Award for the Highest Foreign Exchange Earner in Shipbuilding for the year 2017/18 at the Presidential Exports Awards held recently at the BMICH.

This is one of the highest forms of recognition given to Colombo Dockyard for the contribution towards the export efforts of the country and the selections were done by an imminent panel of judges based on multiple criteria.

Shipbuilding at Colombo Dockyard started off with the construction of small tugboats, surveillance boats and barges, catering for the local requirements. However, capacity expansion and development of the Port of Colombo saw the Port of Colombo being accepted as a modern hub port of South Asia. With bigger vessels, more in number, calling in, the demand for bigger tugs with added capabilities emerged. The shipyard took the challenge and met all emerging requirements of the Sri Lanka Ports Authority.



A series of new tugs with bollard pull capacities of 10 tons, 20 tons, 40 tons, 45 tons, 55 ton, 65 tons and other harbour craft such as pilot launches, mooring launches, surf boats and light house service vessels were constructed and delivered, saving millions of foreign exchange which would otherwise have been spent purchasing these vessels from a foreign suppliers.

Similarly the shipyard used its capacity and capability to meet national security requirements. A series of 14 m, 17 m, and 24 m aluminium hull fast crafts with speeds of 40 to 53 knots were designed and manufactured for varying requirements. In addition, vessels capable of surveillance, poaching control, anti-smuggling, passenger transportation, rescue and evacuation, fire fighting, fish collector vessels and landing craft were among several shipbuilding works done by the Colombo Dockyard to the Republic of Maldives.

However, it was only in 2006 that the shipbuilding potential reached its real heights going in to highly specialised vessels in the likes of anchor handling tug supply vessels, multipurpose platform supply vessels, crew boats for companies engaged in providing offshore oil field services, in the oil and gas exploration and production domain.

113 m Cable Laying Vessel under construction at CDPLC for Japan


Besides, vessels for the offshore sector, the shipyard also specialise in the construction of passenger vessels and delivered two numbers 250 passenger cum 100 ton cargo vessels and another two numbers 400 passenger cum 250 ton cargo vessels (to meet full SOLAS requirements) for the Government of India meeting stringent passenger vessel rule requirements, aesthetically designed and furnished with all facilities for passenger transportation.

Recently, Colombo Dockyard made a major breakthrough to the Japanese market and secured to build one number 113 m cable laying vessel to Kokusai Cable Ship Company which is a leading cable ship owning company. This cable laying vessel is a high technology vessel, which is intended for subsea operation and cable installation and repair works of 'optical cables' as well as 'power cables' adding to the versatility of the vessel. For the handling of power cables, the forward tank has been fitted with a carousel system with a spooling arm.

In addition, presently Colombo Dockyard is also building two vessels for Toyota Tsusho Corporation of Japan which is the trading and investing company of Toyota Group. These vessels are to be operated in the Port of Iraq under General Company for Ports of Iraq (GCPI).

The Pilot Station Vessel is a catamaran type vessel which will be used to transport of pilots and provisions, to provide pilots with accommodation services and to provide station and necessary support for pilot boats. This is a 50m length vessel with a breadth of 18m and a depth of 6.1m. The vessel is driven by two powerful diesel engines and shall develop a speed of 14 knots. The vessel shall be fully air-conditioned and shall provide accommodation for 47 persons.

The Buoy Tender Vessel is designed to be used to retrieve and launch marine navigation buoys, to provide repair and maintenance to marine navigation buoy, to transport marine navigation buoys and/or spare parts and to transport general cargo. This is a 60m length vessel with a breadth of 12m breadth and a depth of 4.6m. The vessel is driven by twin diesel engines and is capable of achieving a speed of 12 knots. The vessel also shall be equipped with a crane with a lifting capacity of 22 tons. This vessel too provides fully air conditioned living quarters for its complement of 29 persons.

With the experience and development achieved, the shipyard now possesses a wide portfolio of products that meets international shipbuilding standards. The blending of Japanese concepts of quality, timely delivery, dependability and reliability, with competitive pricing, are the salient characteristics of shipbuilding activities. The shipyard specialise on product customisation, where the shipyard cater for 'very specific' needs and wants of individual customers. The shipyard's ability to customise products, differentiates 'Colombo Dockyard' from other traditional builders of prototype vessels, worldwide.

Colombo Dockyard operates in joint collaboration with Onomichi Dockyard Company Ltd. of Japan and the Sri Lankan Government holds more than 35% shares in the company. The workforce consists of Sri Lankan engineers/executives and a skilled workforce of more than 3000, driving Sri Lanka towards industrialisation.