The 110th Anniversary Celebration of Dalian Maritime University (DMU) was held on 8 June in Dalian, China. The Government, industry leaders, guests from China and abroad, representatives of domestic and foreign universities, representatives of DMU global alumni as well as the teachers and students gathered together to review the glorious 110-year history of DMU and jointly committed towards the future development of international maritime education.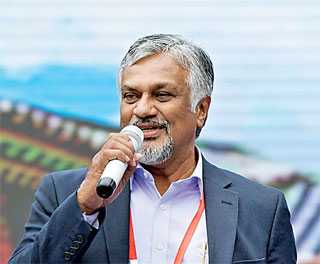 Capt. Ajith Peiris addressing the audience
CINEC Campus President Capt. Ajith Peiris delivered a keynote speech at the 'Cooperation for Shared Benefits' International Maritime Education Forum held during the DMU Anniversary celebrations and highlighted the importance of maritime education in the evolving global maritime industry. His speech was highly acclaimed by the President and the distinguished participants.

In addition to this, the fourth annual International Cultural Festival organised by DMU was also held on 9 June to further promote cultural exchange between Chinese and international students, display of different national cultures talents. Over 500 international students from 30 countries joined the festival where a team of students from the Faculty of Management, Humanities and Social Sciences of CINEC represented Sri Lanka at International Cultural Festival performing unique colourful cultural instrumental and dance act, receiving high praise from the audience.

CINEC has partnered with DMU for the past 12 years to conduct the BSc International Management and Logistics, MBA Logistics and Supply Chain Management and PhD Transportation Planning and Logistics Management programs. CINEC Campus has reached a landmark of 253 graduates for Dalian Programmes at the end of 2018 and continues to strengthen the close professional engagement.