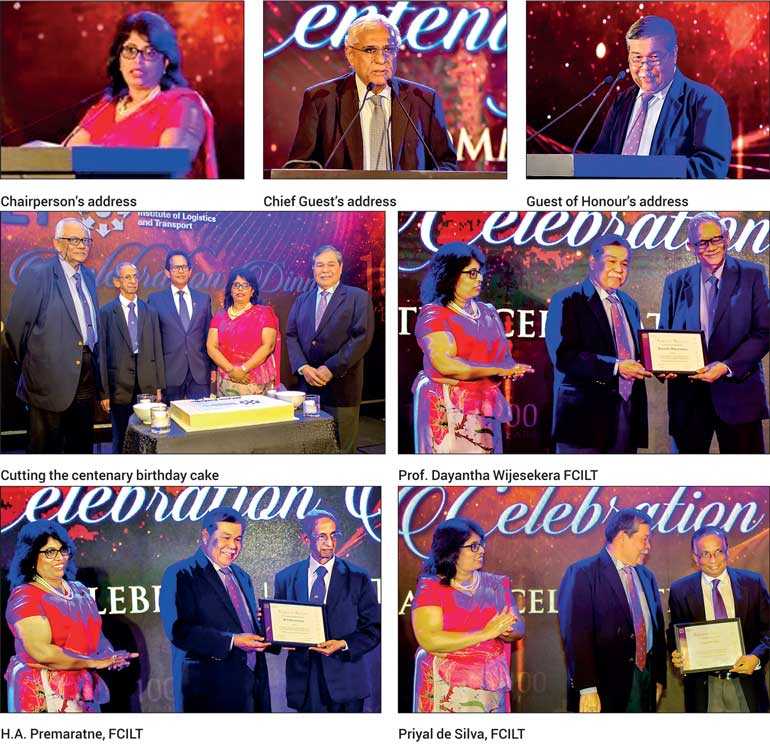 On 3 November 1919 at a luncheon at London's Savoy Hotel, administrators, managers and engineers gathered to form a new Institute then known as CIT. It had been championed by the then Minister for Transport Sir Eric Geddes, who subsequently became its first President. Since then the institute has grown from strength to strength with the objective of promoting the art and science of logistics and transport across the globe with the Patron being HRH Princess Royal.
Main centenary celebration was held on 3 November at the Savoy Hotel London, the place where the founders formed the then Chartered Institute of Transport (CIT). Across the world celebrations were held to commemorate CILT's rich heritage and celebrate those who have contributed voluntarily to build this longstanding institute to what it is today in the past 100 years and to create a new institute, which is future ready.



CILT Sri Lanka too celebrated the centenary with a dinner on 24 October at Cinnamon Grand Hotel amidst a distinguished gathering and bell ringing ceremony on 4 November at the CSE to open trading. Former Governor Central Bank Dr. Indrajit Coomaraswamy and CILT International President Elect Dato Radzak Malek, FCILT graced the dinner as the Chief Guest and Guest of Honour respectively.

30 longstanding members were felicitated at the gala dinner and awarded with a certificate of appreciation for their contribution to CILT. Two longest serving members of CILT; H.A. Premaratne, FCILT and Past CILT SL Chairman Prof. Dayantha Wijesekara, FCILT along with Sri Lanka's only Pegasus medal awardee, Past CILT International Vice President and CILT SL Past Chairman Saliya Senanayake FCILT, CILT International President Elect and CILT Chairperson cut the cake to commemorate the centenary.

CILT Chairperson Gayani de Alwis, CMILT in her welcome speech mentioned that this is an important milestone for the CILT global family and she considered it a privilege to lead CILT-Sri Lanka as the Chairperson in the centenary year.

She further said that for the Sri Lankan economy, CILT represents an industry sector that is of vital importance, be it in exports or imports, movement of goods or passengers, on water, land or in air. Logistics and transport landscape has changed significantly in our country and there are many national development programs that will rely on logistics, transport and supply chain expertise.

"With our strategic location Sri Lanka has the potential to become a hub for logistics. Already the diverse pool of professionals from public, private, academia and military personnel in CILT are contributing to these development agendas and CILT has become a strong voice for the industry.

"We are committed to support the human capital development in the industry through internationally accredited CILT professional qualifications and also through accreditation of local university degree programs to ensure quality of logistics and supply chain education in the country."

Chartered Institute of Transport (CIT) SL was founded on 3 September in 1984 by a distinguished group of professionals, Eng. L.S. de Silva as the Founding Chairman with F.D.C. Wijesinghe, John Diandas and Prof. Dayantha Wijesekera.

CILT was incorporated by an Act of Parliament in 2000 and in 2001 CIT was merged with Institute of Logistics and CILT was formed. CILT has an active Women in Logistics and Transport (WiLAT) forum and a vibrant Young Professionals Forum (YPF) in CILT's fold for the past six and seven years respectively.

After 35 years of existence, CILT went to the provinces and set up the Central Province branch and has plans to set up the Southern and Northern Province branches in the near future enabling the institute to reach to other provinces of the country. CILT is the only Chartered professional body in Sri Lanka for logistics, transport and supply chain professionals, with a global presence in 35 countries with access to over 35,000 members.