In sifting through a myriad of ideas and thoughts discussed and debated in recent times, highlighting the different aspects which make up a maritime hub, and dispelling many myths held that a maritime hub is limited to container operations, CASA opined it would be necessary to evaluate the fundamentals which would be the building blocks of a hub envisioned for Sri Lanka. With this in mind, a seminar was held under the theme of 'Maritime Hub Aspirations of Sri Lanka' on 20 February at Hotel Galadari.
Sri Lanka Ports Authority (SLPA)Chairman Dr. Parakrama Dissanayake graced the occasion as Chief Guest and Keynote Speaker, followed by former Commander of the Sri Lanka Navy Admiral Dr. Jayanath Colombage; Freedom of Highseas Ltd Chairman and Managing Director Capt. Ranjith Weerasinghe; Hambantota International Port Group CEO Ray Ren; CICT CEO and Hambantota International Port Group DGM Jack Huang as the main speakers.
The series of speeches were followed by a panel discussion moderated by SLANA Chairman and CASA Past Chairman Capt. A.V. Rajendra. Along with the other main speakers, SLPA Managing Director H.D.A.S. Premachandra, and CILT Sri Lanka Chairman Capt. Lasitha Cumaratunga joined the panel discussion. The following article contains extracts from the views expressed by the speakers.
History - Were we a maritime hub at some point of our history?
Admiral Dr. Jayanath Colombage spoke a few word about the history of Sri Lanka being a maritime hub. Sri Lanka was a key location in early seaborne trade in the Indian Ocean and was considered as the great Emporium of the East-West trade. Merchants from Persia, Ethiopia, China, and India used Sri Lanka as a hub to exchange goods, and Sri Lanka has provided numerous bays and anchorages for ships.
Sri Lanka's natural products such as gems, pearls, ivory and spices made the island an important centre for exports. Sri Lanka was connected with China, Indonesia, India, Thailand, Vietnam, the Middle East, Persia, and Africa. We have engaged in ship building and ship repairs in the past, and it has been reported that of all the ships in the Indian Ocean in the 8th century, the ships from Sri Lanka were the largest.
A key role played by infrastructure
All speakers emphasised the importance of building infrastructure in the journey to become a maritime hub. Transshipment cargo handling being the key operation currently, it needs to be sustained and further developed. Capt. Ranjith Weerasinghe said that the development of Colombo South Harbour is already late by nearly a decade and it is important to expedite these developments. Admiral Dr. Colombage commented that deep water terminals are of high demand due to the Triple 'E' Class ships introduced to gain economies of scale. The only deep water terminal in Sri Lanka is CICT with a depth of 18m and the existing facilities are reaching saturation for 6th generation container mega careers. "Time and tide wait for no man," he said.
Speaking of other infrastructure, the need of a quality passenger terminal, repair berths for urgent afloat repairs, rest and sanitary facilities for crew and passengers, bonded warehouse facilities were highlighted. With LNG gaining popularity as a clean energy, the importance of building facilities to handle LNG was also stressed as most of the ships will be powered by LNG in the future.
The cruise market is one of the fastest growing segments in the travel and tourism industry which can make a significant contribution to our economy. Cruise lines are increasingly looking for new destinations and therefore it is important to offer proper cruise ship docking facilities, yacht marinas and inland transportation options to entice large cruise vessels and yachts to call Sri Lanka.
Ancillary services
The lack of a full range of ancillary services at competitive prices was highlighted as a lapse to attract mainlines and feeder operators even without cargo operations. It was noted that the government should encourage investors by offering incentives and improving bureaucratic regulatory frameworks. A few of these services were identified as:
Bunkers, marine lubricants, and fresh water
Offshore and OPL supplies and ship chandelling
Slop disposal facilities
Salvage and Towage
Ship repair, and ship building
Ship lay-up
Services to cruise ships and yachts
Maritime security services
Encouraging registration and flagging of ships
Admiral Dr. Colombage stated that Karandawala's vision in 1960 should have continued as a measure to encourage ship ownership, ship operations and ship management in expanding the national fleet. Citing Ceylon Shipping Corporation Limited as an example, he said that the two ships bought by them had full time business and was training close to 50 Sri Lankan seafarers. He further stated that regulations and conditions pertaining to ship registration and owning should be changed as the current regulations are unattractive and bureaucratic.

Ease of doing business
During the key note speech, Dr. Parakrama Dissanayake stated that Sri Lanka loves to talk about physical infrastructure but talks less about soft infrastructure such as ease of doing business and improving productivity through automation, which are key ingredients of a maritime hub. Many speakers mentioned that Sri Lanka has achieved an overall rank of 111, whereas other countries in the region are performing better. Sri Lanka was excluded from the Logistics Performance Index (LPI) in 2016 after years of poor performance.
The 4th Industrial Revolution is now taking place through digitalisation, innovation, technology, data and internet. Digitalisation to drive efficiencies through automation, paperless trade, and electronic data interchange, cashless transactions are, therefore, important aspects that needs immediate attention.
CASA actively engages in initiatives to improve ease of doing business by way of consultation and by providing support in pilot projects initiated by government agencies. As the voice of the shipping industry, the Association commits itself to improving investor confidence and facilitate trade.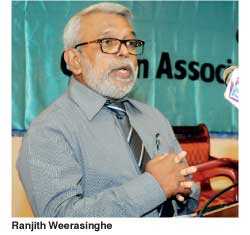 Prevention of marine pollution and coastal management
Admiral Dr. Colombage highlighted a few alarming facts about marine pollution. He stated that 80% of ocean-based pollution starts on land and 40% ocean is impacted by human behaviour such as illegal fishing methods and dumping garbage into the ocean. "The ocean is not a dumping ground. Sri Lanka is one of the worst offenders! We dump 8 million MT of plastic into the ocean every year," he said. He also commented that there are five huge garbage patches in the world and one is in the Indian Ocean which contributes to ocean acidification.
Maritime security
Sri Lanka has always played a leading role in ensuring maritime safety and security in the region. Sri Lanka, in the recent past, has had to deal with the worst case of maritime terrorism and was subject to all forms of maritime crimes such as piracy, human/weapon/narcotic smuggling etc. Given the peaceful and stable conditions enjoyed at present, the embarkation on a new regional maritime architecture to detect and deter any maritime threats was noted, which could be done in collaboration with other countries in the region.
Lack of vision, conceptual plan and regulatory structure
Bringing examples from the past, Capt. Ranjith Weerasinghe highlighted three landmark events in maritime history of Sri Lanka: embarking on state owned ship ownership and operation through the establishment of the Ceylon Shipping Corporation; facilitating Sri Lankan ship operations internationally through the enactment of the Merchant Shipping Act; and forming Sri Lanka Ports Authority due to containerisation. He stated that these events followed a clear vision, a conceptual plan and a regulatory structure. However, he opined, that following these development projects, Sri Lanka has failed to embark on such maritime development projects over the last 40 years with such a vision and a plan to develop Sri Lanka into a maritime hub.
He also stated that the Merchant Shipping Act and the Sri Lanka Ports Authority has not undergone changes with time, and sighted the importance of changing the role of SLPA to a more commercial entity. "SLPA cannot be the landlord, terminal operator and regulator at the same time," he said. Bringing in an example from Singapore, he stated that the Port of Singapore Authority (PSA), formed in 1964, inaugurated the container berth, Tanjong Pagar, in 1972 and welcomed the first container ship in 1972. By 1988, PSA propelled Singapore to become the world's busiest shipping port, the second-largest container port and the top bunkering port. In 1996, PSA was corporatized and remained as a terminal operator whilst transferring the entire regulatory function to the Maritime and Ports Authority of Singapore (MPA).In 1993, PSA International was launched, and today, operates 40 terminals in 16 countries.
Capt. Weerasinghe suggested bringing in a totally new parliamentary enactment to encompass entire shipping, maritime and logistics activities within a maritime development project which should be promoted, facilitated, and regulated by an apex body named Sri Lanka Maritime Authority.
The need for a single window instead of having so many different authorities and stages for approval was highlighted as a measure of easing the process of doing business, and the need for streamlining procedures was stressed, such as the elimination of different authorities boarding vessels as has been done in Singapore. The experts believed that this can be done through the formation of an independent maritime authority.

Branding and forming independent, un-politicised Maritime Promotion Bureau
Dr. Parakrama Dissanayake stated that we should brand ourselves as a maritime hub, and a single entity would be formed to promote the hub to the world. He stated that the Maritime Promotion Bureau should be un-politicised and represent the national policy of developing the industry. He also stated that we relate port management and container shipping with a maritime hub and as a result ignores other forms of shipping. He stated that 8,000 ships have been handled outside the Port of Galle and these are not container ships. Therefore, the Maritime Promotion Bureau will have the task of developing all sectors related to a Maritime Hub be it infrastructure, regulatory, ease of doing business etc.
Hambantota - would it play a special role?
Ray Ren and Jack Huang spoke extensively on the Port of Hambantota and how it can play a special role. With a current capacity of handling 198,000 TEUs and 950,000 tons of break bulk cargo, the port can also handle 396,000 units of Ro-Ro and 2.5 million tons of bulk cargo. In the first phase of development two 100,000-ton multi-purpose berths and one 100,000-ton oil berth is to be built followed by the second phase which will add two more 100,000-ton berths and two 10,000-ton berths. Phase 2 will also contain two 100,000-ton multipurpose berths and an oil berth of 100,000 tons.
The speakers highlighted the short transit times from Hambantota to both east and west destinations which gives the port the strategic location advantage. The proposed LNG power plant, LPG, cement, refinery and the dockyard are expected to be major developments in the future for Hambantota. As a hub, closest to the Indian Sub-Continent, Sri Lanka serves a vast hinterland of 7 countries in South Asia with more than 1.5 billion people. Sri Lanka has established a convenient feeder network between the Port of Colombo and other ports of India, Bangladesh and Pakistan. 90% of the transhipment cargo that is handled here are from India, Pakistan and Bangladesh, while currently the Port of Colombo is only handling 15% of total transhipment cargo for South Asia countries.
Conclusion
Most of the speakers highlighted the importance of quick actions as other countries in the region have developed immensely in the last few years. Establishing a single entity responsible for infrastructure development and regulatory changes was raised by all speakers, stating that we do not have the luxury of time. Changing regulations to suit current and future trends, developing ancillary services, building human capacity, and visionary leadership were points highlighted by all speakers. In his remarks, Dr. Parakrama Dissanayake stated that he has seen many 'talk shop', but it is now time to put them into action.
-Pix by Gitika Talukdar