APL Logistics (APLL), global logistics solutions specialist, hosted some of its prime clients to a knowledge sharing session C-Suites Forum under the theme of 'Charting the course to a better supply chain', which was held recently at the Galle Face Hotel, Colombo followed by a cocktail aimed at understanding the complexities and challenges of rapidly evolving supply chains in the key verticals they operate in.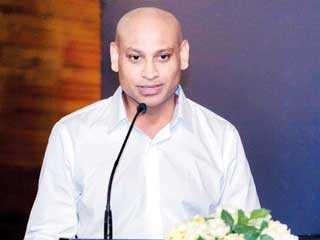 APLL Sri Lanka Country Head Dileepa Dissanayake
Panellists at the session included industry expert Suneth Kotuthena who shared his views on how logistics is increasingly being viewed as a strategic business partner instead of service provider for many businesses, Dr. Niles Perera, a senior lector of the Department of Transport and Management, University of Moratuwa who shared many interesting insights on emerging trends in supply chains and Suren Abeysekera who explained the role of logistics in a changing retail industry.

APLL is a global logistics solutions specialist with a revenue of almost $1.7 billion and over 7,000 employees in more than 60 countries. The company has over 100 service locations globally. APLL is a wholly owned subsidiary of the KWE Group, one of the largest blue chip conglomerates in Japan and has since then operated in Sri Lanka as a standalone business unit.

In Sri Lanka, APL Logistics provides innovative, global supply-chain solutions across automotive, consumer, industrial and retail markets. These solutions include order management, distribution and fulfilment, customs brokerage and transportation products delivered across six regions. APL Logistics also pioneered the use of visual data analysis and offer a robust data management and analytics product suite to help customers understand and solve complex problems that span systems and processes.

APLL Sri Lanka Country Head Dileepa Dissanayake concluded the session by explaining how their capabilities including a cross functional global network, service expertise, and the comprehensive tool kit which is equipped with the latest technology could be leveraged to take their customers businesses to the next level.