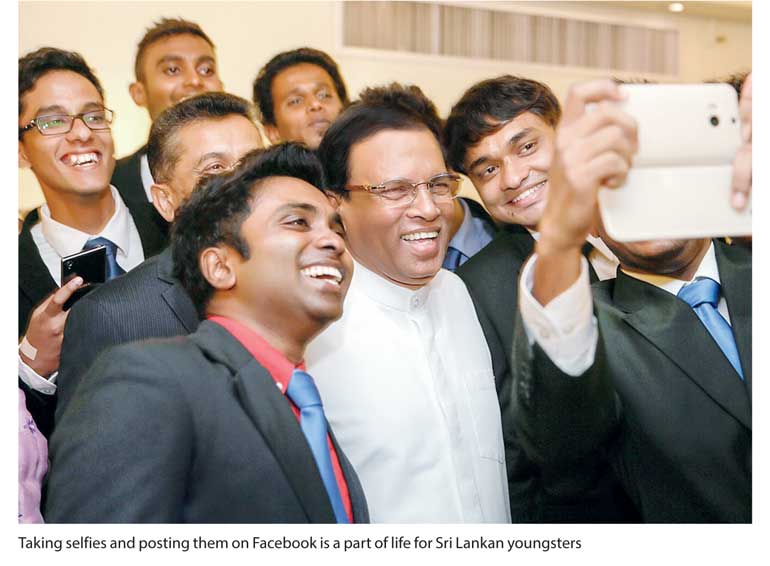 Recent media over the weekend has been highlighting the blockage of Facebook and social media networks. Whilst there are arguments for and against the argument, for a typical youngster it's almost like part of their life has been taken away. This is why they have resorted to using technologies like VPN and going back to their old behaviour of using Facebook as a part of their lifestyle.
Palihapitiya's view
The views of the youngsters of Sri Lanka mirror the arguments made by the former Facebook Vice President for User Growth – Sri Lankan Chamith Palihapitiya. In his recent press conference he has voiced that the "like" culture is building a feeling to turning people for validation and happiness which is not very healthy. The logic being that the response received may actually be not genuine and frank which gives a reinforcement for repeat of the behaviour which can be actually irregular.

The very words used by Palihapitiya were, "We have created a tool that is ripping apart the social fabrication of how society works," which is an interesting view that can only be justified by doing a usage and attitude study among FB users in Sri Lanka.

A former First President of Facebook Sean Spen also voiced: "I regret the part I played at Facebook's history, as we do not know what it does to the brain of a child."

These expert views come at a point when turnover is reaching $ 13 billion as at end 2017 and user ship increasing to 2.13 billion which means that half the world's internet users have got adapted to the brand Facebook.
Sri Lankan's attitude
A point to note is that Sri Lankans are not very aggressive or vocal but are expressive in a subliminal manner which is why FB as a medium is popular. But the reality is that Sri Lanka is very decisive in nature; 8 January 2015 and 10 February this year were classic examples to the world of Sri Lankan behaviour.
FB response
The response to Palihapitiya by FB was interesting, given that Mark Zuckerberg is totally a consumer interested human being. The views expressed on media was that Facebook has done extensive research on the service it provides to people and humanity and will continue to adjust to the needs of the people with product development.

However, a point that was emphasised was that in the future a dent in profits was forecasted so that technology development and process improvements can be made. This insight made me do a deep dive on the numbers and the brand health of FB. The findings were very interesting. To be honest FB as a brand is in trouble.
FB performance

– Deep dive
The fourth quarter performance of FB globally last year was outstanding on revenue at a 48% growth as per the New York Stock Exchange. Turnover had crossed $12.9 billion whilst profits had picked up by 20% to reach $ 4.27 billion.

Whilst the numbers may look strong the brand health issues are emerging with usage dropping and percentage growth declining drastically. The graphical illustration is seen from the period 2011 to 2017, which clearly indicates that in the product lifecycle it is reaching maturity and unless an innovation is done to the brand it is heading for decline.
Sri Lanka's view
Whilst we see that the brand health of FB is in question, the challenges faced by FB are fake news, metric mistakes, foreign entities getting involved in elections and now the Sri Lankan Government banning FB due to the alleged instigating of racial tension.

The voice of the public stated that 73% of the people mentioning that banning FB was good to stop the violence, what the research study did not say was the impact to business, especially in the industry of tourism which is already in the red due to the increasing room stock and the rising costs of food and beverage.

An industry that is driven via FB, WhatsApp, Instagram, IMO and other viral media with the online travel bookings getting popular, I guess the way forward needs to be carefully architectured to ensure that Sri Lanka's economic growth will not get stunted.
Next steps
Whilst Sri Lanka is awaiting the FB response to quelling any racial tension, Sri Lanka will have to determine the balance between economic growth and social stability. Sri Lanka will have to determine between freedom of expression and how to ensure peace.

The Government will also have to decide the importance of the youth vote at the next elections and what their needs are. I guess time will tell given that all other important issues have been put into the kitchen closet.


(The writer is a thought leader and business profession. The thoughts expressed have no links to the organisations he serves. Writing is only a hobby he pursues. He is an alumnus of Harvard Kennedy School Executive Education.)