UltraTech Cement Lanka Ltd., a part of the Aditya Birla Group, facilitated the Council on Tall Buildings and Urban Habitat Sri Lanka (CTBUH) Colombo Forum 2018 which was held recently at the Cinnamon Lakeside Hotel by being the principal sponsor.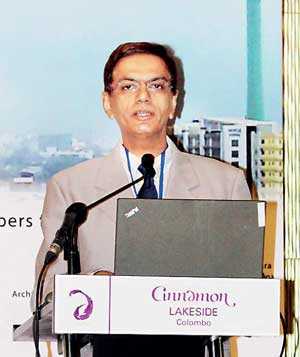 The event featured a panel of presentations on tall building design and provided a compelling opportunity to network with professionals in the tall building industry. The event included a dinner and networking reception for participants spanning corporate clients and engineers in the construction field. The keynote speaker at the event was Valentine A. Lehr, Managing Member, Lehr Engineering, USA, who spoke about 'Innovative High-Rise Building Services Designs and Solutions' while Prof. Priyan Mendis, University of Melbourne, Australia, discussed 'Performance Based Approaches to Fire Safety Engineering – Structural Fire Engineering'. Ultratech Cement Lanka Ltd. Senior General Manager – Marketing and Technical Sandeep Holey shared perspective of the cement industry, along with group profile. The event witnessed 120 plus participants along with Senior Management of Ultratech Cement coming together for a fruitful session.

Commenting on the forum, Ultratech Cement Lanka Ltd. Country Head Keshav Hegde said, "UltraTech Cement is committed to partner with the Sri Lankan engineering and construction segment to enhance skill and knowledge base which is why we stepped forward as Principal Sponsor to support the Council on Tall Buildings and Urban Habitat Sri Lanka (CTBUH) Colombo Forum 2018 to benefit the industry and our stakeholders."

Sandeep Holey spoke to the learned group that consistency in quality of the cement is one of the key ingredients when it comes to construction. UltraTech Cement Lanka – a leading cement supplier for many mega projects and skyscrapers – is the engineers' ideal choice as it supports the fraternity of structural engineers' efforts to infuse innovation and creativity in their creations. This high-profile forum witnessed an exchange of ideas and solutions that will help in the long-term sustainability of the industry which is experiencing a boom in the construction of high-rise apartment buildings."

UltraTech Cement Lanka Ltd. is part of the Aditya Birla Group, which is a $ 43 billion premium global corporation from the league of Fortune 500 with operations across 36 countries and anchored by an extraordinary force of over 120,000 employees, belonging to 42 nationalities. It is a 'metal to telecom' conglomerate with global leadership in many of its businesses across six continents. UltraTech Cement is India's largest cement company and the world's third largest cement company. In Sri Lanka, it enjoys a glorious track record of operating a bulk cement terminal since 1999 with an USP of supplying superior quality cement with consistency from a single source, i.e. UltraTech Cement Ltd.'s own plant, Gujarat Cement Works, in India.