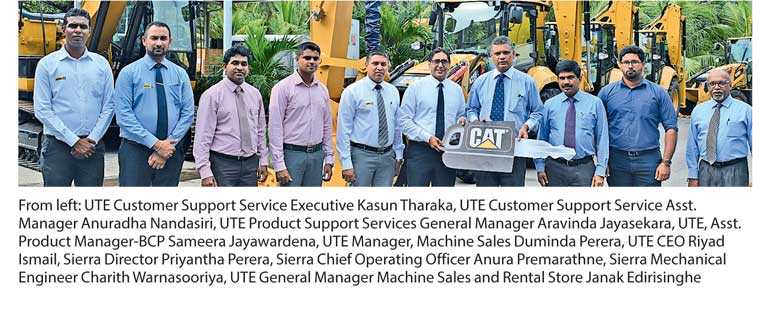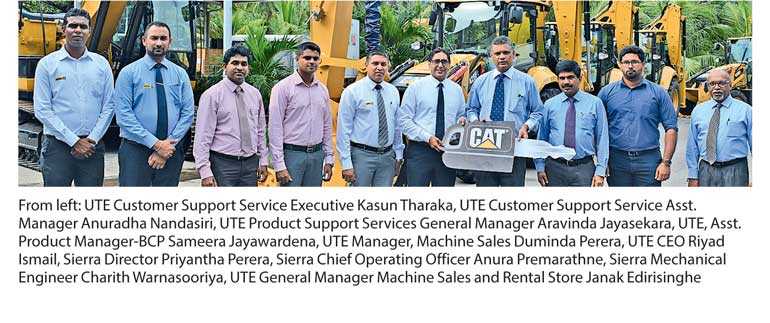 United Tractor & Equipment Ltd. (UTE), the country's sole authorised dealer for the Caterpillar brand in the country supplied Sierra Construction with nine units of its industry-leading Caterpillar 428F2 backhoe loaders recently.

The deal totalling Rs.144 million will provide Sierra Construction, a leading construction infrastructure development player, machinery consisting of nine units of 428F2 backhoe loaders and two units of 20 ton 320D2 excavator for water distribution projects in the North Central and Northern regions.

Combining the latest technologies available for backhoe loaders, the Caterpillar 428F2 is equipped with a powerful 93hp CAT 3054C turbocharged engine ensuring outstanding fuel economy and many hours of productive life. The F2 series continues to offer load sensing intelligent hydraulics technology allowing full hydraulic forces at any engine speed which is unique to CAT backhoe loaders.

"We made the decision to purchase a fleet of equipment under the world class brand name Caterpillar for the upcoming projects on grounds of reliability of backup service from UTE engineering," Sierra Water Works Ltd. COO Anura Premarathna stated.

Built in the UK, CAT backhoe loaders have been a popular choice even previously for Sierra Construction. Two decades ago, the company purchased over ten units of CAT's 428C backhoe loaders which remain operational even after 20,000hrs operation.

"Caterpillar has a well-proven history in the construction equipment industry and has been producing the highest quality machines for over 90 years. Sierra Construction has confidence in our machinery especially the durability, efficiency and high productivity of the CAT backhoe loaders. The guaranteed performance of the CAT backhoe loader was also important and they readily selected UTE to supply the units," said UTE Machine Sales Division Manager Duminda Perera.

To-date, UTE have provided over 50 units of the next-gen 428F2 backhoe loaders to the construction industry. As a result of its high-productivity features and the excellent performance CAT's backhoe loader units have become a synonymous for allied industries including telecommunication, waste water and water distribution projects in addition to the construction industry.