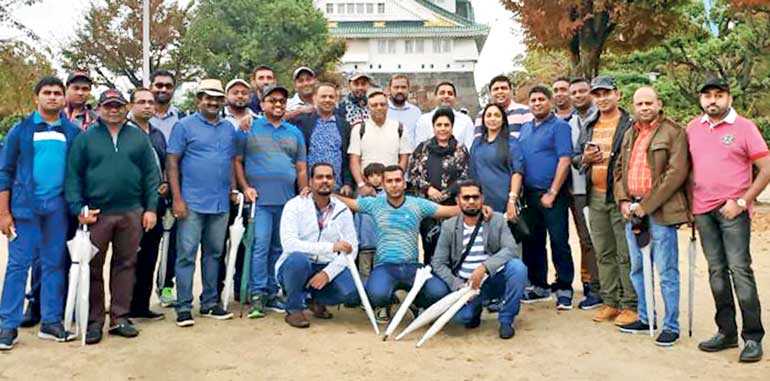 Multilac top performing dealers during their visit to Japan
---
Thirty-one top performing Multilac dealers who achieved beyond their targets in 2018 were rewarded with an unforgettable visit to Japan recently. Some of the prime dealers were accompanied by their family members. The group experienced the exciting sights of Osaka and Tokyo during the six-day excursion and were pleasantly surprised to be accompanied by Managing Director Mizver Makeen, Corporate Affairs and Business Development Vice President
Nilrukshi De Silva of Macksons Holdings and General Manager, Sales and Marketing Ramesh Perera, for Multilac who were able to ensure that the dealers enjoyed an excellent tour that was both an educational eye-opener and a fun-filled experience.

The team's first stop was in Osaka where they visited the famous Castle. Built and rebuilt numerous times since 1653, Osaka Castle looms over its surrounding gardens, moats, imposing stone walls, gates, and turrets. The group was eager to visit the observation deck on the castle's eighth floor, and then wander around the gardens. The castle, originally intended to help with the unification of Japan, was captured and changed hands over a dozen times. While visiting Osaka the group was able to board the world renowned bullet train.

Their next stop was Mount Fuji the highest mountain in Japan at 12,389 ft. Mount Fuji which lies about 100 kilometres south-west of Tokyo is an exceptionally symmetrical cone, and a well-known symbol of Japan, frequently depicted in art. Mount Fuji is one of Japan's 'Three Holy Mountains' and is in the World Heritage List .

The group had the opportunity of touring the Imperial Palace, a complex of buildings spread out across 3.41 km of lush landscaped gardens and grounds, and the private residence of the present imperial family. The Multilac dealers were fortunate to experience Tokyo's Skytree and Bay Cruise, a four-hour tour and did not miss a visit to the Disneyland. After the sights and sounds of the city they were mesmerised by the largest shopping mall, Gotemba Premium Outlets with 210 branded shops.

The top ranking Multilac dealers also enjoyed Japanese cuisine and took time to observe and appreciate the disciplined lifestyle that Japanese people are famous for and felt they learned a great deal from the trip to Japan.

Nilrukshi De Silva said, "This was the company's way of expressing that the hard work and dedication of the dealers is greatly appreciated. Their commitment has resulted in Multilac enjoying recognition and success as a global brand with the ability to successfully acquire export markets, demonstrating that the Company's product range adheres to international standard for lead safety. Multilac is the first and only paint brand in South Asia to be certified Lead Safe by IPEN America."

Multilac exports paint and surface coating solutions to 15 markets across the world and the extensive export range includes decorative and weather resistant paints, water proofing, wood care products and auto paints. Multilac Colourbank, Multilac Platinum, Ital wood, Multilac Auto, Micron and Mitsuko are some of the popular brands marketed by the Company.

Multilac has a dealer network of over 4,000 in Sri Lanka and has been at the helm in the paint and surface coatings industry for over three and half decades and is the only 100% Sri Lankan owned and operated paint company. It is the first paint brand in Sri Lanka to obtain the Green Label, CIOB Green Mark Certifications and Lead Safe Certification from IPEN America.

Multilac has received the Quality Management System (QMS), Sri Lanka Standards (SLS), ISO 14001:2015 Environmental Management System and ISO 9001:2015 Quality Management System certifications. It has international know-how and global technology partners such as BASF, BAYER, DOW, Samsung, Huntsman and Croda. Consumers are able to take pride in associating with a heritage brand such as Multilac which has lived up to Sri Lanka's dream of uncompromised quality, accepted globally.