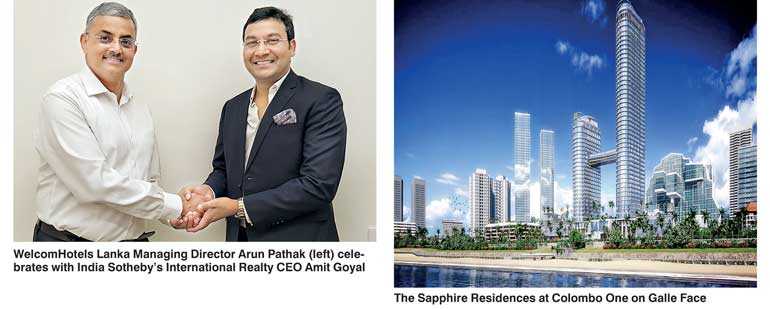 Sri Lanka Sotheby's International Realty has appointed as global marketing agents for the ultra-prestige residential development Sapphire Residences at Colombo 1, by WelcomHotels Lanka Ltd. (WLPL), Sri Lanka – a 100% subsidiary of ITC Ltd., India.

Situated on Colombo's prime ocean front location on Galle Face, the 132 apartments and penthouses of Sapphire Residences and the 5-star ITC One hotel have been under construction since 2015. The 1,000-strong workforce is aiming to complete the project by 2021.

ITC is one of India's foremost private sector companies and a diversified conglomerate with a market capitalisation of more than $ 50 billion and Gross Sales Value of over $ 10 billion.

ITC Hotels, since its inception in 1975, has become one of India's largest luxury hotel chains offering comprehensive hospitality solutions through more than 100 hotels in over 70 destinations in the country.

ITC Ltd. Executive Director Nakul Anand stated: "ITC has made a long-term commitment to building an iconic mixed use development that will endeavour to set new standards in Sri Lanka, in both the residential and hospitality markets. ITC One at Colombo 1, including the Sapphire Residences, represents a very significant long-term commitment by ITC Ltd. in the future of Sri Lanka."

WelcomHotels Lanka Managing Director Arun Pathak stated: "Our objective was to develop a new icon for the country on this ultra-prime Colombo coastline that would be recognisable across the globe."

Sri Lanka Sotheby's International Realty Director Petar Petrovic said: "I have been very proud to be part of the Sapphire Residences project team since the commencement. This recent appointment of Sri Lanka Sotheby's International Realty as global sales partner marks the beginning of an exciting new chapter as we move from planning Sapphire Residences to launching and marketing it worldwide."

Prospective residents will enjoy the outstanding scale, quality and finish of the apartments with the interiors designed by YOO – inspired by Philippe Starck. Of particular note is the exceptionally large size of the apartments, making them ideal family homes. The apartments are serviced by the adjoining 5-star ITC One hotel.

The combination of the uninterrupted stunning panoramic views of the Indian Ocean, the ultra-high specification and security make the Sapphire Residences the ideal location for a family to transition from villa living to vertical living.