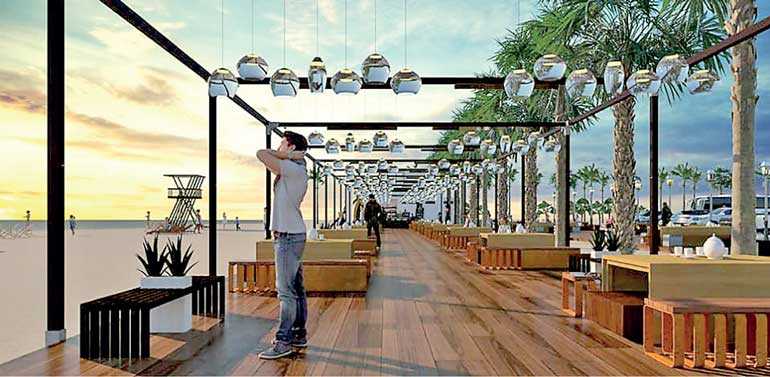 SLIIT School of Architecture students showcased their talents winning the 'Chetty Beach Front Development Design Competition' recently.
The competition hosted by the Northern Province Governor's Office, required the architecture students to design a novel and sustainable Beach Front visitor facilities centre, ideal for visitors and pedestrians.

Demonstrating their academic and professional aptitude, the students were able to push the boundaries of their creativity and express their potential winning this unique competition.

SLIIT School of Architecture, third year student, Meyon Rincely Daluwatta clinched the first place jointly with a University of Moratuwa student group (UD masters students). Third place was won by Chathura Madushanaka also from the SLIIT school of Architecture, a second year student.

"We are extremely pleased that our students have successfully showcased their talents winning the design phase of this milestone project. Engaging undergraduate students in hands-on learning is central to the School of Architecture as we continuously expand their range across the design disciplines. Our students are propelled to understand intellectual dimensions of design and its distinctive power to shape our communities and the world we inhabit," said School of Architecture Head and Senior Lecturer Aishani Jayasinghe. The SLIIT School of Architecture promotes a multidisciplinary approach and a culture of excellence at an early stage amongst students educating and activating the next generation of built environment thinkers and practitioners.

The architecture degree, awarded by the University of Liverpool John Moors, UK is also recognised by the University Grant Commission.

Conducted at SLIIT Malabe Campus, the degree requires student commitment up to a five-year full-time study period.

The first two years of the degree will be based on architectural design and concepts in Sri Lanka while the final year of study under the Bachelor's degree will include architecture on a global scale. This enables students to advance into the world as leading, adaptable professionals. Among the subject areas covered include Architectural design, History and Theory of Architecture, Culture and Society, Environment, Urbanism, CAD and freehand drawing and Construction Technology and Professional Practice.

SLIIT has enlisted chartered architects with construction industry experience, as well academics and specialists with academic expertise able to push the boundaries of knowledge

Students are also able to enjoy facilities such as designated individual wok spaces in modern work environments with 24-hour access, comfortable lecture rooms and computer labs as well as printing and technology workshops.