Aitken Spence Elevators, a joint venture with Otis Elevator Company (Singapore) Ltd. and Aitken Spence PLC, was selected by Sanken Construction to become the exclusive elevator solutions provider for Capitol Twin Peaks residential apartments located at Staple Street, Colombo 2.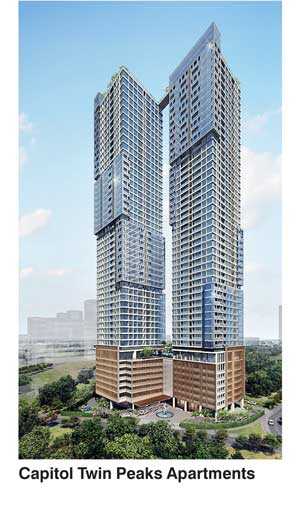 OTIS is the world's leading manufacturer and maintainer of people-moving products, including elevators, escalators and moving walkways. Founded more than 160 years ago by the inventor of the safety elevator, OTIS offers products and services through its companies in approximately 200 countries and territories.

Following a rigorous selection and evaluation process, Sanken Construction engaged with Aitken Spence Elevators as the exclusive distributor for OTIS elevators in Sri Lanka, to install and maintain eight OTIS elevators, which operate in both towers of the apartment complex. This iconic project consists of 470 apartments, Capitol Twin Peaks will be flanked by some of Colombo's prestigious landmarks and surrounded by views of the ocean, Beira Lake and the city. Poised to be one of Colombo's most central apartment blocks, it is located in the heart of the city with proximity to significant shopping malls and other conveniences.

Sanken Construction has delivered Trillium Residencies, Empire City, Emperor, OnThree20, 7th Sense on Gregory's Road and many other high-rises in the city. Capitol Developers, a member of the Sanken Group, has completed Capitol Residencies, HR Residencies, Tulasi Mahal Apartments in Jaffna; the business city hotel, Cinnamon Red, Capitol 7 on Rosemead Place and Capitol Elite on Horton Place.

"We are honoured to partner with Sanken Construction to provide a superior elevator solution to Capitol Twin Peaks residential apartments. The longstanding reputation of OTIS across the world and Sri Lanka combined with our proven track record in handling major projects was key to this win," commented Aitken Spence Elevators Joint Managing Director Surendar Mariappan.

Aitken Spence Elevators is the sole distributor for OTIS elevators and escalators, the elevator segment has represented the brand in Sri Lanka and the Maldives for the past 28 years. OTIS elevators is equipped with technology that offers higher levels of safety, speed, quality, reliability and energy-savings. By combining a passion for science with precision engineering, the company is creating smart, sustainable solutions the world needs.

For more information, visit www.as-elevators.lk or follow OTIS on LinkedIn, YouTube and as @OtisElevatorCo on Twitter, Facebook and Instagram.