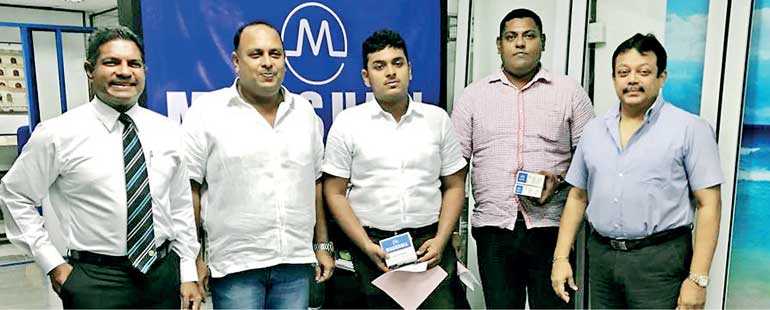 J.D. Peiris of Lanka Aluminium Industries PLC Group (extreme right) and S. Madanayake of ACL Cables PLC (extreme left) with Marshall distributors for Kurunegala and Batticaloa
Marshall Investments Ltd., a joint venture company with a deep knowledge of the construction sector, recently launched a range of high quality, high strength CRC steel based builder's hardware to cater to the requirements of the mass to upper middle-class market in the burgeoning construction sector in Sri Lanka.

From an affordability perspective, Marshall products provide a significant price advantage ranging from 60%-70% against other products. For example, the monetary saving for a customer ranges from Rs. 1,000 to Rs. 1,500 per window. Furthermore, the new Marshall range was introduced following research into world trends in the builders sector where in most developed countries the usage of brass hinges, latches, etc., is fading out and is being replaced by aluminium, high quality steel and stainless steel products. The key figures promoting this joint venture are J.D. Peiris of Lanka Aluminium Industries PLC Group and S. Madanayake of ACL Cables PLC who have a wealth of knowledge and experience in the builder's market and construction sector.

Prior to the introduction of this range to the mass and upper middle class construction sector, the affordable builder's market segment in Sri Lanka had very little choice in terms of selecting suitable products for their requirements. Their very few choices included low quality brass products, steel items prone to rust especially in coastal areas.

Marshall's new complete range of builder's hardware for the residential and commercial construction sector comprises of hinges in eight sizes which are used for doors, windows, cupboards, cabinets, etc., high quality tower bolts for doors and windows in three sizes, window fasteners, casement stays and door rings together with all other hardware accessories that is required for doors, windows and cupboards. From very basic entry-level oxidised products which are used for industrial/temporary applications to an advanced Poly-coated range comprising of attractive antique finishes, the Marshall products range is the preferred choice against brass products as well as a range of premium copper based products.

The Marshall product range is manufactured in Sri Lanka using Japanese technology with German plated pin pre-treatment technology from Henkel to prevent corrosion while providing longevity. The high value addition carried out in the country in the manufacturing process of Marshall builders products also gives an opportunity to export to India on a duty free basis under the Indo-Lanka Free Trade Agreement.Currently, the company's products are being marketed overseas as well and they are planning to extend their product range into plated stainless steel for very high-end applications.

The Marshall product range was initially distributed to Ismail Stores in the Eastern province, St. Anthony's Hardware, Kurunegala and has since been expanded to cover some areas of the Western province including Colombo and suburbs, Badulla and Jaffna. Marshall Investments is currently on the lookout for island wide distributors to carry their product range across the country.