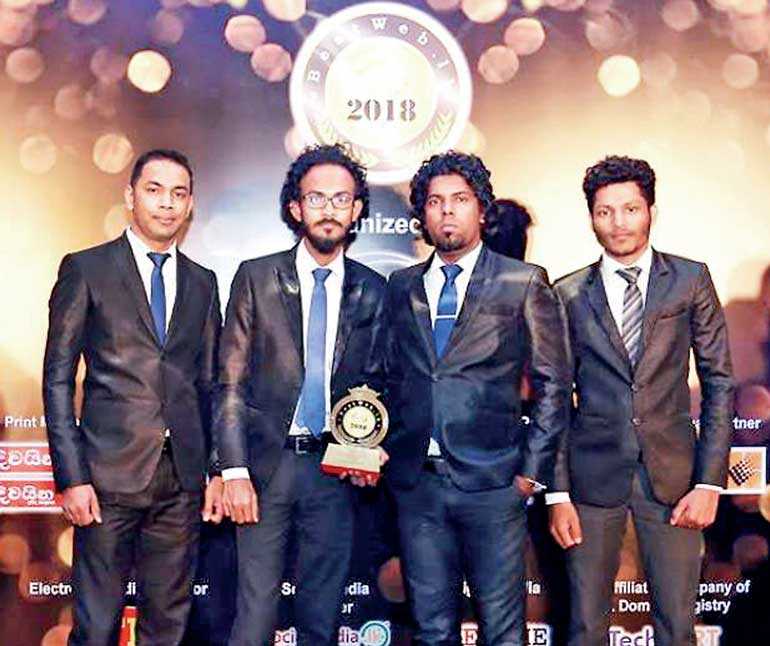 'Best Web – 2018' award being received by Idea Group of Companies IT Manager Harsha Tharanga, Marketing Development Manager Dulaj Chaturanga, Software Engineer Sahan Udaya and IT Engineer Ishara Madushanka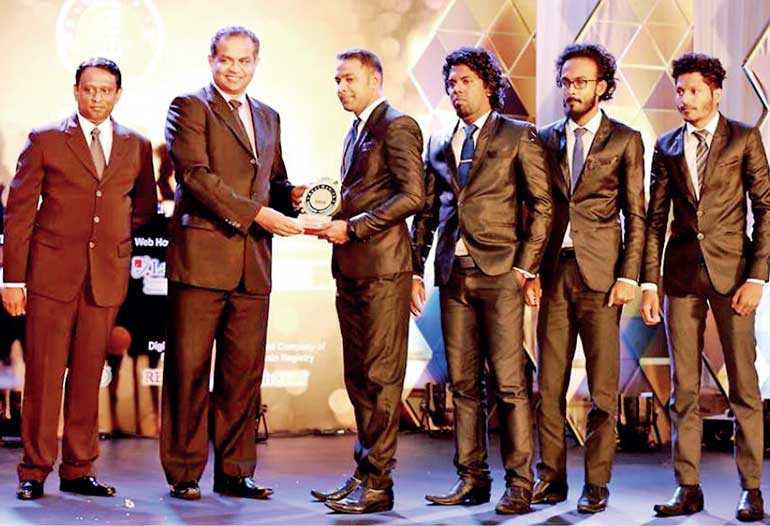 The official website of the Idea Group, 'sivilima.lk' was recently recognised as the most popular website in the 'advertising and marketing' category at the eighth edition for the 'Best Web – 2018' awards.

The website also clinched the Silver award for the best website in the 'Advertising and Marketing' category at the seventh edition the 'Best Web – Awards' in 2017.

Idea Group of Companies offers revolutionary roofing solutions and interior decorating solutions to all Sri Lankans.

The 'Best Web' award ceremony is considered as the highest standard conducted within the country to recognise Sri Lankan websites.

The award ceremony is organised annually by lk Domain Registry company to recognize most innovative and technically advanced Sri Lankan websites. This time around the award ceremony was held with the distinguished participation of Prof. Gihan Dias.

A non-biased judging panel set the criterion to select outstanding websites. Innovative and creative nature of the website, technical benchmarking with world standards, the content and inter-connectivity is taken as the criterion to recognise the Sri Lankan best websites. Idea Group of Companies IT Manager Harsha Tharanga said it is significant that 'sivilima.lk' website of the company was recognised twice continuously at 'Best Web – 2017' and 2018 award ceremonies.

"Aesthetics and creativity is part and parcel with our company's products. The core object of our company is to add value and elegance to houses and buildings constructed in Sri Lanka. The website of such company obviously has to stand out from the clutter. Our website 'sivilima.lk' being recognised for the second time with a prestigious award is significant for the Idea Group of Companies. At this occasion I pay my gratitude to our company's IT department for making our world class website."

Sivilima having over 400 showrooms throughout the island now is the largest network of branches a Sri Lankan company has that cater to people of diverse social status.

In 2013, Idea group expanded its business periphery to unveil 'SIVILIMA' network of showrooms. Within five years Sivilima became a top-of-the-mind brand and a household name.

Being a socially responsible business, Sivilima provides domestic and commercial markets in the country with an array of green-oriented products. Technical plans of Sivilima product range owning 42 patent licenses are significant.

Inferior quality products in the marketplace have contributed immensely towards destroying the greenery and rain forests in the country. Silvilima by introducing green-oriented products of high quality is contributing towards sustaining greenery in the country.

Idea Group offers a total solution for roofing and interior of houses and buildings and is a diversified entity dealing also in the hospitality trade and construction and Information Technology spheres in this country.