Capitol TwinPeaks on the Beira Lakefront, scheduled for completion in December 2020, continues ahead of schedule due to essential project partners working at optimum project efficiency and synergy as subsidiaries under the Sanken Group.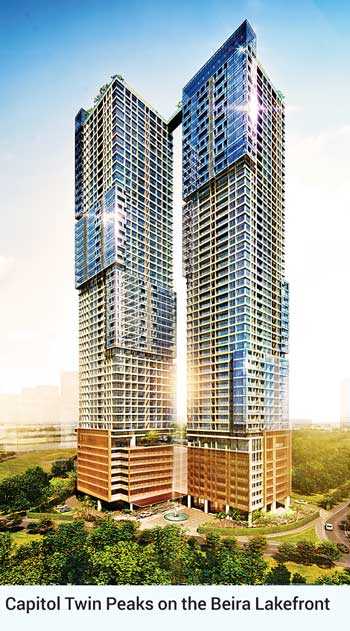 The steady continuation of the project's construction, which is scheduled to deliver on time in December 2020, according to representatives of the project, is owed largely to the Japanese Mitsui Construction Company's DNA ingrained in Sanken Lanka since 1988. This approach has led Sanken and its subsidiaries to become one of Sri Lanka's forerunners in construction and real estate, exceeding expectations with its key attributes being quality and timely delivery; its key strengths based in Design, Development, and Delivery.

Thus Sanken's presence across majority of Colombo's skyline, with over 17 subsidiaries complementing the Company's overall expertise in real estate. Sanken Overseas Ltd., as the international arm of the Group, is present in 12 countries across three continents.

Managing Director – Capitol TwinPeaks (the flagship residential project under the Sanken Group) Rohana Wannigama commented on the successful continuation of the projects construction progress: "With Capitol Developers and Sanken – the Design and Build, and Construction partners, working under one company umbrella, project coordination and efficiency have the potential of running at peak levels. As Sanken offers all aspects of construction expertise, under one roof, the group's projects tend to be well-planned and well-ahead of schedule."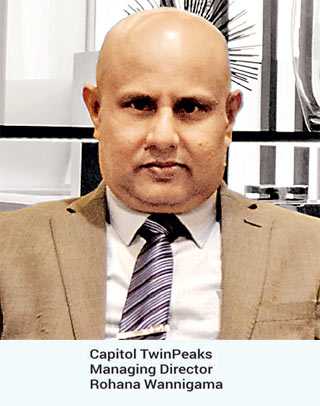 Concluding, Wannigama noted, "At the Sanken Group, we understand the direct correlation between quality, timely delivery and return on investment (ROI). As a result, our customers are the direct beneficiaries of our hard work and dedication. We have pledged to deliver, on time, in full, and intend to do so."

The twin-interlocking 50-storey residential project, which consists of 438 units ranging from 800-2,700 sq. ft. and a considerable expanse of common amenities is set to become a landmark amidst landmarks, as it adorns Colombo's growing skyline. Featuring South East Asia's highest skybridge and an arresting glass facade, the project has consistently received immense interest from local and international buyers.