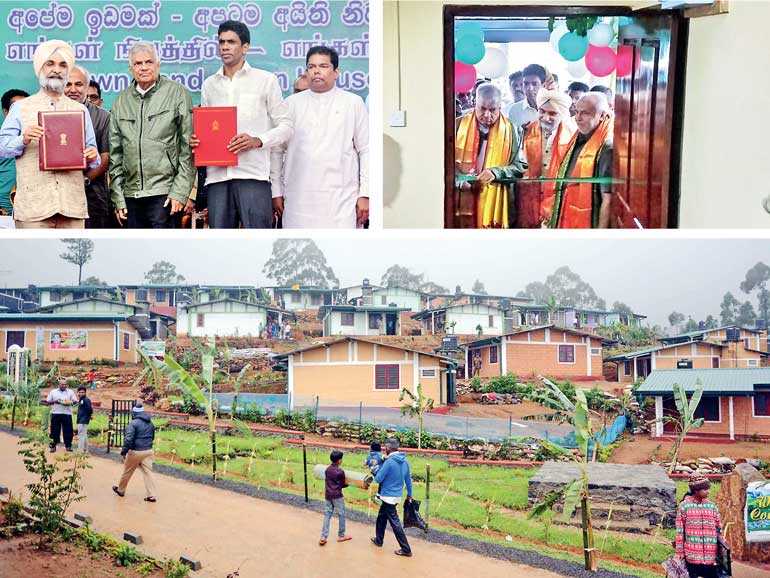 The first lot of houses built under the Indian Housing Project in Plantation Areas was handed over to the beneficiaries of the housing project at a special ceremony held yesterday at Dunsinane Estate in Punduloya in the Nuwara Eliya District.

Indian Prime Minister Narendra Modi sent a message to these beneficiaries.

The new houses were presented to more than 400 beneficiaries by Prime Minister Ranil Wickremesinghe, High Commissioner of India to Sri Lanka Taranjit Singh Sandhu, Minister for Hill Country New Villages, Infrastructure and Community Development Palani Digambaram, Minister of Plantation Industries Navin Dissanayake and Minister of Lands and Parliamentary Reforms Gayantha Karunathilake. Several Members of Parliament and the Central Provincial Council, senior government officials as well as officials from the Plantation Human Development Trust (PHDT), Regional Plantation Companies and close to 1,500 people from the Dunsinane Estate, including the beneficiaries of the houses and their families, attended the function.

In his address at the occasion, Prime Minister Modi congratulated the proud owners of the newly-built independent houses. Highlighting the uniqueness of the participatory owner-driven approach of the Indian Housing Project, wherein the beneficiaries actively participate in building the houses, he underscored that the Indian Housing Project in Sri Lanka, with a grant of over $ 350 million, was the largest Indian grant assistance project in any country abroad. He also recalled that out of the total commitment of 60,000 houses by India, close to 47,000 houses had been built.

Further, recalling the launch of expansion of the pre-hospital Emergency Ambulance Service all over Sri Lanka last month, the commencement of Air India flights from Colombo to Varanasi in August 2017 and the signing of an agreement for the construction of 10,000 houses in the plantation areas yesterday, Prime Minister Modi expressed satisfaction over the fact that the promises made during his visit to Sri Lanka last year had been kept. Saying that Sri Lanka had been and will remain special to India, he reiterated the commitment of the Indian Government and the country's people to come together with their Sri Lankan counterparts in their journey towards greater peace and prosperity.

Prime Minister Ranil Wickeremesinghe appreciated India's commitment to partner Sri Lanka in development projects, including in building houses in upcountry areas.

At the same occasion, the Letter of Exchange for the construction of an additional 10,000 houses in the plantation areas was signed by High Commissioner Sandhu and Minister Digambaram. Prime Minister Modi committed to construct these additional houses during his visit to Sri Lanka in 2017. With this agreement, the number of houses India has committed to build in Sri Lanka's plantation areas for estate workers has risen to 14,000.